You are here:
Home › Global Focus › Caribbean Territory Focus On Disaster Recovery
Caribbean Territory - focus on disaster recovery
Caribbean Territory - focus on disaster recovery
How well do you know The Salvation Army world? In this regular feature, we give an overview of The Salvation Army's Caribbean Territory.
History
In 1887, The Salvation Army "opened fire" in Kingston and then spread throughout the island of Jamaica and to Guyana (1895), Barbados (1898), Trinidad (1901), Grenada (1902), St Lucia (1902), Antigua (1903), St Vincent (1905), Belize (1915), St Kitts (1916), Suriname (1924), Bahamas (1931), Haiti (1950), French Guiana (1980), St Maarten (1999), and the Turks and Caicos Islands (2011).
The Caribbean Territory preaches the gospel in Creole, Dutch, English, French and Surinamese.
Statistics at a glance: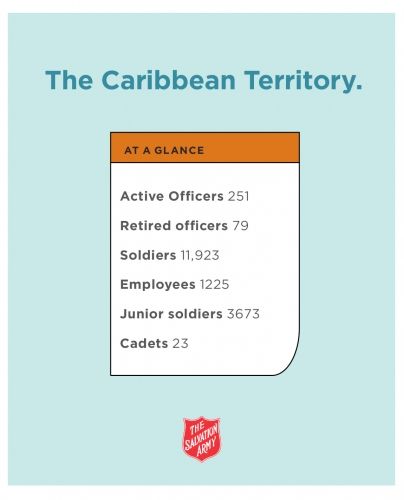 Community and feeding centres, medical work, social services, schools and children's homes, and shelters for men and women form a large part of the territory's work.
Community development projects include a poultry farm at Bethany Children's Home, a children's day care centre in St Lucia and a program for the support of schools in Haiti.
This year has been a busy one for the Caribbean Territory.
In January, the Territory welcomed its new Territorial Leaders Commissioners Mark and Sharon Tillsley; the cadets from the Training College participated in a 10-day evangelistic campaign in western Jamaica; and in June, eight new officers were commissioned and ordained.
A holiness convention, youth and children celebration, drama workshop and youth councils have also taken place.
Disaster recovery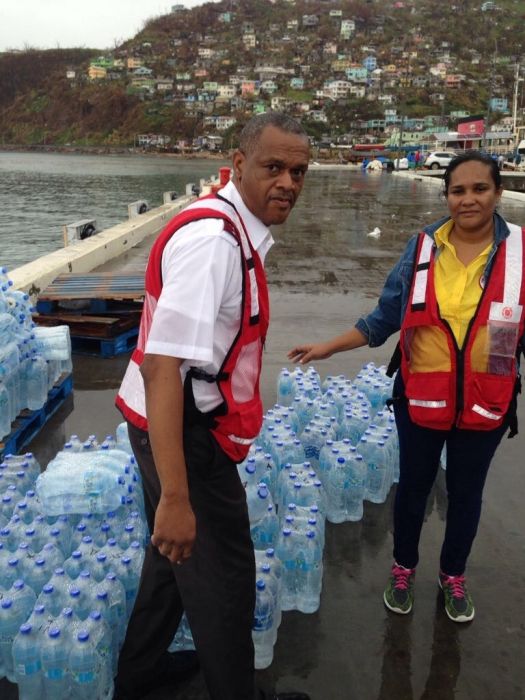 Fresh bottled water arrives in Dominca for residents devastated by hurricane damage.
The beautiful islands of the Caribbean, although attracting tourists from all over the world, are often remote and poverty-stricken. When two major hurricanes – Irma and Maria –hit the region within 10 days of each other in September – the impact was brutal and devastating.
The territory has been providing disaster relief services in Turks and Caicos, Sint Maarten, St Kitts and Nevis, Tortola, and Dominica.
The entire population of the island of Barbuda was evacuated to Antigua where The Salvation Army has been providing food, shelter and counselling to the evacuees, as well as assisting in finding school places for their children.
Similarly, in the Bahamas, many people from surrounding islands were evacuated to Nassau.
"The focus to date has been on relief and some of these programs are finishing up, but in the hardest hit areas, Turks and Caicos, St Maarten, Barbuda, and Dominica, these relief programs have started transitioning to long term relief efforts," said Lieutenant-Colonel Devon Haughton, Chief Secretary of the territory.
"Turks and Caicos has set up a warehouse for ongoing distribution of goods. Sint Maarten is exploring with the government the best ways for The Salvation Army to have an impact there, with assistance with building supplies being one idea being pursued.
"Since many of the Barbudans make their living by fishing, The Salvation Army is assessing the possibility of assisting the fisherman in getting their equipment restored to a viable state so they can continue their livelihood.
"In Dominica, The Salvation Army is looking into several options of how to make a lasting impact with the residents."
For more information on disaster recovery in the Caribbean Territory, click here.