You are here:
Home › Global Focus › Donation Garden A Fresh Way To Keep Army Pantries Full
Donation garden a fresh way to keep Army pantries full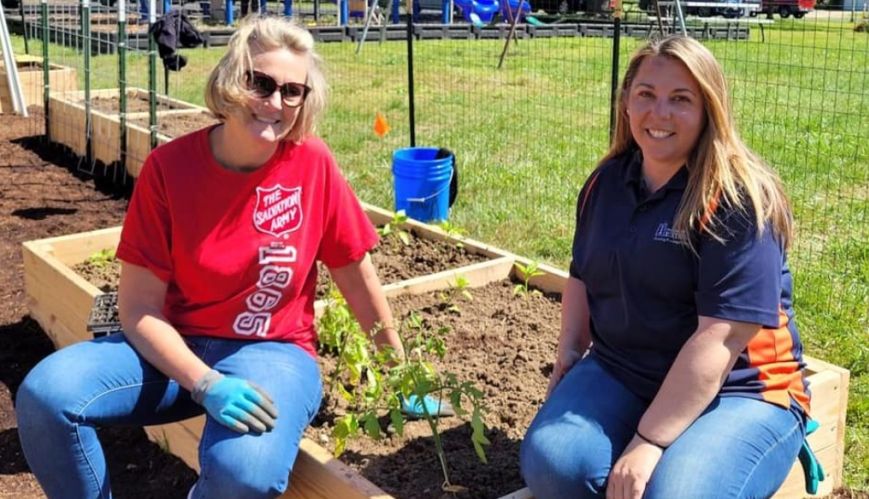 Donation garden a fresh way to keep Army pantries full
Cami Horn, of the Army's Southern Illinois Area Command, and Toni Kay, of the University of Illinois Toni Kay, at the planting day for the 'donation garden'.
By Darryl Whitecross
Food insecurity is an issue for many low-income families and the elderly in the rural area of Marion in southern Illinois, USA, but The Salvation Army in Williamson County has come up with a fresh idea it hopes will help to help change that.
Cami Horn, Social Services Manager with the Army's Southern Illinois Area Command, said that, in collaboration with the University of Illinois Extension Centre, the command had created a "donation garden" with the aim of producing fresh, locally grown, healthy, seasonal fruit and vegetables for its Service Extension Pantry clients. 
"Toni Kay (from the university) approached me with the idea of a donation garden for our pantry and I was very happy with the prospect of having locally grown vegetables available for our clients.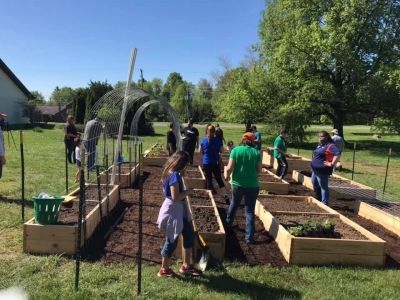 Volunteers from The Salvation Army and the University of Illinois Extension Centre planting the first seedlings at the donation garden.
"We had started a discussion about a month before the national shutdown occurred in early 2020 [as part of COVID-19 protocols] for a community garden in our area. As with many things, this was placed on hold," Cami said.
Toni, who facilitated a one-off grant from the university for the project, said the initial "spring planting day" for the garden was on Friday 30 April. Fencing was also erected on the day. Several volunteers from the Army and the University's Extension Centre, including the master gardener the university contracted for the project, took part in the planting day.
Cami said tomatoes, peppers, carrots, beets, cucumbers, potatoes, peas, beans, yellow squash, zucchini, onions and watermelon were planted. "We also have a herb bed with cilantro, parsley, thyme, dill and basil."
"I am excited to be a part of this project. We are extremely blessed to have a great network and community to get this project started and sustained for many years to come," Toni said.
Cami said the pantry served "hundreds of vulnerable families" each month in a two-county area.
"We are forming partnerships with the city, local churches and community groups to increase the probability of sustaining the garden for many years to come," Cami said.
The garden has been set up on inside a 1.6ha greenspace provided by the First Presbyterian Church, but only a small part of that has been used initially (15.5m x 7.5m) for the 10 raised beds and two sets of trellised beds, which were built by members of the Cornerstone Church's Kingdom Builders, which is a group of skilled volunteers who do minor projects in the community mostly for single mothers, the elderly and those suffering from an illness or injury. The City of Marion donated mulch, staff and equipment to the project.
Undeniably a project involving The Salvation Army with branding on the raised garden beds.
"We do have a donor discussing fruit trees as a possible addition to the area," Cami said.
Toni said it was hoped the garden would produce more than 135kg of "garden fresh produce" for the Army each year.
Cami said the garden was organic and no pesticides would be used: "We will be planting some marigolds and garlic on the edges of the beds to help with pest control and hope to have some metal artwork/wind chimes added to the garden to help scare birds away. 
She said the fresh vegetables and produce grown commercially in "a great part" of Southern Illinois included strawberries, peaches and apples, some of which is sold at farmers markets in most of the towns in the region weekly. In Williamson County and neighbouring Johnson Country, large farmers planted corn and soybeans and winter wheat as a relief crop. There were also some hog, dairy and cattle farms.
Along with the pantry, which opened two mornings a week, the Army also had a monthly Mobile Market which was a "drive-through fresh produce distribution".
Cami said food donations to the Army from "large entities" had was at record levels so "our clients get a considerable amount of food – dry goods, frozen and some fresh when available".
Toni, whose role with the university is as a SNAP-Education Extension educator, said the university had worked with the Army on a number of food pantry initiatives in the past five years and saw this latest project as "a great opportunity" to collaborate again.
"Cami mentioned this being a project that was on her 'Dream Board' and her passion for this project has made partnering with The Salvation Army an easy decision," Toni said. 
She said SNAP-Education – Supplemental Nutrition Assistance Program – was the federally funded nutrition education and obesity prevention program that provided nutrition education to people and worked with community organisations "to make healthier choices easier to make their communities".