You are here:
Home › Global Focus › Frontline Weapons Boldly Go Where Others Are Unable
'Frontline weapons' boldly go where others are unable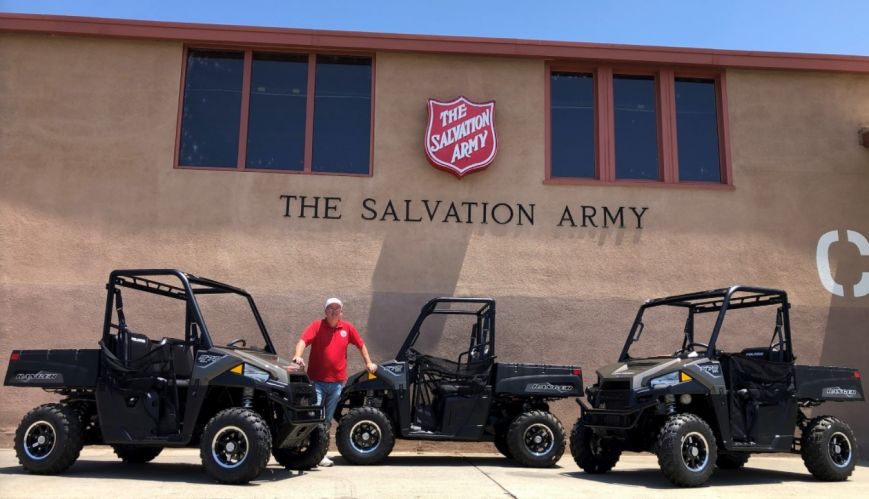 'Frontline weapons' boldly go where others are unable
Former United States Western Territory Assistant Emergency Disaster Services Director Kevin White and part of the fleet of Polaris utility off-road vehicles proving an invaluable asset on disaster frontlines.
By Darryl Whitecross
The Salvation Army continually looks for ways and means to respond as quickly as possible to disasters and crises.
In The Salvation Army United States Western Territory there is "a fleet of frontline weapons" that can be deployed quickly to reach those most isolated in a critical situation with emergency supplies and equipment – off-road utility vehicles.
Nicholas Nguyen, the territory's Emergency Disaster Services and Service Extension Director, said the all-wheel-drive vehicles had been supplied by off-road specialist company Polaris, which had been donating vehicles to the Army in the US for about 10 years.
The vehicles were part of what has been called "the Polaris Fleet" and were dedicated to be an urban response to disasters with an emphasis on earthquake preparedness. "They are an indispensable asset," Nicholas said. He added that the machines were a vital emergency vehicle for inner-city environments when a critical incident disrupted the infrastructure.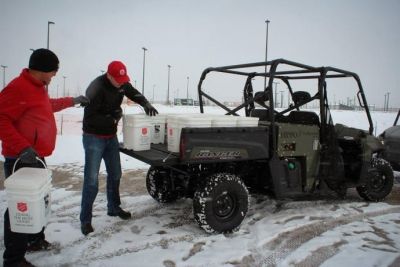 The Polaris off-road machines prove an asset in disaster relief in the United States in all weather conditions.
The fleet has been set up to serve "the entire Pacific coastline" with vehicles strategically located at Army facilities from Los Angeles to Seattle. Other depots are in the states of Oregon, Montana, Wyoming and Colorado. Part of the fleet is also stationed in Hawaii. "As needed, they could be transported to the inland regions where The Salvation Army also serves," Nicholas said.
Kevin White, former Assistant Emergency Disaster Services Director, said the vehicles were "an invaluable asset" in the Southern California division, running tirelessly as "our second and third set of hands" as they hauled heavy tools, chains, ropes and other equipment to disaster frontlines. "We are very grateful to have these vehicles at our disposal as we serve those impacted by emergencies and disasters," he said.
Incident Commander Shaun Jones said the Army in the territory's North-West Division had used the vehicles in search-and-rescue operations, taking food and hydration to locations its mobile canteens could not get to.
Commissioner Kenneth Hodder, US National Commander, said the Army was grateful for the help of supporters such as Polaris, which helped the church relieve "immediate and long-term recovery needs: Not only does it enable us to assist communities as they rebuild during long-term recovery processes but it also inspires hope."
"In the past decade, we've endured everything from hurricanes and earthquakes to tornadoes and wildfires," Kenneth said. "Now, we're battling these natural disasters on top of a raging (COVID-19) pandemic.
John Berglund, the territory's Emergency Services Director, said the vehicles had been used as part of the Army's COVID-19 "hub-and-spoke" response to deliver pandemic supplies, food boxes and clean-up/hygiene kits door-to-door into affected neighbourhoods.
Annual driving and safety training is run for all fleet operators.
Last year, Polaris provided 17 off-road vehicles to assist the US Western and Southern Territories respond to the country's worst hurricane and wildfire season in recent years.
A fleet of the vehicles was used recently during the Army's relief operations in the aftermath of Hurricane Ida, which caused significant damage, power outages and flooding in Louisiana's Greater New Orleans area and surrounds. The vehicles moved through areas to take food, water and other supplies to people stranded because large trees had fallen across roads and power lines were down.
Lucy Clark Dougherty, Polaris Foundation president, said the foundation was proud of its long association with the Army in helping to get relief to affected communities. "We are looking forward to continued partnership and service to disaster-stricken communities."