You are here:
Home › Global Focus › On The Surface Donation Leaves Army Over The Moon
On the surface, donation leaves Army over the moon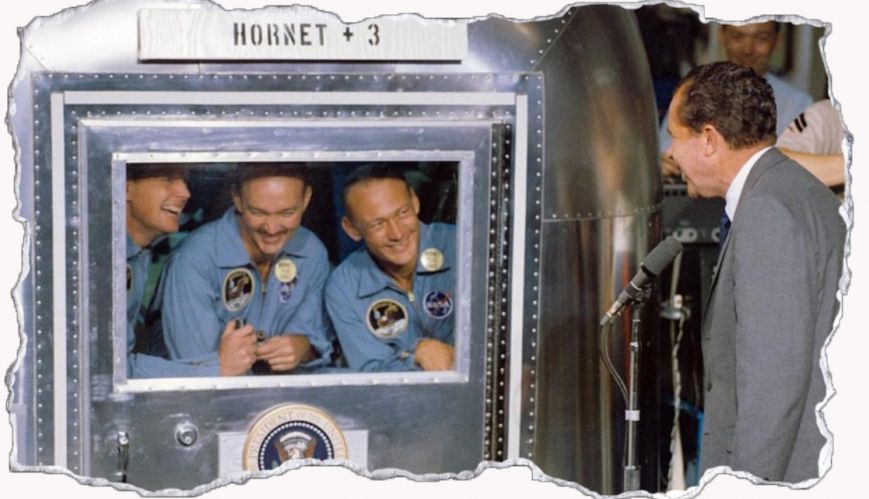 On the surface, donation leaves Army over the moon
American astronaut Buzz Aldrin has sold autographed copies of this 1969 photograph of he (right) with Neil Armstrong and Michael Collins and former United States president Richard Nixon, to raise money to help The Salvation Army's community work in the US.
Dr Edwin E. Aldrin, the second man to walk on the moon behind Neil Armstrong in 1969, has come out in support of the work of The Salvation Army in the United States among vulnerable Americans, particularly those affected by the COVID-19 pandemic.
The National Commander of the Army in the US, Commissioner Kenneth Hodder, said Dr Aldrin, better known as Buzz, the USAF colonel and Apollo XI lunar module pilot, had donated $US45,000 towards its relief programs.
David Jolley, the Army's Director of Communications at the US National Headquarters, said Buzz had raised the money through the sale of a limited edition 20cm x 25cm autographed print of the photograph he was in with his other Apollo XI crewmates, Neil Armstrong and Michael Collins, when they met the then president, Richard Nixon, while in quarantine after the mission.
Kenneth said that since March last year, the Army had been "hard at work" serving an increase in people in need as a result of the economic and emotional impact of the pandemic.
"Through donors like Dr Buzz Aldrin, we're able to continue providing support to those most affected by the pandemic. We can't thank Dr Aldrin enough for his generosity," Kenneth said.
Buzz said the pandemic had "forced all of us" to experience some form of isolation since the COVID-19 pandemic began and, while many were able to meet their quarantine commitments in their own homes, "not everyone has been so lucky".
The 90-year-old, who lives in Brevard County, Florida, is reported to have been self-isolating at his home during the pandemic.
"The pandemic has displaced many individuals and families so supporting organisations like The Salvation Army is crucial. They serve those in need when they have nowhere else to turn," he said.
The Army considers Buzz's experience in three weeks in quarantine along with fellow astronauts after their lunar landing 50 years ago had made him a voice of hope and inspiration throughout the pandemic. The donation to the Army adds to the growing list of support efforts for COVID-19 victims that he has led.
Army statistics show that, since the pandemic began, it had provided more than 225 million meals, 1.7 million nights of shelter and 905 instances of emotional and spiritual care to individuals.