Don't discount seniors when planting missional communities
Don't discount seniors when planting missional communities
By Lauren Martin

When we talk about "emerging faith communities" in The Salvation Army, seniors and aged care facilities don't generally spring to mind. But in Whittlesea, north of Melbourne, a number of such communities has been developed over the past three years in the seniors ministry space.

"It's just mind blowing," says Whittlesea City Corps Officer, Captain Aaron Stobie. "We've seen people come to faith, it's such a privilege ... it's so cutting edge, but it seems so counter-cultural because it's seniors. We [in The Salvation Army] generally consider that cutting-edge ministry is with children and young people whereas our experience [at Whittlesea] is cutting-edge ministry in line with the seniors."

Whittlesea City Salvation Army has three external faith communities in nursing homes and a retirement village. But, according to Captain Stobie, most within The Salvation Army, and in society in general, overlook people in the older age bracket. "There are plenty of corps that have paid youth workers or children's workers but I'm yet to discover a corps that has a paid seniors worker and I think that's a fairly good indicator." 


And he questions whether some in The Salvation Army discard those in the older age bracket because they think that such an investment is not going to bear fruit in the long term, growing corps leaders or future officers. "But I just love people, I don't care what age they are. For me it's about growing the Kingdom."

Captain Stobie was in his mid-20s when he and his wife Lauren were appointed to Whittlesea City Corps in Melbourne. More than three-quarters of the corps was over the age of 70. They didn't deliberately seek out more seniors to join the ranks, instead starting a range of initiatives to attract families and younger people, which have been successful (now the corps is a 50/50 split between seniors and people from younger demographics.) However, when visiting a local nursing home to pick up a collection that had been taken, Captain Stobie became aware of a need to conduct religious services and immediately offered his services.

"So many of the residents say they're Salvos now," he says. "We've got staff who come in on their day off to come to the service and volunteers who come in, who volunteer on other days but they come in so they can come to the service and even residents' family members come in on a Tuesday afternoon so they can come to the service.

"It's like, 'Wow, this is incredible!'"

With the success of the first service, Captain Stobie realised that other aged care facilities in the area might also have a need for a loving, inclusive faith community. Now, there's a team at Whittlesea City Corps who run services in a number of nearby nursing homes and retirement villages. Twelve residents of the local retirement village also travel to Whittlesea City Corps on a Sunday to worship and to other ministries and special events.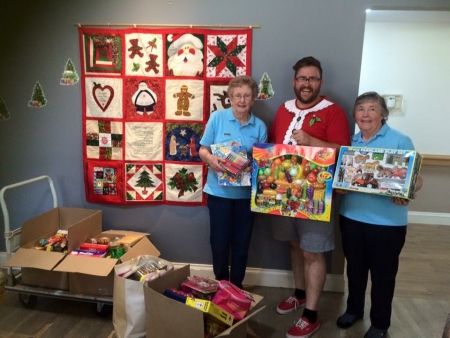 "We have 'Hymns and High Tea' a few times a year and 'Songs and Scones' and at Christmas time we have 'Carols and Cake'. We like alliteration!" laughs Captain Stobie.

On a more serious note, he says the corps is extremely blessed by the wisdom and friendship that their seniors bring. "We're a really good mix. We've got a bunch of young families with children, we've got people in their 30s and 40s and 60s and 70s.

"We've been really trying to be intentional about the intergenerational stuff. What can we learn from each other, you know? Like our older folk, our seniors, they absolutely love the enthusiasm and the energy of our younger people. And particularly our young parents, they are really keen to kind of hone in on the wisdom and experience of some of the older folk in the corps. It's so mutually beneficial."

The corps has also just started a playgroup at one of the nursing homes where it already has an existing external faith community. "The place was buzzing," says Captain Stobie. "One of the residents said to me, 'I had so much fun this morning with the children and the parents that if I was to die tonight I'd die the happiest I've ever been in my life.'

"I'm like, 'Oh my gosh!' That's quite incredible and frankly it's a real privilege."