Living our vision: Shellharbour Corps (NSW)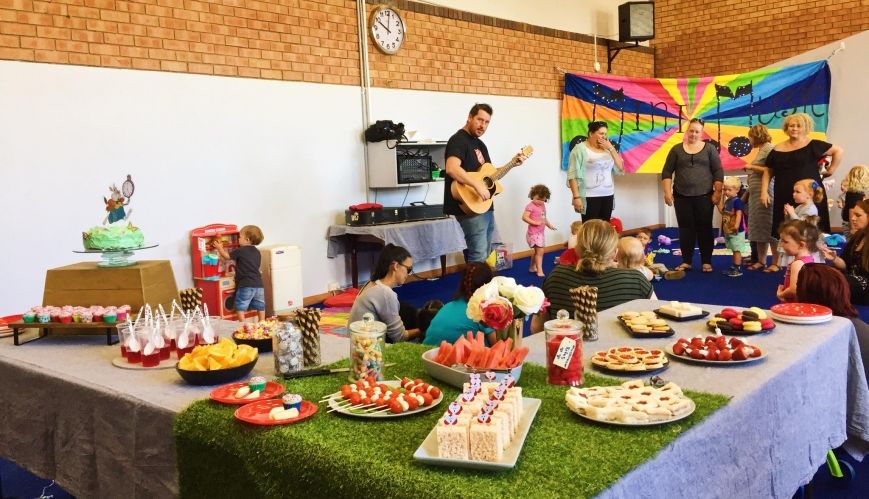 Living our vision: Shellharbour Corps (NSW)
By Claire Hill
It's 9 o'clock on Friday morning. Inside a blonde-brick building on the NSW South Coast, colour, music and children have taken over.
Each week during school term, young families from the Shellharbour community gather for Mini Music. They enter through a streamer-covered doorway to see toys, sensory activities, musical instruments and a vibrant, wall-sized Mini Music banner. The smell of oven-fresh cupcakes and the sound of the team's home-grown music add to the welcoming atmosphere.
For Lieutenants Paul and Jess Farthing, Corps Officers at Shellharbour Corps, creating a space where people feel at home is essential. "We want to provide a place where people want to be," says Jess, "a space of connection, where people can come face to face with the qualities that build the kingdom of God."
When people come together in a safe place, community just happens. One mother told Jess she didn't know what she would do without the support of the Mini Music family. "And there is a Chinese grandmother named Li who comes with her grandchild who has a disability. Li does not speak English but her daughter often tells Jess what a difference the group makes for her mother."
Last year, one of the boys cried when it was time to leave. "He was going home to face issues no child should face," said Jess. "It dawned on me that he wanted to stay in The Salvation Army building, not because we run a fantastic program, but because this place is safe. For two hours he had been encouraged to explore, have fun, and connect with other kids. Many children are in situations like that little boy, and so are lots of adults."
Women can now connect further through a new initiative: 'Mini Music Women'.
"It came about quite organically," Jess explains. "We support each other. One week we got together to make gingerbread houses. Next time we are making bath bombs. We also have an online group where we share things with each other."
Through 'Mini Music Life Group' there is opportunity to explore life and faith.
"There is one mum who came because she wanted to make friends," says Jess. "She told me straight up, 'Jess, I don't believe in all that God stuff, I just believe in now.' After experiencing the love of the Mini Music community she showed up at an exploring Christianity evening, even bringing a friend."
"This is simple Christianity," says Paul. "It's a happy community that looks after each other. We hope that the community will get to know Jesus because we know that will make it even better. Until then we will pray for them and love them like Jesus does."
*Some names and identifying details have been changed to protect the privacy of individuals 
The Living Our Vision Booster Campaign runs 11 February-18 March. Join Salvos across the country as we reflect on and commit to the National Vision. 
Download resources at resources.australiaone.info/vision