Relationships being built in a park at Merrylands
Relationships being built in a park at Merrylands
It's a typical Sunday afternoon in Sydney's west. At Holroyd Gardens parkland, a group of children and adults play soccer, while others watch and share a meal. This is church at Merrylands Salvos.
Captains Andrew and Kirsty Stringer, project officers at the new Merrylands Salvos plant for the past six months, say creating community, not implementing programs, is their number one goal.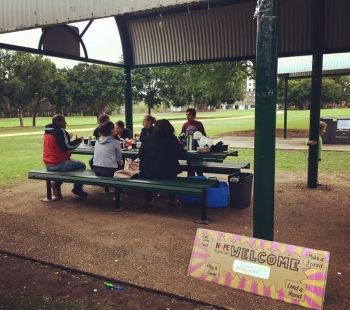 "It's about developing the faith where people are living life –in their houses, in cafés, in the park,"says Andrew. "We're really exploring, 'What does a genuine loving community look like?'and that's something that we want to be in our DNA from day one ... we want to be in the community where the people are, not build a great building and expect people to come to us because, really, God told us to go into the world and make disciples."

Merrylands Salvos is part of the Army's Greater Western Sydney cluster. Despite not implementing any programs themselves, the Stringers are keen to partner with other Salvation Army expressions and have found that connections made through partnering with SAL (Salvos Assessment Line that coordinates emergency relief and referrals) has been a great way to meet and support people in the community.

Rand is a Syrian refugee who has connected with Merrylands Salvos. She met the Stringers after her sister-in-law told her to contact the Salvos when she couldn't pay her electricity bill. She'd never heard of the Salvos before but gladly accepted Kirsty's invitation to bring her family to Holroyd Gardens park to share in a meal and get to know each other.

"I have none of my own family here but back there [in Syria] I used to live in a village so ... you know everyone, and everyone knows you. Everyone is connected with each other in some way. My dad's family is very big and my mum's too. I have five sisters ... we used to be surrounded by family all the time. Now I'm here and I'm lonely. I know no one,"she says. 


Finding the culture in Australia completely different, Rand felt isolated and alone. "Everyone here is so busy,"she says, "If I need any help I can't ask anyone because I don't know anyone that maybe would give me the time to help me."

Meeting Captains Andrew and Kirsty Stringer was a godsend. First of all, their kids, who were similar ages, hit it off. Rand also felt immediately comfortable with the couple.
"I like the way they treat me like a human," she says. "Some people don't and sometimes that crushes me inside. But with them it is completely different."

Rand and her family have quickly became regulars at Merrylands Salvos' Sunday evening gatherings at the park. Rand and a number of other women have also organised a week-day Bible study group that Kirsty leads.

An orthodox Christian, Rand says doing church with the Salvos is completely different to what she is used to, but she loves it. "I always had these thoughts about the real faith, that it is what we are doing everyday with all people, not just the way we pray, or what we say. For me, The Salvation Army is the best thing in Christianity because they are doing the things I always think [that real faith is about.]"

The Stringers have also been able to support Rand and her family through the provision of free driving lessons for Rand ("They were very helpful!" she says) and gifts and a hamper at Christmas time.

Kirsty says Rand is just one of many connections that have been made through SAL, the Holroyd Gardens ministry and regular prayer walks through the suburb, taking the time to chat with people and business owners.


"It's early days,"she says of the work of Merrylands Salvos, emphasising that, as an organic ministry, they are open to wherever God takes it (such as impromptu soccer games at their gatherings, pictured right). But at this stage the Stringers can see lots of different communities forming, with people on various stages of their faith journeys.

"That's kind of how Communities of Hope works," she says, speaking of the NSW/ACT Divisional 'Hope Rising' model.
"There's lots of different little Communities of Hope and maybe we'll all get together to celebrate sometimes but it's actually OK if people don't all know each other.

"We're all following Jesus and in those smaller Communities of Hope there is community. So I think that's where the future of Merrylands Salvos is going."