St Kilda Corps has 'left the building'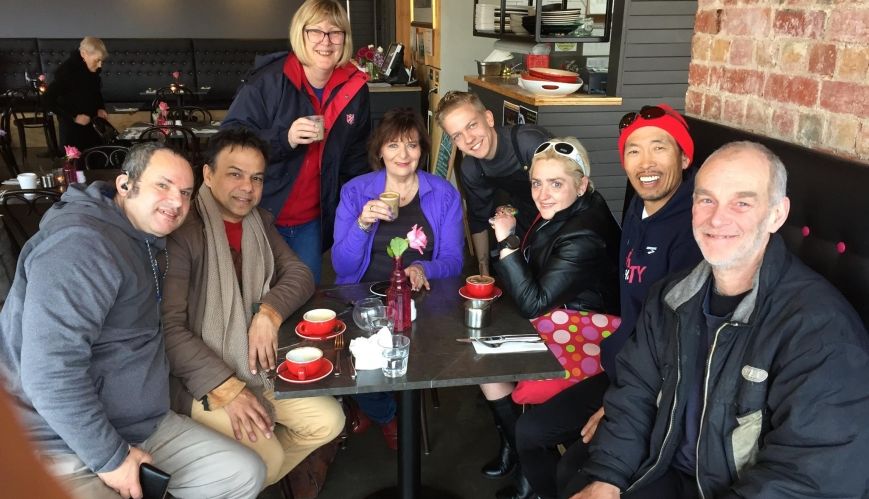 St Kilda Corps has 'left the building'

Melbourne's coffee culture is world-renowned, and St Kilda Corps is right in the heart of it. Last year, Corps Officer Major Janette Shepherd felt God calling the corps in a new direction. Why try to get people into your church building when you could meet at a café instead? 


"God really challenged me,"said Major Shepherd (pictured right). "So, we started moving a few of the activities that we were doing at the church, which was a bit removed from the main drag where people hung out, we started meeting in the coffee shops in our main street and making good connections with the people that work there and some of the patrons."

Being "the Church" in these new spaces proved to be both liberating and God-glorifying. Opportunities have arisen to pray with people, give Bibles to people and share in meaningful discussion. But what did it all mean?

If people didn't get "saved", or commit to coming to the corps for meetings on Sunday, was it really "church"? Was it really making a difference for Christ?

Major Shepherd says, at first, these questions and preconceptions about church were weighing on the minds of some corps folk, but as a chaplain who has spent 12 years of service in courts and prisons, she knew that Jesus is operational in all spaces.

"[It's about thinking] differently ... and to regard church as being the body of Christ, not a building,"she says. "I mean, Jesus didn't have a building, he just met where other people were and the others went along with him.

"It's great, no property issues!" she laughs.

What started with a weekly café prayer group on Tuesdays and a Friday afternoon playing board games in a local café has now evolved into a Tuesday café Bible discussion group, a Friday café prayer group and the board games afternoon. God has opened doors – even helping the St Kilda Salvos choose the right café to meet at.

"We have a woman in our corps who knows everybody on Carlisle Street [the St Kilda café strip],"says Major Shepherd. "She's in her late 70s and she's amazing. I call her 'Mother Theresa of Carlisle Street'. She used to go get a coffee on her way to church on Sunday morning and one of the young women who was working at this patisserie as a part-time waitress got to know her and asked where she was going on a Sunday. When she told her the woman said, 'Oh, I have a sister who has some serious issues ... do you think your church can pray for my sister?'"

From there the relationship grew and when Major Shepherd met with the waitress and talked to her about how the corps was looking to do more things in the community the woman said, "That's fantastic! I could be part of your group and I could be your waitress!"

The St Kilda Salvos now not only have a strong relationship with the waitress, but also the Polish family who own the Patisserie.
Meeting publicly has allowed the group to share with other locals about why they are gathering and offer to pray for people. Many locals who work in nearby businesses feel touched to know that the Salvos are praying for them every week and everyday conversations when they run into Major Shepherd are turning more frequently to spiritual matters. Journeying with people, she says, takes time, and the ability to give over control to God, rather than trying to map-out and take charge of people's faith pathways.

"You never know where it's going to go, and you never know where God is going to take it. It's not all about bringing back to a church [building] space. It can go here, there and everywhere. And that's ok."

And while some evangelists are definite extroverts, Major Shepherd and her corps wouldn't put themselves in that category. "I'm actually an introvert," she says. "But introverts do one-on-one stuff really well and it's about listening and being there. That's what we used to say as a chaplain: you show up. And out of that consistency comes opportunities to share life and share faith and pray for people. It happens naturally."
The Living Our Vision Booster Campaign runs 11 February-18 March. Join Salvos across the country as we reflect on and commit to the National Vision. 
Download resources at resources.australiaone.info/vision