Water project brings hope to struggling farmers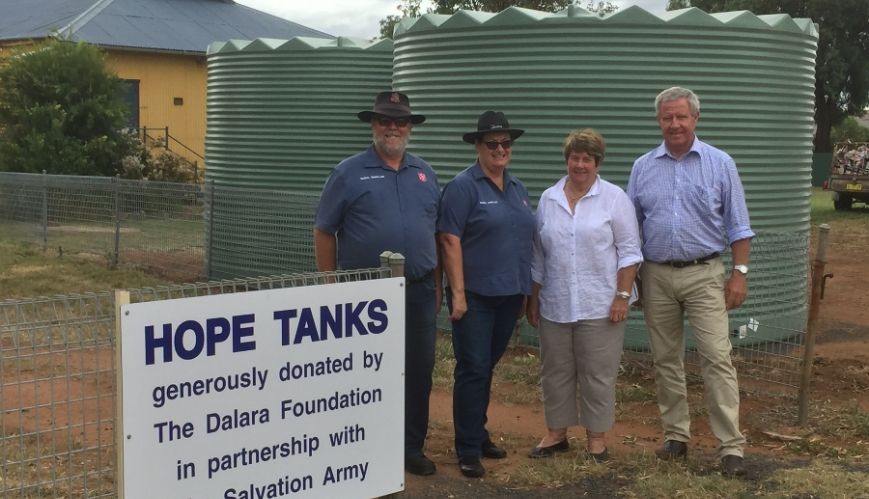 Water project brings hope to struggling farmers
"Without hope we have nothing. Hope can (sometimes) mean the difference between life and death." – Rusty Lawson, Salvation Army Rural chaplain
Bringing "waters of life" to rural communities is at the heart of the Dalara Foundation's "tanks and pipes" project, started by Salvation Army supporters Allan and Lyn Davies.
Allan and Lyn have a family mining background, but they are also farmers and know the challenges faced by many rural communities, particularly when disasters like drought, floods or fire strike.

They also know the value of emotional and spiritual support, with rural chaplaincy high on their agenda.

The Davies family's Dalara Foundation, established in 2007, has committed around $30,000 a year since 2015 to assist farmers in need. They put their trust in Salvation Army rural chaplains in the Hunter and Western NSW region to identify farmers who would benefit from new water tanks and/or associated piping and plumbing.

Over the past year, this has included a number of farm families whose drinking and stock water systems were wiped out in the "Sir Ivan Fire" of February 2017. The fire, which raged through the Warrumbungle Shire, killed 5000 farm animals, destroyed more than 30 homes (including an entire village) and burned through 50,000 hectares of mainly farming land.

"Both Lyn and I feel the people in the country often miss out on opportunities and services. We've lived in the country most of our lives and have observed this first-hand. So much of our focus is supporting people in the country – and we are fortunate enough to be in a position to be able do so," said Allan, a fifth-generation Hunter Valley miner, mine manager and owner.

The couple and their family support a range of specific charities and projects from education of Aboriginal boys to major health research. Allan says the "tanks and pipes" project covers two essentials for farmers – the need for appropriate water and The Salvation Army rural chaplaincy.

"Obviously water is 'farming 101'," Allan says. "It's just essential. Plus, we believe the rural chaplaincy is a really critical way to support country communities."

Salvation Army chaplain Rusty Lawson says: "What Allan and Lyn do through the Dalara Foundation gives us the means of helping people in a most practical way. Water really is the essence of life."

The Dalara Foundation also recently funded the replacement of aging and rusted tanks at Leadville community hall.

Rusty says: "During the 2017 bushfires, the Leadville hall was the only place that had water after the first day for the fire service. And it is really a huge community hub – plus so many caravans pull in there as there is little else around. So water is now available to the community, to those who pass through there and also a resource for emergency services."

Rural chaplain Di Lawson says of the chaplaincy work and the project: "People have been through droughts, deaths in families, accidents, (major) flooding events, fires and it just seems to pile one on top of the other. Sometimes it's very overwhelming and they can't see light at the end of the tunnel. But then people who care come along and offer glimpses of hope and all of a sudden there is light."

Rusty adds: "It can be the situation of someone who's living on a property miles from anywhere that has had bad time after bad time and (the thoughts are not good) but then someone drives up the drive – gets out of the vehicle and says 'G'day mate how are you doing through all of this?'

"The family farmers, maybe third generation, trying to keep the family land and tradition alive are very resilient and very humble people. If you can just come in and offer them help with plumbing or a tank for storage when they are in real need – it actually means the world to them.

"The Bible talks about offering a cup of cold water in Christ's name – and I reckon this is something special," Rusty concludes with a wide smile.