Salvos partnership restores broken dreams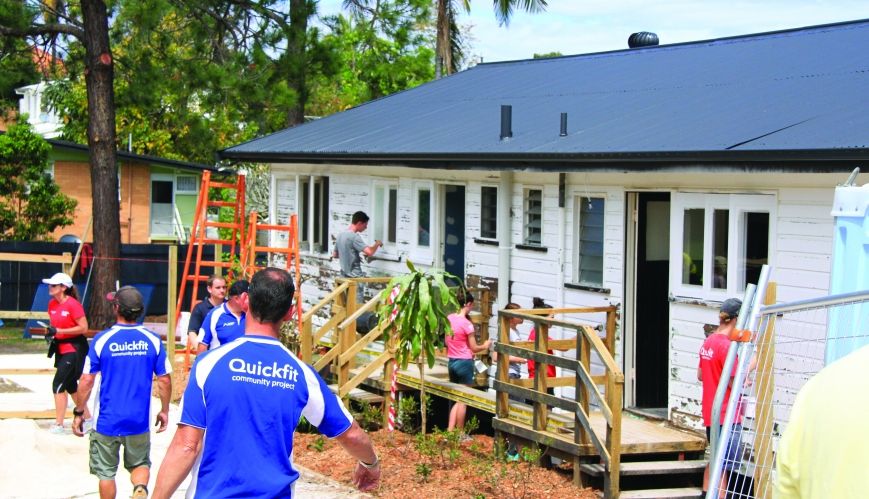 Salvos partnership restores broken dreams
10 May 2016
Refreshing the soul, restoring the dreams, and renewing the strength of vulnerable young mothers and their children is the goal of Besor Home, an innovative pilot project on the Gold Coast, based on a partnership between The Salvation Army and Global Care (the charity arm of Elevation Church).
The project, which began in December last year, provides transitional and supported accommodation in the community for young mothers leaving The Salvation Army's Accommodation Service Gold Coast (Still Waters) and in need of ongoing assistance to rebuild their lives.
Besor Home is currently a duplex in a Gold Coast suburb – two units, each with two bedrooms. Elevation Church and their army of volunteers renovated the units for occupancy. "Part of our church's ministry is vulnerable young mothers, and this is something we can do to help them in their time of transition," said Andy Backhouse, Community Pastor, Elevation Church. "We wanted to provide something that would help the women feel valued and loved, and to offer them educational and practical opportunities and social connection with the church, as appropriate."
The first client in Besor House spoke to her case worker about wanting to build friendships and connect to a church, and volunteers are sensitively working with case workers, and the client, to make this happen. "As clients express an interest in connecting, support such as budgeting assistance, healthy cooking classes, parenting role modelling and social networks are available," said Mona Nielsen, Still Waters' Manager.
Still Waters recommends clients for Besor Home and continues to support them as they settle into the community and look for sustainable independent accommodation. "This is provided by working within a case management framework," said Mona. "It's exciting because it's a natural part of our approach to help the women develop their resilience, do more for themselves and build social connection."
The women are finding a special place in Besor Home. "I love it very much," said one of the ladies. "It is very peaceful for me and all so new. As soon as I come in here I feel peace."
Salvos Housing manages the tenancy according to the Residential Tenancies Authority. "We explained that we are a 'Real Estate with a heart'," said Rob Burnelek, General Manager Salvos Housing. "We still require a bond and rent, but we also help clients build a positive bond history, provide certain support services and work with clients to become part of their healing and growing process. Ultimately, we want to see people flourish in life and come to Christ through our services."
Ongoing communication with, and connection to, the faith-based community, is a vital part of the Besor Home project. "Everything we do is professional, relational and missional," emphasised Chris Deighton, Salvation Army Operations Manager, Queensland, Accommodation and Housing Services. "We believe transformation is all about community, and a faith-based community opens up opportunities for people to engage, grow in self-worth, and develop resilience. Once a person is connected in their community, the social services can just be used as stepping stones and for duration of need in particular circumstances. They won't need to be part of a client's life forever."
Besor Home is named after the Besor Valley in 1 Samuel 30:10-11 – a place of restoration, cheerfulness and good news. "This partnership is working well and I couldn't think of a better organisation to partner with than The Salvation Army," said Andy. "We want to edify and mature that work here on the Gold Coast through Besor Home, and dream about expanding from here."