Flags raised at new territorial headquarters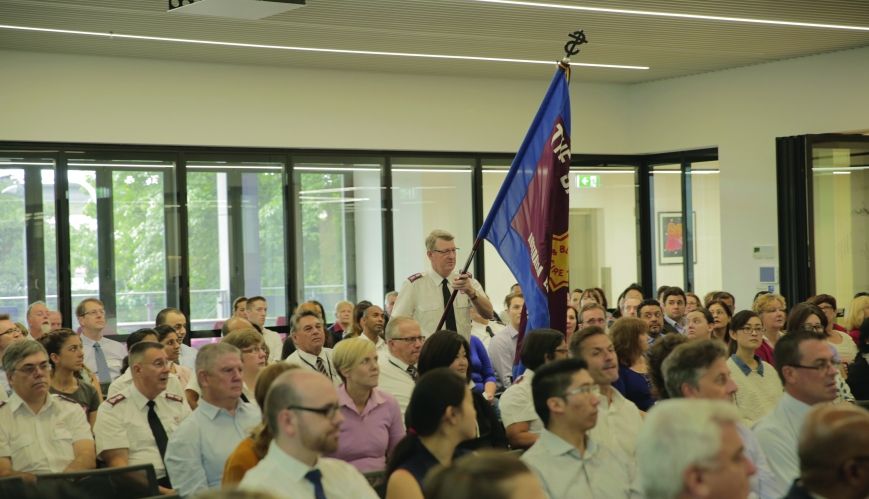 Flags raised at new territorial headquarters
11 May 2016
The raising of four flags outside The Salvation Army's new Australia Eastern Territorial Headquarters last month was part of a series of ceremonies marking the move from the Elizabeth St building, in Sydney's CBD, to the Redfern centre.
The Australian, Indigenous and Torres Strait Islands flags were raised alongside The Salvation Army flag on 13 April, in recognition of the Army's ongoing commitment to the people of Australia.
The flag ceremony followed the first weekly "prayers" to be held in the new building, which employees moved into on 11 April. More than 250 staff gathered in the building's chapel for a time of worship, scripture reading and reflection. The Australia Eastern Territory Territorial Headquarters flag was marched in and unfurled by Chief Secretary, Colonel Mark Campbell. A large three-dimensional cross, filled Flags raised at new territorial headquarters with white stones, was also dedicated during the service. Both symbols will reside permanently in the chapel.
Territorial President of Women's Ministries, Commissioner Jan Condon, said those present at the official opening were invited to write their name on a stone and place it in the cross as an expression of gratitude to God for the new facility. "I have been amazed at the atmosphere of change as we have made this move," she said. "There is a real spirit of positivity and excitement. It's wonderful."
The new THQ building was officially opened on 2 April, a day on which the first meeting of the Salvationist Advisory Council to the Territorial Commander was held in the executive boardroom. The group of Salvationists, drawn from corps across the territory, gathered to discuss critical territorial issues and, in particular, the new twodivision structure that was introduced in January this year.
The farewell to the Australia Eastern Territory's previous headquarters building, in Elizabeth St, was marked by a gathering of staff for "final prayers" on Thursday 7 April. The service, led by Commissioner Jan Condon, featured a number of staff taking part in a shared Bible reading. Commissioner James Condon also brought a brief message.
During the service, Colonel Campbell and Territorial Secretary for Business Administration, Lieut-Colonel Kelvin Pethybridge, officially rolled up the Territorial Headquarters flag in readiness for its transportation to the new Redfern complex. The Australia Eastern Territorial Headquarters had been housed at the Elizabeth St site since 1926. 
Click here to see a photo gallery of the new Salavtion Army headquarters in Redfern.