THQ stages event in support of Refugee Week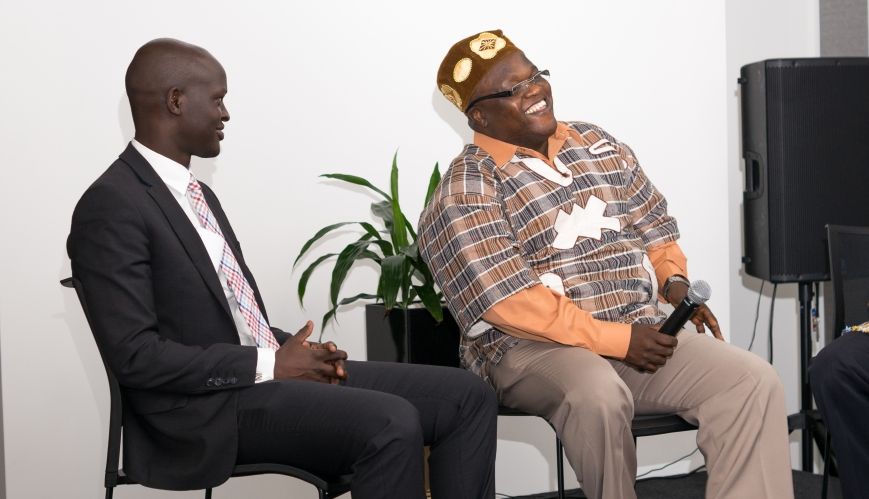 THQ stages event in support of Refugee Week
24 June 2016
The Salvation Army's Inclusive Australia program took the opportunity to create awareness about the worldwide refugee crisis at a Refugee Week event held at Territorial Headquarters yesterday. Refugee Week is a national initiative held from 19-25 June.
Colonel Mark Campbell opened the event by reminding the congregation that Jesus was once a refugee when he lived on earth. "For refugee week we think about the heart of who we actually are as The Salvation Army – we're God's people. And out of the heart of that, we care for other people. And we care for refugees because they're God's people, too."
Territorial Multicultural Ministries Coordinator Captain Nesan Kistan offered facts about the dire refugee crisis facing the world, emphasising that more than 43 million people have been displaced due to conflict and persecution. Songwriter and singer Kartik Kuna then performed his own song, Home away from home, shedding light on the refugee crisis.
Guest speaker, Daniel Ajak, rose to the stage to share his story of growing up in a refugee camp in Kenya. His parents often went without food so he could eat, his family lived in a mud house and they slept on the floor with a plastic sheet covering at the camp. Daniel shared how he was given the opportunity to move to Australia in 2004 and how he forged a life here without his family. Daniel is now a qualified lawyer who is interning at Salvos Legal.
"When I was a kid I never dreamt of being a lawyer because it was never going to happen, but I'm here now because of the support here," said Daniel. Captain Kistan then added: "The thing that I love about Daniel's story is typical of most refugees – it is the resilience, the attitude that even though things are tough, they never give up and they keep on persevering."

Captain Kistan then interviewed Daniel and another former refugee, Nabieu Wallace, in a panel format. Nabieu explained how his family was forced to flee their home country of Sierra Leone and live in a refugee camp in Guinea. After spending five years living in inhumane conditions, Nabieu and his family were able to apply for asylum in Australia.
After another performance by Kartik in Hindu, Captain Kistan challenged those present about their moral responsibility to speak out for refugees in Australia.
Further information about Refugee Week is available HERE.