Snow Mission builds local and global community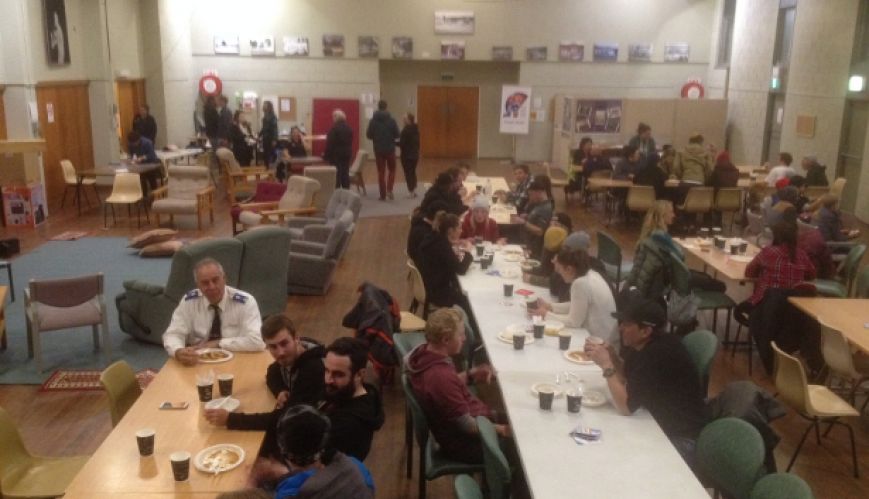 Snow Mission builds local and global community
14 July 2016
By Simone Worthing

The Salvation Army's Snow Mission is in its fifth year of providing ski-field workers, travellers and locals with meals, groceries, and a warm, safe and caring place to make friends, spend time and experience the love and acceptance of God.
The mission which finishes tomorrow is based in Jindabyne, approximately 45km from the Thredbo and Perisher Blue ski resorts. During that time, relationships with local and interstate churches were deepened, friendships were formed with people from all around the world, and people met Jesus.

Every night, volunteers served more than 140 meals, and also provided drinks, snacks, conversation and prayer to travellers who dropped in during the day. Staff held daily devotions and afternoon praise and worship sessions.

The first week of mission began on 3 July, with the team setting up in the local Memorial Hall. To supplement the Salvo and local volunteers, Captain Louise Nicholson, Cooma Corps Officer, who runs Snow Mission, was delighted to accept volunteers from Welcome Street Church in Wakeley, Sydney. Pastor Gabriel Rodriguez and his wife, Kim, with a team from their church, helped out for more than a week.

In week two, Snow Mission received a number of Salvo volunteers, including those who have part of Snow Mission since its beginning. "We have also linked up and made connections with the Uniting Church in Jindabyne, and a couple of their soup kitchen volunteers helped us, too," said Captain Nicholson. "We will continue to partner with the Uniting Church to link with people after Snow Mission, especially those who want to know more about Jesus. This will include weekly visits to run our Bible studies and continue the relationships built here."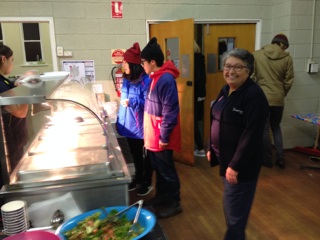 Retired officer Major Sandra Lesar (right) joins the team each year.
For the first time, Captain Nicholson has seen guests evangelising to other interested guests, and people asking about Jesus from day one of the mission. Copies of the "Deadly Gospel" – Mark's gospel with testimonies from Indigenous Christians – are left on the tables in the hall, and people have been reading them. "It's very encouraging," said Captain Nicholson. "We have also had people drop in to use our prayer room, including two Muslim ladies.
The volunteers all love the work they do at Snow Mission. "Although each year is so different due to the team we have, the focus is always the same," said Elise Paull, who has been volunteering for five years. "It's about serving God and others. Heart to God, hand to man! That is probably the best thing about this mission that God stays at the focus and centre of it. We are filling a need, being there for people."