New leadership roles for Australia Eastern officers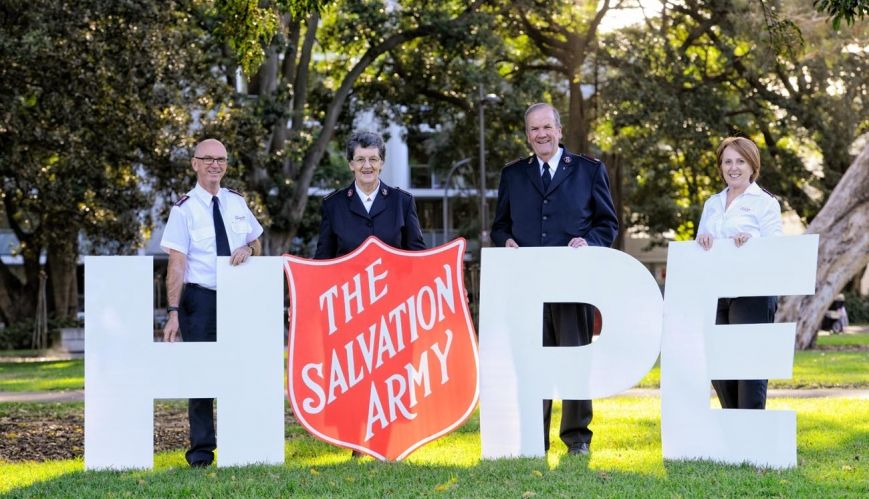 New leadership roles for Australia Eastern officers
3 August 2016
Lieutenant-Colonels Kelvin and Cheralynne Pethybridge have received new Australia Eastern territorial leadership appointments, which will take effect on 1 January 2017.
Currently serving as Territorial Secretary for Business Administration, Lieut-Colonel Kelvin will take on the role of Chief Secretary-in-charge. Lieut-Colonel Cheralynne, currently serving as Assistant Secretary for Personnel, will become Territorial Secretary for Women's Ministries.
While surprised to receive these leadership roles, the Pethybridges said they felt humbled to have been chosen for these positions. "We've always been available to what God and the Army has required of us. I guess in that respect we haven't really sought out anything greater than the responsibility that we actually have at the moment," said Lieut-Colonel Cheralynne.
While Lieut-Colonel Kelvin will take on the territory's top job, he said his leadership role will be a joint ministry with his wife. "We've always viewed officership as a joint ministry. We minister together, we work for God together. And we continue to see it that way."
Continuing to implement the Forward Together strategy and a smooth transition to Australia One will remain top priorities for the Pethybridges. They are also focused on empowering people in their current ministry roles during the Australia One transition, with the aim to bring together a unified Army.
"People are a major priority and resource. Officers, soldiers, employees and anybody who is associated with the Army," said Lieut-Colonel Kelvin. "Our people need to feel appreciated and empowered in their ministry and in this time of moving to Australia One, it is important that people don't feel a sense of being lost in all that is occurring around them. Great things are happening across the territory. Lives are being changed and people are finding freedom in Jesus. We need to continue on the mission that God has brought the Army into existence to achieve.
"When we move to Australia One the Army will be stronger. The reality is, we can do the whole administrative thing, we can combine from a business perspective. But if that's all we do then we've missed the bigger things God has in store. God has a greater future for our Army in Australia."
Most importantly, the Pethybridges said they were focused on showing Jesus to Australians. "The role is a transitional one as we move to one Australia, so it's really helping our territory to continue our core business, which is really introducing people to Jesus," said Lieut-Colonel Kelvin Pethybridge.
Lieut-Colonels Kelvin and Cheralynne have been Salvation Army officers for 33 years, entering the School For Officer Training College in Bexley North, Sydney, in 1981 and commissioned in 1983. They served as corps officers for many years before taking up various appointments at divisional and territorial level. Lieut-Colonel Kelvin Pethybridge's appointments have included Divisional Youth and Candidates Secretary, and Divisional Secretary and Second Command for the Sydney East and Illawarra Division. Lieut-Colonel Cheralynne has served as Divisional Mission and Resource Director – Corps, Divisional Candidates Secretary and Divisional Secretary for Women's Ministries. The Pethybridges also spent three years as divisional leaders in Central and North Queensland before taking up their current appointments at territorial headquarters.
Lieut-Colonel Kelvin also holds a Bachelor of Professional Studies and a Masters in Administrative Leadership with the University of New England.
In another major appointment for Australia Eastern officers, Lieut-Colonels Kelvin and Julie Alley have received new appointments as Territorial Commander and Territorial President of Women's Ministries for the Papua New Guinea Territory. The Alleys took up their second appointment to the PNG Territory late last year, after a two-year stint that began in 2008.
Since December 2015, Lieut-Colonel Kelvin Alley has been serving as the PNG territory's Chief Secretary and Lieut-Colonel Julie as Territorial Secretary for Women's Ministries and Director of Health Services. They will begin their new appointments on 1 January 2017 and be promoted to the rank of colonel.