Armidale Family Store steps us missional focus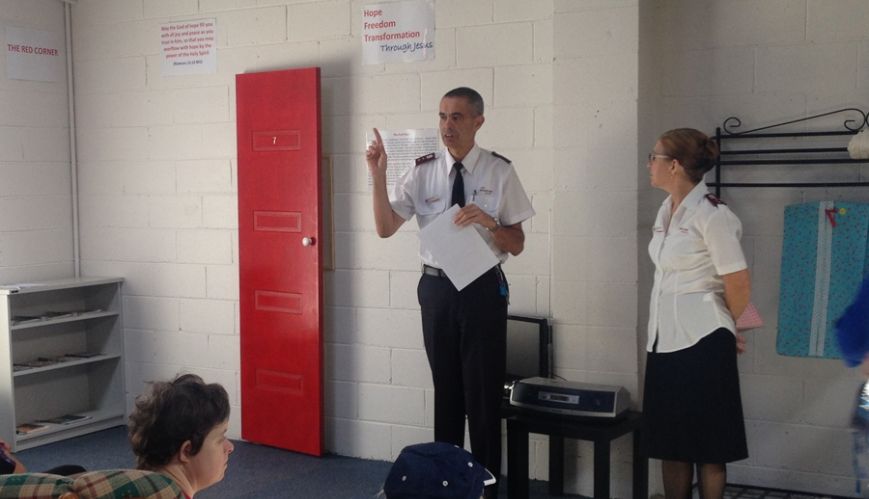 Armidale Family Store steps us missional focus
17 August 2016
The Salvation Army Family Store in Armidale is no longer just a place to find a bargain. It's now a missional centre. After a quick remodel earlier this year, the Family Store reopened in April with a "Red Corner", an area in the store where people can find out more about Jesus.
"We want The Salvation Army in Armidale to be a holistic centre for mind, body and soul for everyone who comes in," Armidale Corps Officer, Captain Dale Murray, says.
Shoppers are invited to relax in the Red Corner and Family Store staff are available to chat with customers if they have questions about God. In the Red Corner there is a red door and behind the door is a Bible verse about hope. The verse changes every week. "I believe we are slowly sowing seeds of hope in people's minds," Captain Murray says.
The captain says the Red Corner is also a place of safety and protection. The red door is based on a passage of Scripture from Exodus 12, where God instructs the Israelites to paint their door posts with the blood of a lamb to protect their families.
The new missional focus has created a lot of interest with regular customers. "All people from all walks of life come into our Family Store and, you know, we've had some good discussions already within the Family Store about what we're trying to achieve – and we're being intentional in our shop by talking about Jesus," Captain Murray says.
"Some people might think we're crazy because we're taking up floor space where we could sell more stuff, but we've given that floor space to honour God. We believe God is honouring what we've done by deliberately setting aside a place where we can talk about Jesus in our shop."
The Army in Armidale has also teamed up with the local women's domestic violence shelter to offer a place for victims of domestic violence to seek help. "We want to be able to be a point of referral for them. We want them to know they can come to The Salvation Army and we will do all that we can to make them safe," Captain Murray says.