You are here:
Home › News › 2016 › 08 › 19 › Chinese Conferences Connect Aussie Officers With The World
Chinese conferences connect Aussie officers with the world
Chinese conferences connect Aussie officers with the world
19 August 2016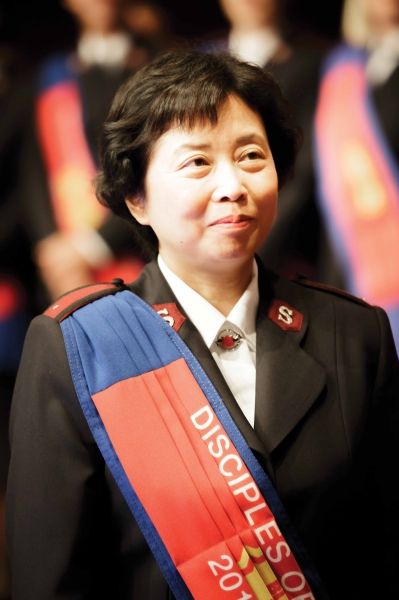 Lieutenant Winnie Ng graudated from the School For Officer Training in 2013.
Three Salvation Army officers from Australia will take part in two Christian conferences in the Taiwan capital of Taipei over the next week.
Lieutenant-Colonel Samuel Pho (Australia National Secretary), Lieutenant Lydia Hong (Hurstville Corps Officer) and Lieutenant Winnie Ng (Calamvale Corps Officer) will attend the Chinese Consultation on World Evangelism (CCOWE) conference from 22-26 August, followed by The Salvation Army Kindred Conference from 27-29 August.
The ninth CCOWE conference, held every five years, is an opportunity for delegates to connect with Chinese-speaking leaders across the world. "It is a valuable opportunity for Chinese churches to come together and seek spiritual renewal," Lieutenant Ng said.
CCOWE sessions will focus on Bible Exposition, Mission Focus and Prayer, Regional Research Reports, Exhibitions, and Action Research and Model Development (ARMD). The ARMD strategy sessions will be divided into seven key areas: Family and Mission, Youth and Mission, Marketplace and Mission, Cultural/Media and Mission, Church-Based Discipleship and Mission, Community Service and Mission, and Education and Mission.
"Through ARMD, the delegates explore visions and strategies and hopefully bring home with deeper understanding of mission and action plans to follow after the event," Lieutenant Ng said.
Following CCOWE, the Australian trio will turn their attention to connecting with Chinese-speaking Salvation Army officers from all over the world at the Kindred Conference.
"We have an opportunity to reflect on Chinese ministry in various Salvation Armys, different territories and different commands like Hong Kong and Macua Command. Then maybe we would talk about our local challenges and also opportunities in our ministry to Chinese people. Then possibly we can learn from each other and learn some ways we can develop ministry," Lieutenant Ng said.
"It is my prayer that through the Chinese congress and Kindred Conference, God will give us a clear sense of his will and direction. We also get to connect and find a way to support and encourage each other as we move forward internationally and also in our own settings in our ministries to Chinese people."
Salvation Army officers from the Australia Southern, USA Western, Singapore, Malaysia and Myanmar territories, Hong Kong and Macau Command, Taiwan Region and International Headquarters will also be attending the conferences.