You are here:
Home › News › 2016 › 08 › 22 › Start Doing Your Stretches For Mirandas Big 50 Walkathon
Start doing your stretches for Miranda's Big 50 walkathon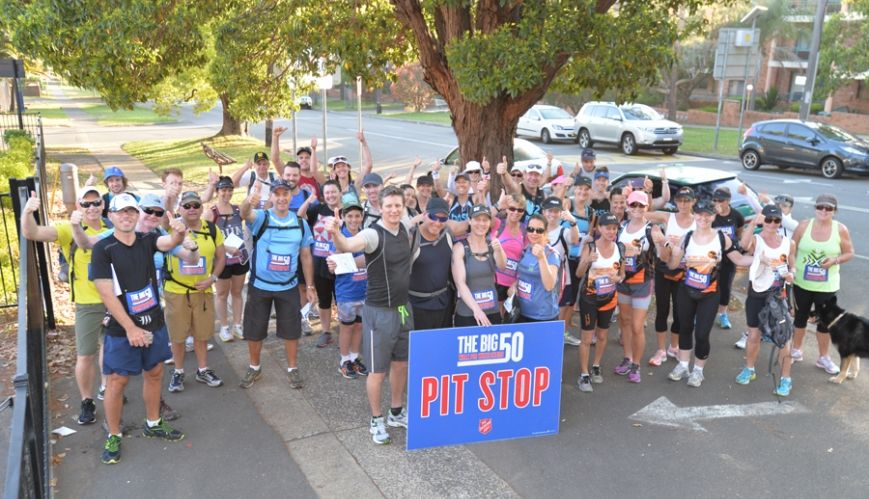 Start doing your stretches for Miranda's Big 50 walkathon
22 August 2016
For those who love to take a stroll for a cause, it's time to get into training for Miranda Corps' annual 50km fundraiser walkathon – The Big 50, to be held on 27 August. The annual event raises funds for people who are struggling through a range of issues in the Sutherland Shire, in Sydney's south.
"We're trying to raise money for the work we do with those who are doing it tough in the Shire, whether they are victims of domestic violence or abuse or struggle with addiction," said The Big 50 coordinator, Shandri Brown.
Hoping to raise $7000, some of the funds raised will go towards buying swags for the homeless. Shandri will also work with Miranda Corps' Community and Family Support Worker, Rachael Lewis, to disperse the rest of the funds to those in need.
"We're hoping that this Big 50 is going to make a difference," Shandri said. "It's important as a corps to keep putting effort into things that are about us serving and giving back to the community. So we keep doing it for that reason."
The walkathon has a dual purpose, with an opportunity for Miranda Corps to connect with their local community. For those who are unable to participate, there are many other attractions on offer, including a barbeque and jumping castle for kids. "It brings people in and we're able to connect with them and build some rapport," Shandri said.
Shandri would like to see 50 individuals complete the 50km walkathon. For those who are unable to walk 50km, there's a 25km and 5km option. There's a registration fee of $50 for the 50km and 25km walkathon. For those participating in the 5km walk, it's $10 per person or $25 per family. Shandri would like encourage individuals to raise more than the $50 registration through the Salvos Community Fundraising page (see link below).
For those who are able to participate in the fitness part of the fundraiser, Shandri said they will need volunteers to help out on the day. To volunteer, phone Shandri Brown on 0466 152 080 or email mirandasalvos@gmail.com
For further information about The Big 50 walkathon or to register, click here or head to the Miranda Salvos Facebook page, facebook.com/mirandasalvos
To donate to The Big 50 or to register for the Salvos Community Fundraising page , click here.