Junior Brass building bridges into Taree community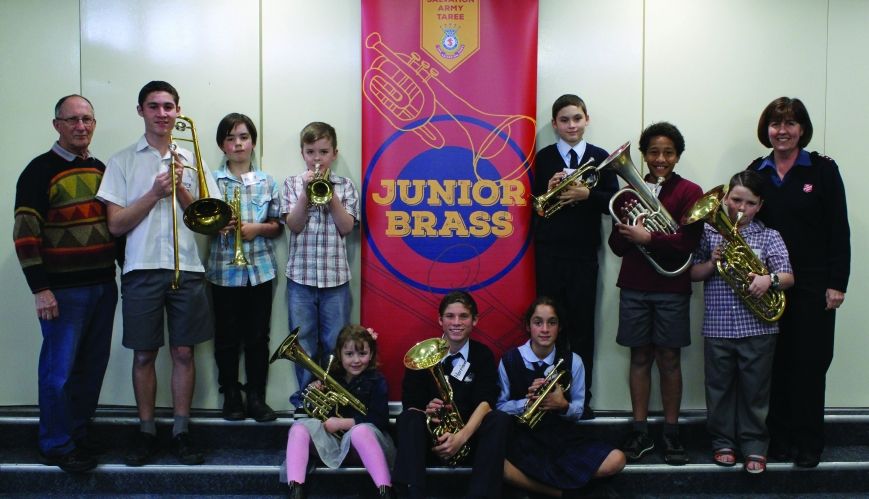 Junior Brass building bridges into Taree community
27 September 2016
Earlier this year, the Taree Corps of The Salvation Army stepped out in faith and commenced Junior Brass, a program for teaching children to play a brass instrument and also teach them about Jesus. Under the leadership of corps bandmaster, Kevin Cause, and many helpers from within the corps and local community, the group has flourished and now has 11 children aged between 7 and 16 learning various brass instruments.
The corps has also commenced Junior Soldiers under the leadership of Nina Tisdell, and recently had the privilege of enrolling five new junior soldiers, three of them coming from the Junior Brass program. Another young girl is commencing her junior soldier preparation course.

The Junior Brass program is held on Tuesday afternoons, followed by Junior Soldiers. In June, the corps had its first Junior Brass concert which attracted about 70 people including parents and grandparents of the young musicians. In late August, when the  five junior soldiers were enrolled, the attendance on the day swelled to almost 100, again including many parents and grandparents. One family has now started attending Sunday services as a result of the Junior Brass program.

The Vision Statement at Taree Corps is: "We see all people in the Manning Valley filled with the Holy Spirit, coming to a true and personal knowledge of who God is and what He is like." And the way the corps hopes to realise this vision is outlined in its Mission Statement: "To reach people for Christ, by building relationships of trust in our communities."

Junior Brass is a program which enables the corps to build relationships with members of the community so that the gospel message can be shared. Prayer is also a key component of mission at Taree. The corps started intentional, ongoing prayer for the Junior Brass and Junior Soldiers programs six months before they commenced.