You are here:
Home › News › 2016 › 10 › 31 › Rosie Batty Addresses Domestic Violence Forum In Broken Hill
Rosie Batty addresses domestic violence forum in Broken Hill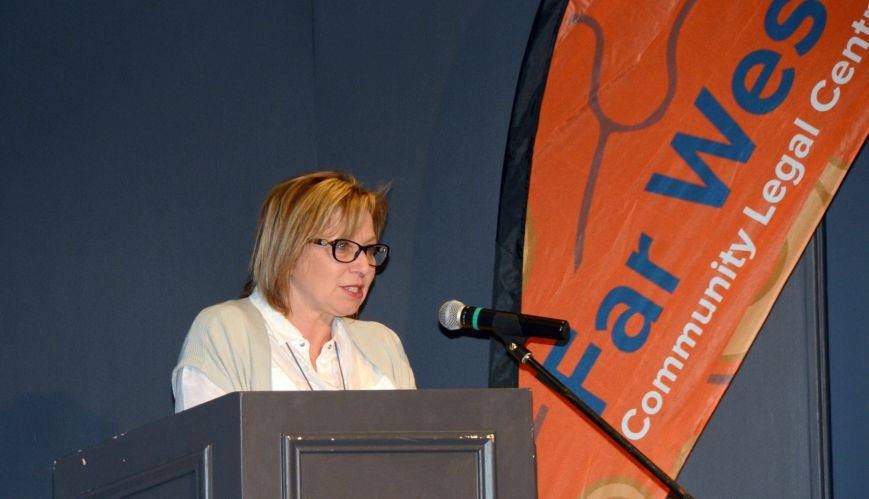 Rosie Batty addresses domestic violence forum in Broken Hill
31 October 2016
Rosie Batty, one of Australia's most prominent domestic violence reform advocates, at the invitation of The Salvation Army and local domestic violence agencies, was the guest speaker at a forum in Broken Hill last week.
More than 300 people attended the open forum on 25 October, including domestic violence victims, domestic violence workers and police officers, and social service agencies. A question-and-answer session was held after the main presentations.
Ms Batty, and Emily Goldsmith from Domestic Violence NSW, spoke at a dinner forum on 24 October held specifically for first responders to domestic violence situations and legal services. The Salvation Army was among a collection of services involved in organising the forum.
"Hearing Rosie's personal story is, of course, heartbreaking, but also inspiring to hear of what changes are being made in domestic violence response, and how the government and agencies are working together is so encouraging," said Raylene Radford, manager at Catherine Haven, The Salvation Army's Domestic and Family Violence Support Services centre in Broken Hill. There are six cottages at Catherine Haven and two off-site transitional houses that cater for women and children escaping domestic and family violence situations.
Ms Batty became a leader in the campaign against family violence after her 11-year-old son, Luke, lost his life at the hands of his estranged father in Melbourne two years ago. Her criticism of the failure of a system that was meant to protect the victims of domestic violence resonated with the public and led to reform that continues to this day.
Ms Batty established the Luke Batty Foundation to help abused women and children and was instrumental in the establishment of a Royal Commission into family violence in Victoria. In 2015, she was named Australian of the Year and also received the Pride of Australia National Courage Medal.
Photo courtesy Daniel Stringer, Barrier Daily Truth.