You are here:
Home › News › 2016 › 11 › 24 › Salvos Discipleship School Graduates Equipped For Mission
Salvos Discipleship School graduates equipped for mission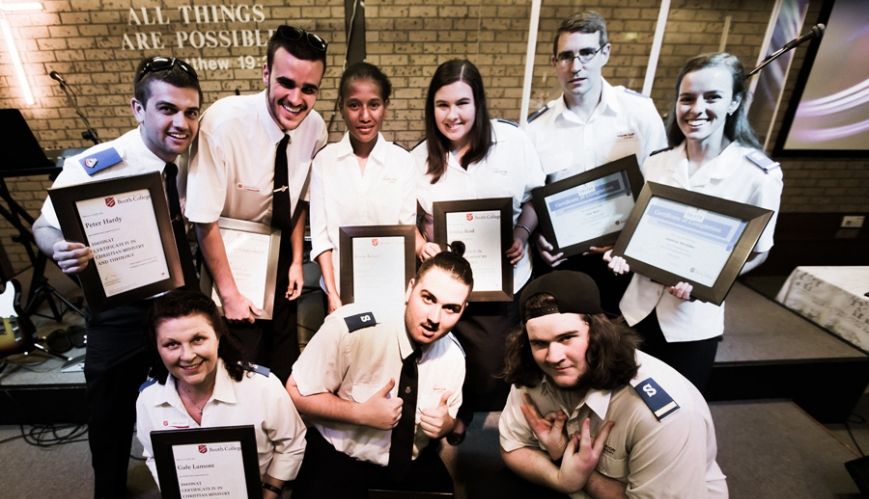 Salvos Discipleship School graduates equipped for mission
24 November 2016
Nine students graduated from the Salvos Discipleship School during an official ceremony at Long Jetty Corps on Sunday 20 November.
The students had spent the past nine months engaging in the ministry and mission program at the school's Berkeley Vale location, on the NSW Central Coast.
Seven of the graduates completed the Furnace program and received a Certificate IV in Christian Ministry and Theology. Two students graduated from completing an additional long-term ministry placement.
More than 150 guests from across Australia and Papua New Guinea attended the graduation service. One of the Furnace students, Joy, is from Papua New Guinea and was sponsored by Salvos Women to attend the school this year.
Booth College Training Principal, Major Peter Farthing, presented each of the graduates with their certificates. The Army's Chief Secretary-in-Charge, Colonel Mark Campbell, then shared a Biblical passage from Joshua 1, encouraging the graduates "to be strong and courageous when stepping into new opportunities".

Each graduate shared their testimony of how God transformed them throughout their time at the school. "They've all gained a lot of confidence. Some in public speaking, others in confidence in God. Others have seen a calling into ministry," said Melissa Humphreys, Salvos Discipleship School Director.
Many of the Salvos Discipleship School graduates are still deciding their next steps for 2017. For those who are interested in pursuing ministry, Melissa is encouraging them to enrol in the new Propel missional program at Booth College in North Bexley, which begins in February. Propel focuses on teaching cross-cultural evangelism, church planting, spiritual growth and theology.
Since 2009, the Salvos Discipleship School has been equipping young people for mission and ministry. Along with gaining a Certificate IV in Christian Ministry and Theology, Furnace students also take part in short-term missional placements at Salvation Army social services and corps.
Salvos Discipleship School is enrolling students for 2017. For further information, go to boothcollege.edu.au/discipleship
To find out more about the Propel missional program, go to boothcollege.edu.au/propel