You are here:
Home › News › 2016 › 12 › 03 › Cadets Parents Honoured At Principals Reception And Silver Star Presentation
Cadets' parents honoured at Principal's Reception and Silver Star presentation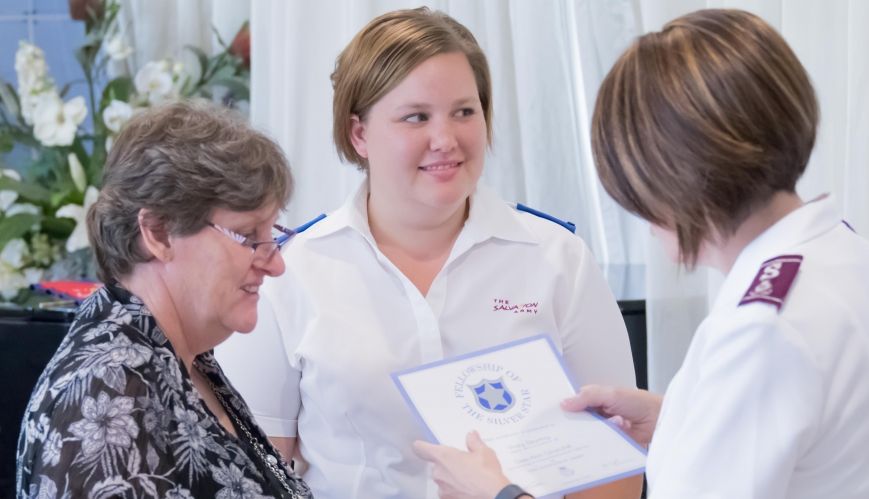 Cadets' parents honoured at Principal's Reception and Silver Star presentation
3 December 2016
The cadets of the Joyful Intercessors officer training session have had the opportunity to honour their families, at a Principal's Reception and Silver Star presentation lunch in Brisbane on Saturday, 3 December.
Staff from the School for Officer Training as well as leadership of The Salvation Army in Australia, also attended the lunch. The 11 cadets of the Joyful Intercessors session will be commissioned as Salvation Army officers tomorrow (4 December).
Training Principal Colonel Julie Campbell welcomed guests to the reception, and offered a special thanks to the cadets' families. "Today is an opportunity for each cadet to honour either their parents, or someone who has had a significant influence on their life," said Colonel Campbell. 
"We appreciate the sacrifices you have made [in 'releasing' the cadets for officership]. We value the role you have played in your children's, and for some of you grandchildren's, lives."
While the Principal Reception's meal was being shared, the presentation of Silver Stars, by National President of Women's Ministries, Commissioner Tracey Tidd, took place. The ceremony was an emotional time as each cadet expressed words of gratitude to their parents/mentors while Commissioner Tidd presented the Silver Star. 
Cadet Katrina Hindle then gave her testimony, recalling a time when she was searching for what her life was to look like and the overwhelming sense of peace that she felt when, during a Salvation Army service she was attending, the subject of officership was introduced.
"The thought of being an officer had not even been on my radar," she admitted, "but I knew that God needed me to say yes to his plan for my life.
"I have been challenged and pushed beyond anything I could have dreamed of. My confidence – I'm quite an introvert – since being at college has grown dramatically. God has done so much in my life, with even more to come.
"I cannot see the future, but what I do know is that God has a plan and a purpose for me, and it is good."
Captains Kaelene Greenaway and Carole Smith then oversaw a special ceremony in which the children of the cadets – totalling 16 for the Joyful Intercessors session – were presented with books.
Commissioner Tidd, in bringing a short message to the reception, recalled the story of the child Jesus who spoke of being "about his Father's business".
"Cadets, you too are to go about your (heavenly) Father's business. And just as we read in Scripture that Jesus continued to grow in wisdom and stature, you must also as you develop as servant leaders, following your Lord and Master." 
Watch the Joyful Intercessors be commissioned as Salvation Army officers via live stream. Go to mySalvos.org.au/Commissioning at 10am (AEST) adn 2.30pm (AEST) tomorrow (4 December).