Joyful Intercessors become Salvation Army officers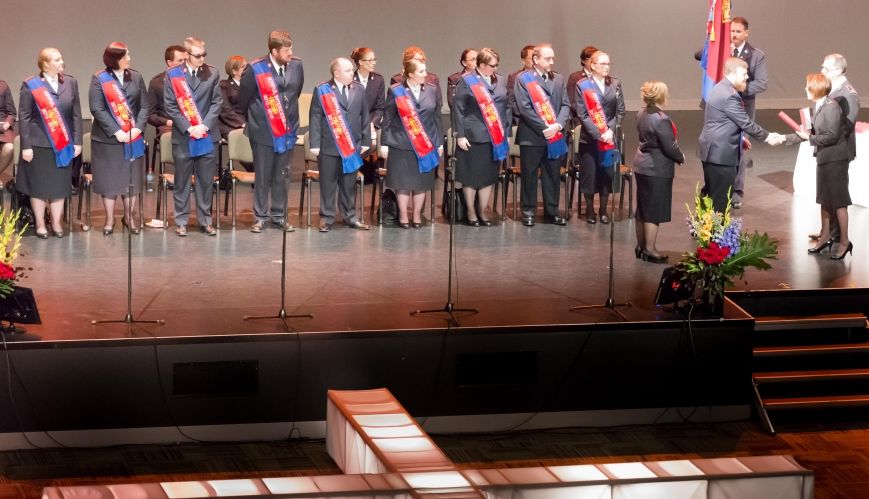 Joyful Intercessors become Salvation Army officers
4 December 2016
Eleven new officers were ordained and commissioned by the Australia Eastern Territory at the Edmund Rice Performing Arts Centre in Brisbane on 4 December.
The ordination and commissioning of the cadets of the Joyful Intercessors session was conducted by the Army's national leaders, Commissioners Floyd and Tracey Tidd.
Each of the cadets – Ben and Rachel Knight, Lloyd and Sally Stanimirovic, Ayly Girling, Tarsha Laundon, Michael and Katrina Hindle, Anthony Hunt, and Zak and Dee Churchill made their way into the auditorium either individually or as a couple, and were greeted by the Tidds, by way of The Salvation Army salute, as they climbed the steps to the platform.
Commending the Joyful Intercessors to the Tidds, School for Officer Training Principal, Colonel Julie Campbell, said: "Your training and commissioning and ordination today is just the beginning and a glimpse of the immeasurably more power of God in your lives," she said. "I pray that you will continue to trust him and seek him with all your heart and experience that the joy of the Lord is your strength in all the days that you serve him."
In a public testimony, new lieutenant Sally Stanimirovic told of growing up in a home that was highly dysfunctional, unpleasant and distressing, of becoming a single mum while still a teenager, of feeling lost and alone and without hope. And then of finding hope through The Salvation Army at Lismore in northern NSW.
"I was shown a love I had not known before," she said. "It was the unconditional love of God."
Lieut Stanimirovic told of entering the School for Officer Training confident in her calling by God, by that her time at college produced its own struggles. These trials, though, led to a deepening of her faith and an increased trust in a God "whose love never fails".
"Over the last two years I have learnt so much, not just in academic study but I have grown spiritually, knowing who I am in Christ," she added. "I am more than a stay-at-home mum who dropped out of school. I am a child of Christ."
New lieutenant Ben Knight also spoke, telling of how as a five-year-old he knelt with his father and gave his life to Christ for the first time, and of an upbringing of blessing in The Salvation Army. Where, however, is the story of transformation in that, he asked? The answer, he continued, is found in understanding what his life would have been like had he never known and accepted Christ as his Saviour.
"You see, if I had never met Jesus, if I had never been forgiven by him, then I'd be a completely different man standing here today," Lieut Knight said. "I'd be a man without purpose, a man without direction, and a man without hope.
"It's not that my life wasn't a transformation story, it's just that I couldn't see it. I had been completely unaware of the work that the Holy Spirit had done in my life. Praise God that I now know my life is a transformation story, that the Holy Spirit has done a work in my life, that I do have a purpose that is found in serving a God who loves me."
National Commander, Commissioner Floyd Tidd, used John 17:1-10 as the subject for his Bible message, posing the question, "What do you give to some who has everything?" He reminded the Joyful Intercessors that while they have been given much, there is still so much more that Christ wants to do in their lives.
Referring to this passage of Scripture, Commissioner Tidd reminded the new officers that Jesus has prayed for them.
"You came to the training college not as a destination but as part of the journey of all that God has in mind for you," Commissioner Tidd said. "Jesus has prayed for you, that you who have accepted Jesus Christ as Lord and Saviour would step into the world as salt and light, protected by the name of Jesus, pure in your purpose and sanctified by his Word.
"God has not called you to a journey that is easy and comfortable. In fact, he's called you to take up a cross. In that very declaration there is an understanding that you enter into a dangerous calling; you enter into that which will take everything out of you; you enter into a life of sacrifice and surrender, but at the same time Jesus says I have prayed that you will be protected.
"So, when you feel intimidated, when you're uncertain, when you're feeling separated and alone, call on the name of Jesus, because it is in his name that you have been ordained as a minster of the gospel."
Booth College Principal, Major Peter Farthing, and School for Officer Training Assistant Training Principal, Major Deborah Robinson, also contributed to the ordination and commissioning service. Musical support was provided by Brisbane City Temple band.