Pethybridges welcomed into new leadership roles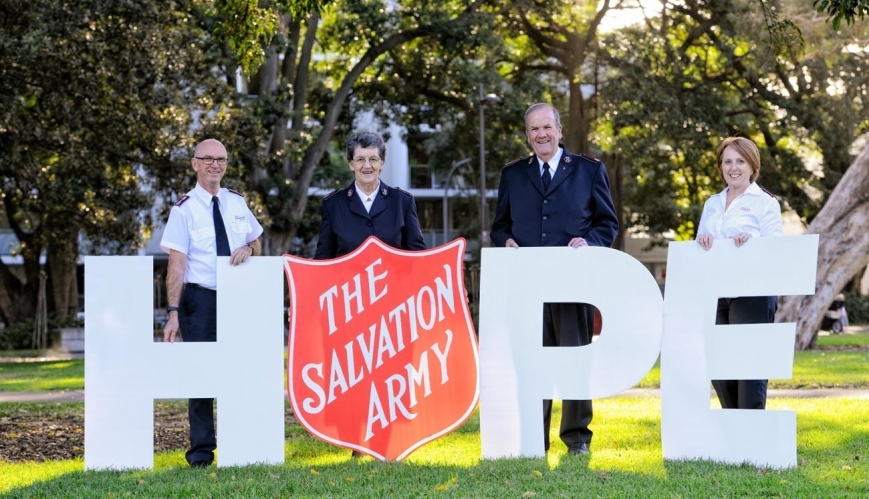 Pethybridges welcomed into new leadership roles
20 January 2017
For the first time in 34 years, Lieutenant-Colonels Kelvin and Cheralynne Pethybridge didn't pack up their house in preparation for their new appointments. Rather they simply moved to new offices, just a few doors down from their old desks at the Australia Eastern Territorial headquarters in Redfern.
On 1 January, Lieut-Colonel Kelvin took up his role as Chief Secretary-in-Charge, alongside Lieut-Colonel Cheralynne as the Territorial Secretary for Women's Ministries. The Pethybridges were officially welcomed into their roles at a territorial headquarters prayer meeting on 19 January.
"There's a sense of history that those in leadership in The Salvation Army are at a point where they are setting up what The Salvation Army will look like for the next 100 years," said Lieut-Colonel Kelvin.
Having spent the past 18 months working with their territorial headquarters family – previously as Territorial Secretary for Business Administration (Lieut-Colonel Kelvin) and Assistant Secretary for Personnel (Lieut-Colonel Cheralynne) – the transition to these new appointments has been quite smooth, allowing them jump straight into the daily tasks of running the territory.
While their roles involve overseeing the territory's direction and implementing the Forward Together strategy, the Pethybridges will also be instrumental in the Australia One project.
"We'll be leading the territory through a significant time of change. Continuing to operate as a territory and continuing to meet the needs that are part of our mission and purpose of the Army, while being involved with Australia One," said Lieut-Colonel Kelvin. "Doing the two things at once is going to be an interesting scenario – one that no one's probably encountered before. It will be both challenging and exciting."
While the Pethybridges have taken on the top leadership roles, they would like the territory to know that they will remain the same. "We want to just see people feel cared for and valued. We don't want to change who we are," said Lieut-Colonel Cheralynne.
The Pethybridges are eager to assist the territory through this period of change and plan to spend time visiting Salvo communities across the territory. "I would like to think that Salvationists, adherents and friends of the Army can be assured that the heartbeat of the Army is not changing. Who we are and what we're about remains the same. General (John) Larsson used to say our mission is in our name. The mission of The Salvation Army still remains through touching people with the transforming power of Jesus Christ," said Lieut-Colonel Kelvin.
The Pethybridges will also receive a public welcome and installation at the Messengers of Compassion welcome ceremony at 6pm on 5 February at Hurstville Corps. For more information, go to mysalvos.org.au