Government grant helps Darwin Corps feather the 'Nest'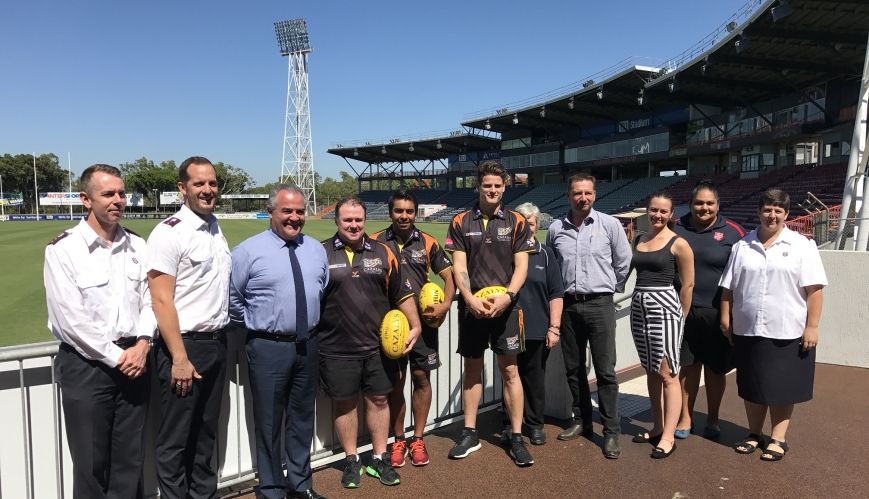 Government grant helps Darwin Corps feather the 'Nest'
30 June 2017
By Simone Worthing
Darwin Corps has received a government grant to provide a new service that supports people transitioning from homelessness to independent living.
The $280,000 Innovation Fund Grant from the Northern Territory Government, rolled out over two years, will be used to fund an inititative called the Nest, which is based on the award-winning "Magpie Nest" program in operation at the Melbourne 614 Corps.
The NT Thunder Football Club and Raine & Horne Darwin Real Estate have been enlisted as partners of the Nest project, with the aim of holistically supporting people facing challenging times to get back on their feet, move into private rentals, live independently and reconnect with the community.
"The Nest project will work with program participants to expand their living, working and community participation skills and provide health, financial and counselling support," said Captain Kris Halliday, Darwin Corps Officer.
Through the advocacy and assistance of Raine & Horne Darwin, The Salvation Army will lease four private homes, which will each house three program participants who will be listed as co-tenants. This will enable people to establish a rental history and develop an understanding of their rights and responsibilities as tenants.
The participants will stay in the homes for 12-18 months until they are ready to establish themselves independently.
"The houses will be set up as homes – warm and cosy family homes, not as refuges or shelters," Captain Halliday explained. "Importantly, they will also be well located, close to public transport so participants have easy access to our corps and NT Thunders' Michael Long Centre facility.
"A key goal of the program is to help participants establish 'life in all its fullness'. This means helping them establish new connections in the community – too often we see people we work with return to their old connections and ways of life after recovering from addiction and other issues due to a lack of new relationships or links to the broader community.
"As a corps, we have been focusing on what it means to be The Salvation Army in Darwin, and how we can bring God's Kingdom to this city. The corps is fired up to be a part of the Nest and are looking forward to welcoming participants into our corps community. Through this there will be new links forged with participants, and new opportunities provided to help them integrate into the community and build a new life. And, of course, as part of that we offer pathways to faith."
Through corps programs, Nest participants will be offered meaningful volunteer and educational opportunities – such as getting a bus licence and helping drive the corps bus that takes visitors to Darwin Correctional Centre, gaining experience in administration or acquiring hospitality qualifications and helping with the corps' outreach breakfast.
NT Thunder support

Program participants will also benefit from the partnership with NT Thunder, which will work with participants as mentors and encourage them to get involved in the life of the club through volunteering, personal development and recreation opportunities.
"The club has a great family culture and atmosphere," said Captain Halliday. "One of the players commented recently that the club was his second family. For the participants to feel they are part of this and be able to connect with a new and wider family is an incredibly exciting component of the project."
Captain Kris Halliday with NT Thunder players Shannon Rioli (Captain) and Justin Beugellar (Vice Captain).
This partnership came about through Thunder Football Operations Manager, Joel Bowden, formerly with AFL club Richmond Tigers. Joel has supported The Salvation Army's work in homelessness since connecting with Major Brendan Nottle and Melbourne's Project 614 about 10 years ago, and being deeply impacted by it.
"Since moving to the NT, Joel and I have connected through our mutual association with Project 614 and our commitment to reducing homelessness," explained Captain Halliday. "Joel's 10-year relationship with The Salvation Army and passion for ending homelessness continues and I am thankful for the connections and support it provides. I am also grateful to the NT Government for their support of the project."
The first of the four homes is being set up, together with an assessment and support panel, to assist in the program's implementation and overall success.
"Once the first house is settled and stable, we will move on to other homes," said Captain Halliday. "Raine & Horne Darwin is advocating for us in terms of acquiring the right properties with the right landlords.
"This means that our participants will be fully immersed and connected with the right people through their links with the corps, with the club, in the community and in the right homes in the right environment."