Building hope and community in the heart of Adelaide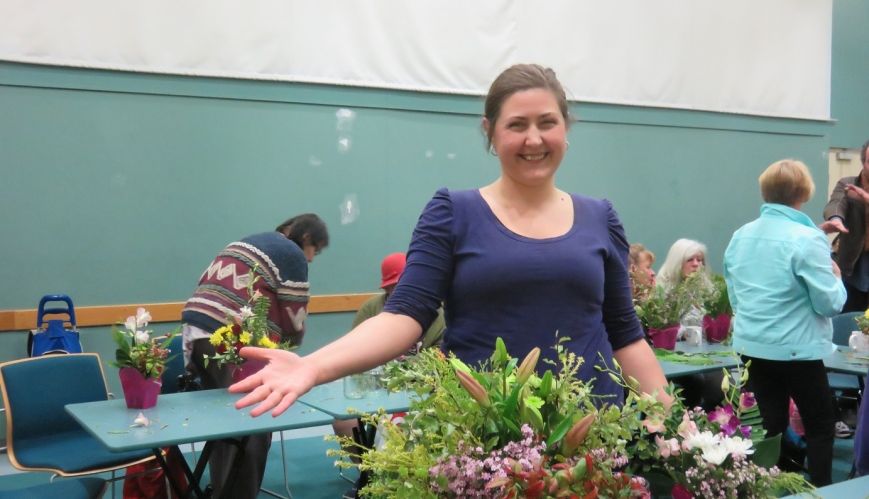 Building hope and community in the heart of Adelaide
18 October 2017
Community is built every Saturday night at Adelaide City Salvos.
In the late afternoon, women from all different backgrounds come to "Flourish" – a caring group that focuses on being a support network for women who don't have one as they go through the challenges of life.
"Flourish provides a caring and nurturing place where women from situations such as domestic violence, those experiencing homelessness, mental health issues, and those who are lonely can feel safe, learn a new skill and hear about the love that Jesus has for them through connections with the Christian volunteers and the weekly Christ-centred devotions," said Major Chris Waller, Adelaide City Salvos Corps Officer.
Up to 30 women attend Flourish every Saturday night. The group is led by corps member, Marg Banning.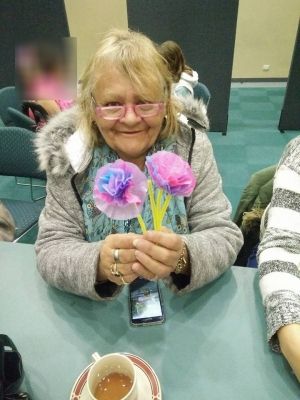 Making paper flowers is also a popular activity at Flourish.
"We've seen friendships formed, women grow in confidence and actively share about their faith," said Jo Hodge, Coordinator of the 'Do Unto Others' (DUO) group that gave birth to Flourish.
When DUO first started, focusing on restoring hope and dignity to some of the city's most marginalised people, the team running the program noticed that the women would sit separately and quietly in the predominately male community.
"We wanted to work out a way to bring them together, support, encourage and lift them up – so Flourish was started," explained Jo, who oversees the group.
"We get Muslim ladies, Indigenous ladies and those from other different cultures and everyone is respectful and supportive. Faith comes first and whatever we do, whether it's the craft or activity, it's centred on the message of the devotion.
"God is absolutely at work in this space, and we've seen that through the changes in a number of women."
Flourish has recently introduced prayer requests. "Now the ladies often come through the door and straight away ask to be prayed for, or share with us an answer to prayer from the week before," said Major Waller.
"We pray that in future days their lives will flourish, knowing that there is a God who loves them, and they have found a community that they can call their own," she says.
"We consider it a privilege to be able to sit with them each week and offer friendship and hope, restore dignity and build community in the heart of the city. We love this City."
Many of the women who attend Flourish, then join with other women, men and children of all ages, cultures and backgrounds, to be part of the Saturday night DUO program, also held at the City Salvos hall.
This unique program was established in 2012 "to reach out to the homeless, vulnerable and marginalised, build community and restore dignity in the city of Adelaide," said Major Waller.
Up to 200 people come through the doors for DUO each week.
As part of the DUO Saturday evenings, volunteers serve a specially prepared dinner to community members at their tables.
The evening begins with DUO members and volunteers welcoming guests to a fully-serviced hot meal, tea and coffee and some genuine care and conversation.
A "mini market" also ensures that all guests can take a free bag of groceries with them when they leave.
A "come as you are" church service follows the meal, for those who wish to attend.
"There is a sharing time, prayer requests, a message, and singing with the worship band," said Jo. "It's a time for people to experience God's love and grace in their lives, in a very safe and caring space."
The café opens up after church, the barista-made coffee flows, and guests enjoy karaoke, trivia, table tennis, board games or a movie.
"We make this a kind of night out that we would have if we were entertaining people in our own homes," said Jo. "By inviting people into the building, we are more able to build relationships, establish connections and speak into their lives than we were when we did soup runs on the street."
DUO volunteers serve a pizza supper before the evening concludes at 11pm.
During the cold winter months, DUO provides a "sleep room" on Saturday and Wednesday evenings, to give rough sleepers a safe and warm night's sleep.
"They wake up to a hot cuppa and light breakfast on us," said Major Waller. "It is such a privilege to offer a night of rest, warmth, and care to those who would otherwise sleep pressed in to walls on a cold pavement or doorway in the bitter chill of the winter nights."
As with Flourish, the DUO team are grateful for the privilege they have to offer hope and friendship to all those who come through their doors, and to restore dignity and community in the heart of Adelaide.