Emergency services teams in action around the country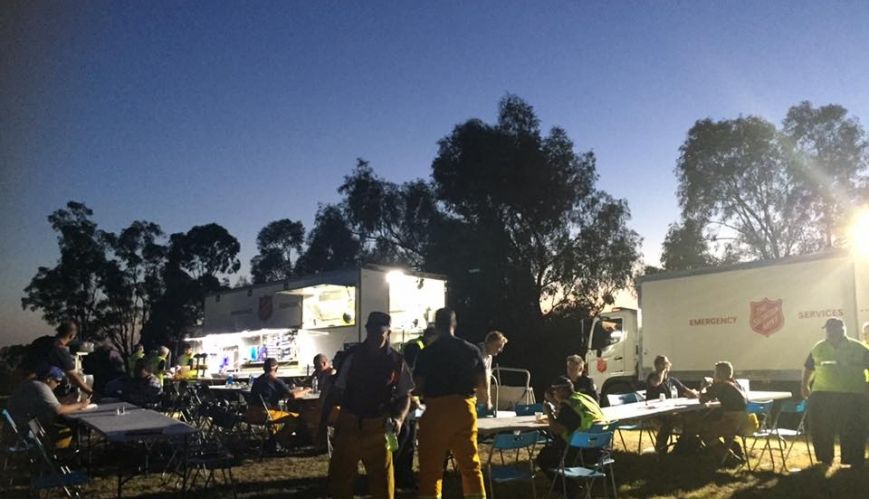 Emergency services teams in action around the country
31 January 2018
The Salvation Army has been assisting in response to a number of emergencies across the country, including a fire just metres away from two Army services in Western Australia.
Western Australia
A bushfire burning close to The Salvation Army's Seaforth Gardens Aged Care and Harry Hunter Recovery Centre in Kelmscott, south-west of Perth, caused the centres to evacuate on Monday afternoon.

"One part of the fire was within a few metres of Seaforth, it was right beside the building," said Divisional Social Program Secretary, Major Scott Smallacombe. "The fire brigade was there protecting our property, which was great."

About 60 elderly residents of Seaforth Gardens were moved to the Chapel at the front of the property, and then to various evacuation centres, or the homes of family members.

Participants of the Harry Hunter Recovery Centre were evacuated to the Gosnells Corps whose leaders made their facilities available on short notice. Major Smallacombe said staff at both centres were fantastic, going above and beyond to ensure that residents were made as comfortable as possible.

"Special mention should go to staff of Seaforth Gardens, they were incredible. As soon as many staff heard it on the TV or radio they came in and helped. We were very thankful." 


Western Australia Salvation Army Emergency Services teams (pictured right) worked throughout the night to provide food and refreshments to the firefighters at the scene.
The fire is now under control and all residents have returned to the centres.
Northern Territory
In the Northern Territory, helicopters are being used to evacuate residents from the flood-affected remote Daly River community, 200km southwest of Darwin.
The unsealed roads into the remote community, home to 380 residents, are no longer accessible due to flooding.

Monsoonal rains have been battering the area for several days, and the Daly River is expected to peak today.

In Darwin, heavy monsoonal rains and damaging winds have also been lashing the city for several days. The weather is expected to ease, although more rain showers are predicted.

Flood warnings are current for many rivers throughout the Northern Territory.

The Darwin River Dam has also started to spill, prompting warnings to nearby residents.

Salvation Army staff, officers and volunteers are assisting to provide and serve food to evacuees at a shelter set up at the Darwin Showgrounds.

"The Salvation Army is providing a barbecue lunch and snacks to evacuees today, and will then be working with the catering service at the Darwin Correctional Centre to provide meals for the rest of the week," said Sarah Roberts, Public Relations Manager for The Salvation Army in the Northern Territory.

"We will serve the food, make sure everyone has a meal, and help ensure the many children there are getting what they need. We will also be distributing clothing."

The Salvation Army put a callout yesterday for more volunteers to assist at the evacuation centre. The Army expects to serve at the showgrounds for at least one week.
New South Wales and Victoria
Several blazes in New South Wales and Victoria have kept Salvation Army Emergency Services teams busy during December and January.
In Victoria, SAES teams supported emergency services personnel at a fire at St Arnaud in Victoria's north in mid-December. Crews have also have been on hand at fires at Bamganie, West of Melbourne, and most recently, Sunbury in Melbourne's north-west.
In New South Wales, SAES volunteers have served well over 600 meals in the month of January, supporting police, fire brigade, fire-and-rescue and rural fire service personnel. 
"We've had a good response from our dedicated volunteers to call-outs," says Salvation Army Emergency Services Australia Eastern Territory Director, Norm Archer. 
Recently, SAES crews from Goulburn in the state's south, as well as additional crews from across the state, assisted at a bushfire threatening the small township of Taralga feeding fire crews for a week. The SAES was also active at a fire in the Hunter Valley last weekend. 
"Everyone has worked really hard," says Mr Archer. "And we are constantly prepared for what lays ahead because the fire season's not over yet."