You are here:
Home › News › 2018 › 05 › 25 › National Leaders Say General Elect A Good Move For The Army
National leaders say General-Elect a 'good move' for the Army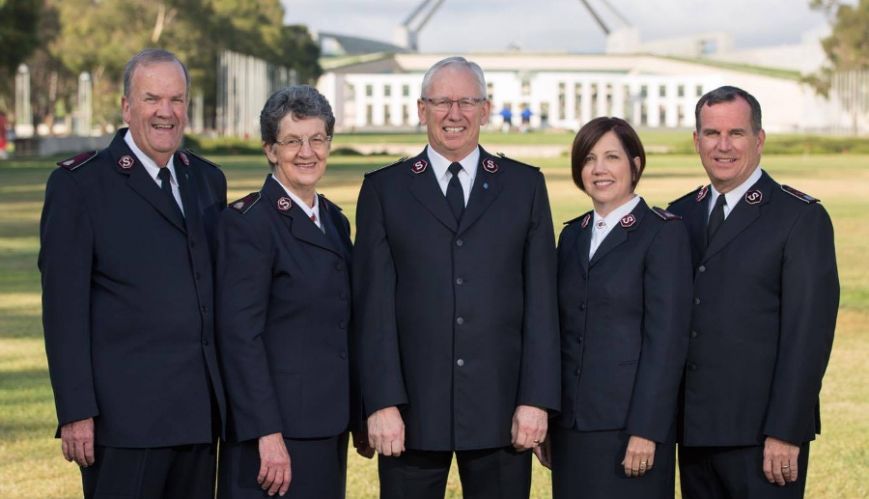 National leaders say General-Elect a 'good move' for the Army
25 May 2018
Lauren: It's 11pm after a big day, thanks so much for taking the time to speak with Others. Tell us, how was the experience of the High Council for Tracey and yourself?
Floyd: This is the second High Council we have been participants at, and it's always such a powerful experience. It's an experience that blends both that great privilege of being in the council group, but also the heavy responsibility that comes with the gathering of that group together. I think some of the outstanding highlight pieces include this recognition of being part of such a diverse Salvation Army and we are truly reminded again that we are truly 'One Army with One Mission and One Message' and yet there is such diversity and at the same point in time there is a deep unity.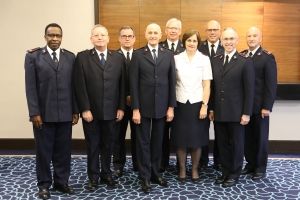 Tracey: It is a very moving experience to sit together with leaders from around the world who share the same love for God and His Army and serve in such diverse settings, some under great challenges and limited resources. The bond that develops is powerful as we come together with one purpose to seek after God.
Lauren: Commissioner Floyd, how did you feel to be nominated as a candidate for General? (Commissioner Floyd is pictured right with the other nominees)
Floyd: It was a surprise to us, we were overwhelmingly humbled and honoured that colleagues in the room saw a confidence in us to take on that mantle of leadership. It was a bit overwhelming.
What I was grateful for is that the nominations came in at the end of the day, so we were given overnight before coming back the next morning to the president of the High Council with to our response to that nomination. So, Tracey and I spent some significant time reflecting and praying and really seeking God's intention. I felt very firmly and very confidently that His intention for us is to remain in Australia and to see this Australia One project through, which we are more than excited to do!
We have been working together with a dynamic team of officers, soldiers and employees for the last two years on this project [Australia One] and the year ahead is probably the most challenging, and at the same point in time the most exciting opportunity in the Australia One journey. Really, the opportunity to stay and to finish this through is truly a gift, we believe, from God to us to be able to do that. So, that's the decision we came to and why I declined the nomination. 
Tracey: We are confident that God has confirmed for us this decision in a number of ways,including the personal affirmation to us from many of our High Council colleagues who committed themselves again to prayer for Australia.  
Lauren: How do feel about the future of The Salvation Army under General-Elect Brian Peddle?
Floyd: I think Brian Peddle as General is a good lead for us. He's been in this space for the last two and a half years as Chief of the Staff, and he knows the international scene well - he's been to over 30 countries around the world. He understands where we are functioning, how we are functioning, the agenda that's being pursued and is able to then build upon that agenda. So, I think it's a good move for us as an Army.
Lauren: Tracey, you know Commissioner Rosalie personally and have worked with her through the years. Share your thoughts as to the impact you see she will bring to international leadership through her role.
Tracey: Commissioner Rosalie is a gifted and passionate officer whom I have had the privilege of working with in a number of appointments including our last appointments together in leadership in Canada. She has a passion for women's ministries but not limited to the variety of programs that are offered around the international Army, but the unique impact that women in ministry and leadership can bring to the Army and the world. She has been the driving force behind a number of initiatives and I anticipate she will initiate change in a number of areas to see us more effective.  
Lauren: How did you feel about a married woman being nominated, in light of Australia's work in the gender equity space?
Floyd: We were pleased to see Commissioner Jane Paone nominated and for her to stand for that nomination.
Tracey: I think what impressed me the most, and everybody in the room, was that she was nominated not because she was a woman. She was nominated because she was an outstanding Salvation Army officer that the room has come to know and respect for her wisdom, her skills, her leadership, and she happened to be a married woman.
Floyd: So, it is groundbreaking. But I think that what makes it outstanding is that it wasn't people looking for a married woman to nominate, people were looking for the best candidate to nominate and she was identified in that.
Lauren: Do you feel there has been a trickle effect from the gender equity work that's being done in Australia? Do you think that it's resonating and having an effect worldwide?
Tracey: I think we [Australia] have probably been most determined in stating this, perhaps in some ways more than others have. But I think it's indicative of a wave across the movement that is identifying a gender equity agenda. In the pre-High Council conversations, in the two days of conversations with all the territorial leaders just discussing what are the issues that they're wrestling with and the issues that they're addressing, in almost every group, gender equity became one of the primary points. So, I think there is a wave of responses, which actually makes it easier for The Salvation Army Australia, as well as every other territory, to do this in a partnership.
Lauren: That has been a shift hasn't it?
Floyd: Yes, I think a notable shift was identified in the group [High Council]. Not only was there the first married woman nominated, there was the first officer from Tanzania in Africa nominated. There was the first single male nominated. This High Council also had the first married woman officer as the President of the High Council. So, some incredible shifts all round.
Lauren: Floyd, today in Australia is the eve of the Red Shield Appeal doorknock weekend. You might have thought that being at High Council you were going to 'get out of it', but can you be back in time to rattle a few cans or knock on a few doors?
Floyd: We won't! Our return flights aren't booked until next week! We're trying to get them fast-tracked but we won't get back into the country until the early part of next week unfortunately.
Lauren: I'm sure we can save a can for you to rattle …
Floyd: I hope so! For the last four years being in Victoria we do [road] intersection collecting as well as the doorknocking and we are going to miss that, that's probably one of the most exciting things. It's still a bit of a challenge for somebody from North America to remember when the cars move at the intersection which direction the oncoming traffic is coming, but we wear our high-vis vests so we're pretty safe!
Please convey to all our Aussie Salvationists that we are wishing them all the very best for the Red Shield Appeal this weekend!
Read the announcement HERE.