Salvation Army joins national redress scheme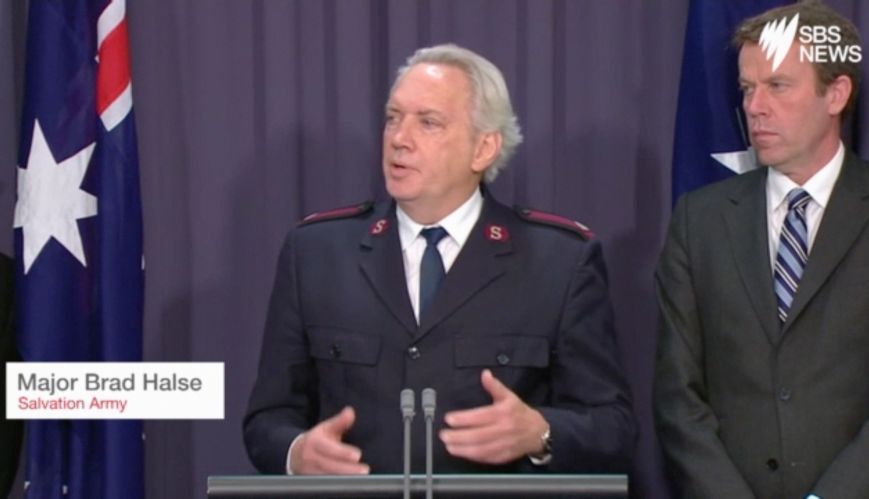 Salvation Army joins national redress scheme
31 May 2018
The Salvation Army Australia has announced that it will join the national redress scheme for the survivors of institutional child sexual abuse.
Federal Social Services Minister Dan Tehan made the announcement this morning (Thursday) that the Army, along with Scouts Australia, YMCA Australia and the Anglican Church, will formally opt-in to the scheme.
Representatives from the four groups, including The Salvation Army National Head of Government Relations, Major Brad Halse, joined the minister to confirm their commitment. The Catholic Church announced its intention to join the scheme yesterday.
Mr Tehan said the four organisations signing on today has brought the coverage of the national redress scheme to 80 per cent of survivors.
"For nearly two years, The Salvation Army has been working alongside the Federal Government, and other non-government institutions and other key stakeholders, to contribute towards the development of a truly national redress scheme," said Major Halse.
"We think this is a great achievement in the life of the nation and in terms of government process.
"We acknowledge the work that has been done – a great amount of work by the Federal, State and Territory governments to create what is really a comprehensive scheme to meet the needs of survivors.
"The Salvation Army has worked as constructively as we can with the Federal Government's taskforce in response to the Royal Commission's recommendations, which we have fully endorsed, and today we reaffirm our commitment to this national redress scheme.
"We understand that there are still parliamentary processes in the states to be worked through over these coming months to enable the scheme to operate. We will move to have our part of that process as operational as quickly as possible after the 1st of July, when the scheme effectively comes into existence.
"We would obviously take this opportunity to again express our deepest apologies to survivors, and indeed their families. We acknowledge that past practices and procedures led in many cases to the failure of the protection of children and we are profoundly sorry for the harm which survivors have suffered.
"We also acknowledge that we have broken the trust that has been placed by the Australian community in The Salvation Army and we are seeking ways to rebuild that."