Surprise award for Sallyman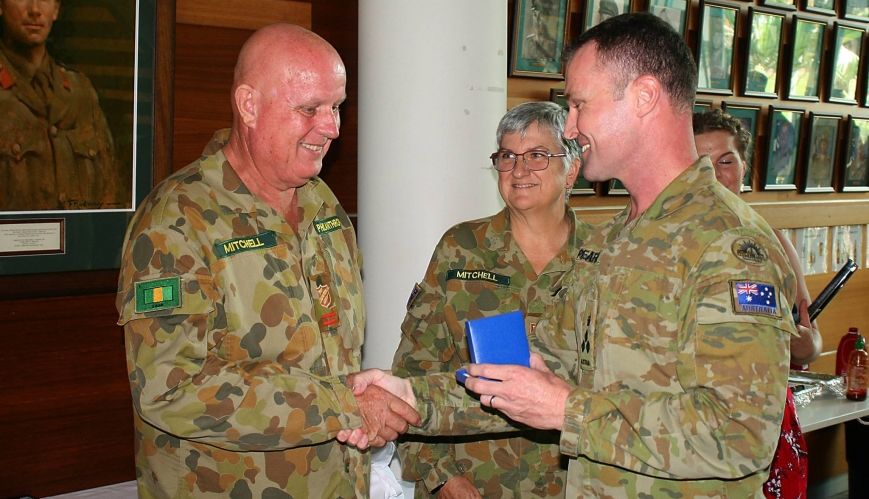 Surprise award for Sallyman
11 December 2018
Major Gerald Mitchell receives the Bronze Commendation for his work supporting the 1st Brigade, from Commander of the 1st Brigade, Brigadier Matt Pearse.
By Lauren Martin

Salvation Army Red Shield Defence Service Representative, Major Gerald Mitchell, has been awarded an Australian Army Bronze Commendation for services to the 1st Brigade.
 
The award was presented by the Commander of the 1st Brigade, Brigadier Matt Pearse, at a ceremony at Robertson Barracks in Darwin. Major Mitchell says he's honoured to receive the award, which came as a complete surprise.
 
"I was just asked to go up to Brigade Headquarters. They were having some farewells to some people and so I went along, and the next thing my name was being called out to go up and receive it! It was quite humbling, you know, that I would get recognised in this way just for doing your job."
 
He received the Bronze Medallion, as well as a certificate of commendation, which reads: "Your work ethic and dedication to duty is beyond all expectations. You are an integral member of the brigade, heavily relied upon by all units you patron for moral support and assistance. You represent the most positive example of a Sallyman, providing an exceptional level of support to all soldiers with an approachable nature and willingness to listen."

The commendation also praised Major Mitchell for his support of the 1st Brigade and Joint Task Force 659 contributions to the Northern Territory Government's response to Tropical Cyclone Marcus. 
 
Standing next to Major Mitchell as he received the award was his counterpart and wife, Major Mairi Mitchell. "I've received the award but it's equally hers as well," he said. "She doesn't do any less than what I do."
 
Major Gerald Mitchell is expecting confirmation any day now of his planned deployment to the Middle East, where he will spend Christmas during a four-month-stint supporting Australian troops stationed there.