Doing Christmas better at Sydney Streetlevel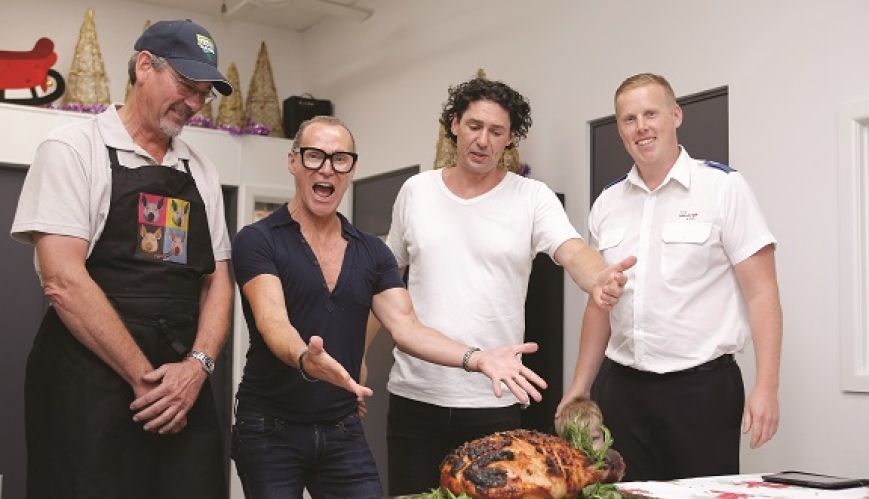 Doing Christmas better at Sydney Streetlevel
21 December 2018
(From left): Ean Pollard (NSW Farmers Association), Mitch Edwards (Australian Pork Marketing Manager), Colin Fassnidge (celebrity chef) and Mitch Evans (The Salvation Army Sydney Streetlevel Mission Team Leader) with one of the many donated hams cooked for the Streetlevel Community Christmas Party. Photos: Caleb Wong.
By Lauren Martin
For more than 20 years, Sydney Streetlevel Mission has been running an annual Christmas Day luncheon.
What started as an event to give children at Oasis Youth Support Network somewhere to celebrate Christmas together, has developed into a behemoth – 250kg of generously donated pork, thousands of donated gifts and hampers, hundreds of volunteers, and 1500 people attending – some of whom were bussed to the venue from other parts of the city and beyond.

"We realised that actually what was happening on Christmas Day, whilst it was a nice big event, it wasn't building community," says Mitchell Evans, Sydney Streetlevel Mission leader. "We were also finding that a lot of the Streetlevel community that we connect with throughout the year, they wouldn't go to the big event. They don't like crowds and they don't like uncomfortable spaces or places that they don't feel comfortable in."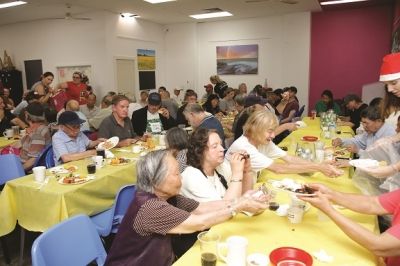 The Salvation Army Sydney Streetlevel Christmas party.
This rethink of Christmas came about when Australian Technology Park at Redfern – the venue for the annual Salvation Army Christmas Luncheon – was sold and its new owners introduced costs and conditions around the use of the location that were prohibitive. The team looked for alternative venues but couldn't find anywhere suitable. So, a decision was taken to stop running the annual event and focus on smaller, more intimate gatherings in the lead-up to Christmas.

"One of the things we've noticed is that Christmas is a really difficult time for a lot of people," says Mitch. "It's a fun time and it's an exciting time but for a lot of our community it's a really hard time because people are reflecting on the year that has just gone and all the things that have not gone to plan, or thinking about family that they are no longer connected to, or no longer accepted in.

"For example, the past two days I've sat with three people at different times who were suicidal. One guy even had a noose in his hands and I was chasing him down the street because he was going to go and hang himself. These are the kind of triggers that Christmas brings."

Without the massive organisational load that running a Christmas event for 1500 people brings, the team at Streetlevel have had time over the past two years to think, pray, plan and be intentional about building community around this incredibly sensitive time of the year.
Holding Christmas craft mornings and other gatherings has allowed the community to come together and recapture some of the Christmas spirit of joy, hope and wonder.
"We made Christmas decorations the other day," says Mitch. "And it doesn't sound like much, but it gave people the opportunity to do some stuff that they possibly did as a child, or actually missed out on as a child. Just doing those normal kind of family things together to try and recapture some of that joy."

And while there is no Streetlevel Christmas Day luncheon anymore, Christmas parties in the week before Christmas at both the Surry Hills and Waterloo sites bring the Streetlevel family together for Christmas lunch.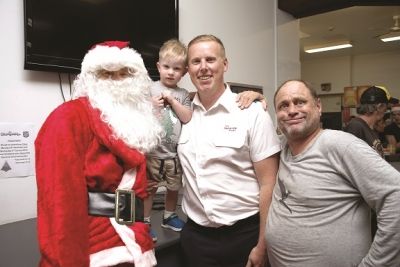 Santa pays a visit to the Christmas gathering.
Streetlevel still has the generous support of the NSW Farmers Association with Chair of the NSW Farmers Pork Committee, Ean Pollard, attending with his family to cook the barbecue and have a yarn with members of the Streetlevel family.
One of them, Dwayne, has been connected wtih Sydney Streetlevel for more than nine years:
"They've done a lot of help me over the years when I've been struggling," he says. "They're like my adopted family... [Today's Christmas party] is good food and good people, it's a real family feeling here."

The team at Streetlevel have been focused for several years on building healthy community year-round, and helping people create connections with others. These growing networks forge friendships that celebrate the good times and support one another when things get tough.
"This is real healthy community," says Mitch. "We don't have a big event on Christmas Day anymore but now we have a bunch of community members organising to catch up for Christmas celebrations, to connect over the holidays and throughout the year.

"God designed us to be in relationship – healthy community is his design for us. We're just trying to live this out and encourage others to do the same each and every day."
Mitch Evans says Sydney Streetlevel Mission still gets inundated with volunteers wanting to serve on Christmas Day.
"The volunteers, they feel the fact that we don't have a big event anymore. We do try to remind those people that we are around all year, and they can come and partner with us any time of the year, not just at Christmas time, and that people are doing it tough at other times of the year as well."