You are here:
Home › News › 2019 › 02 › 06 › Immediate And Ongoing Support For Townsville Flood Victims
Immediate and ongoing support for Townsville flood victims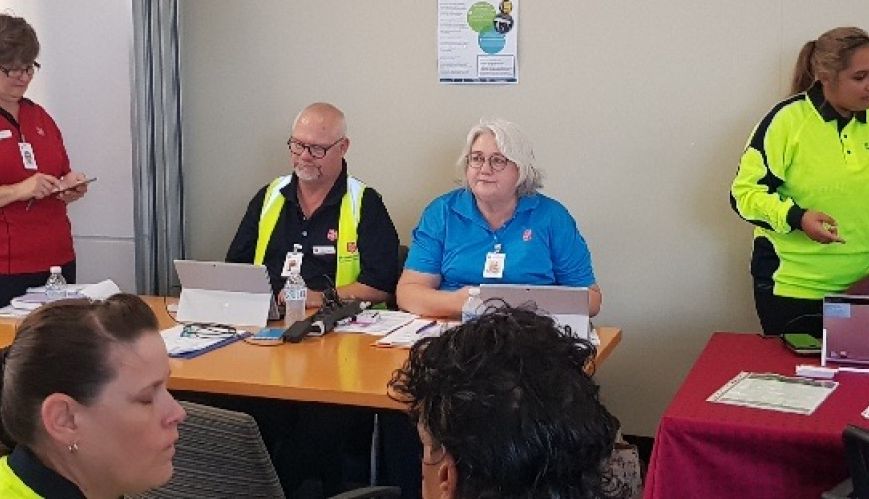 Immediate and ongoing support for Townsville flood victims
6 February 2019
Acting Area Officers for North Queensland, Colin and Sue Hopper, at the opening of the Disaster Recovery Hub in Townsville today. 
By Simone Worthing and Lauren Martin
The Salvation Army has launched an emergency appeal and announced that it will immediately release $1 million to the frontline for those impacted by the Townsville flooding in North Queensland.
Residents in some parts of flood-affected Townsville are starting to return to their homes to assess the damage and begin the long and arduous task of cleaning up.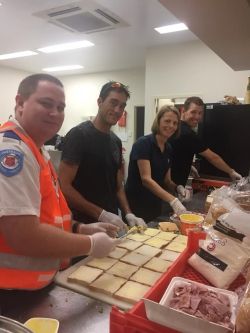 SAES volunteers make lunches for evacuees.

As monsoonal rains continue to hammer Townsville, many people are remaining in evacuation centres, or with family and friends, due to flooded roads and areas that have been closed off.

The Salvation Army has been beside residents the whole time, with SAES teams on the ground assisting with evacuation and catering operations. The Army is now entering its Disaster Recovery stage and has vowed to be there for Townsville residents for the long haul.
The Salvation Army is preparing to launch from "response to recovery", which will lead to a significant need for financial resources. The emergency appeal launched today allows Australians to partner with the Salvos and support impacted communities with cash donations, allowing help to be delivered where it is needed most. 

"We know from experience that when a disaster of this magnitude hits, it takes many months, even years, to recover. The Salvation Army is committed to standing alongside communities in Townsville for the long haul," said Queensland Divisional Commander, Lt-Colonel David Godkin.
"We will work with other agencies to provide financial assistance, counselling and case management – journeying with individuals and families to provide personalised support for as long as it takes."
Relief SAES teams and volunteers are now serving at the evacuation centres, under the direction of Lt-Colonel Godkin, and Auxiliary-Lieutenant Phil Stark, Youth and Young Adults Secretary Queensland.
SAES team getting ready to serve evacuees.
"The key centre is the evacuation centre at Heatley Secondary School," said Major Colin Hopper, Acting Area Officer, North Queensland.
"Food preparation and team meetings are also still taking place at the Army's Faithworks centre."
Recovery hub
Queensland Government Community Recovery and other agencies, including The Salvation Army, are setting up the first disaster recovery hub in Townsville, in the centre of the city.

The hub opened for business this morning.

Captain Leanne Stevens, Associate Strategic Emergency and Disaster Management Coordinator Queensland, is leading The Salvation Army team in the hub.

"This is the first of several community hubs that will be established throughout Townsville," Captain Stevens explained. "We will be involved in all of them as sites are identified and centres established.

"We are in phase one of recovery, offering initial assistance in the form of Woolworths, Coles and EFTPOS gift cards, as well as some universal cards –whatever we can get.

"This is initial assistance, as many people just need something little to keep them going until they get back to their homes and assess what needs to be done. Recovery will then go into another phase around government grants.

"We are linked with Moneycare in Townsville, which is registered with GIVIT (the Queensland Government's officially appointed organisation for the distribution and coordination of donated goods). We refer people to Moneycare and they connect with GIVIT to see whether we can assist there.

"The Salvation Army has so many services and resources to offer, including Moneycare, SAES, Rehab and Doorways –we just want to refer and link people and get them the help they need."

Kim Lee, The Salvation Army Strategic Emergency and Disaster Specialist, said the Queensland Government Community Recovery department has asked The Salvation Army to deploy staff for their recovery hubs and outreach teams.

"Our role is to assist with the delivery of material aid and help with the management of financial assistance,"she said. "We are doing this in coordination with community recovery."
People can donate to The Salvation Army's Emergency Appeal by calling 13 72 58 or visiting salvos.org.au/emergency
Donations can also be made at any Woolworths supermarket.