Garden of Salvation honours the 'forgotten'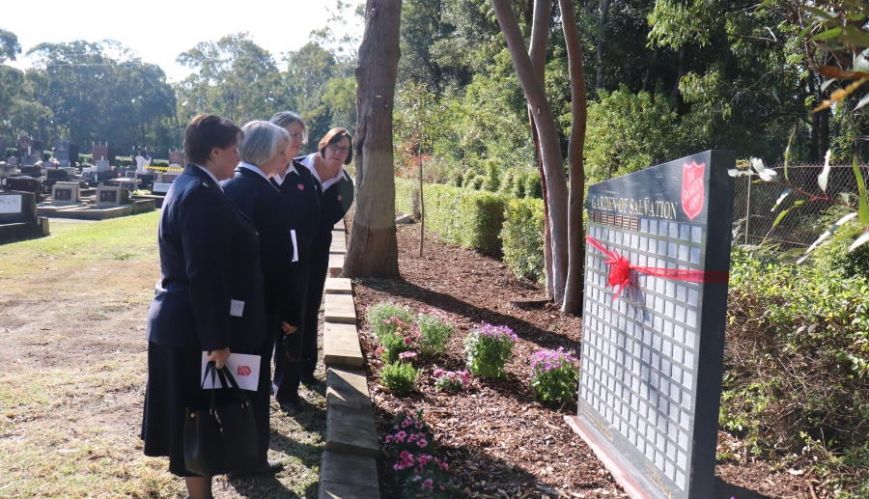 Garden of Salvation honours the 'forgotten'
5 June 2019
Representatives from The Salvation Army at the 'Garden of Salvation' memorial at Northern Cemeteries in Sydney. 
By Lauren Martin
What happens to homeless people after they die? The Salvation Army Aged Care, in conjunction with a Sydney cemetery and national supplier of memorial monuments, has created a 'Garden of Salvation' to remember people who have died who don't have any loved ones to arrange a funeral.
The Garden of Salvation is located at Northern Cemeteries in North Ryde. It's hoped that similar memorial gardens will be set up in cemeteries across Australia.
Salvation Army Aged Care National Director, Richard de Haast, said the Salvos already care for elderly people who have experienced homelessness at specialist centres in Sydney and Melbourne, so the Garden of Salvation is a way that they can be honoured after their death. 
"When it comes to caring for older people who come from a homeless background, or the financially disadvantaged, The Salvation Army is a specialist in this field," Richard said. "Our Salvos Funerals service already provides low-cost, compassionate care in this area and the Garden of Salvation is a natural extension of our care." 
Acting Mission, Pastoral and Personnel Director, Major Cheryl Kinder, speaks at the opening.
When people die with no family or loved ones to remember them, their bodies lay unclaimed in a morgue, until a government-funded burial or cremation is organised. Their remains are often left unmarked. The Garden of Salvation will allow for a memorial service to be conducted and a remembrance plaque erected to honour their life.
"Through The Salvation Army network we will get referrals from our centres and mission expressions of people they have been in contact with who have experienced homelessness or disadvantage who have passed away," said Richard. "Now, we have an opportunity for them to be remembered, a place for their ashes to be scattered and a plaque to honour their life."
At the opening of the Garden of Salvation, a number of former residents of The Salvation Army Montrose Aged Care Centre, a specialist centre for elderly people who have experienced homelessness, and Pacific Lodge Aged Care Centre, were remembered and plaques unveiled to honour their lives.
"This project wouldn't have been possible without the support of Northern Cemeteries and local business National Granite who made the wall," said Richard.