Salvos Stores brings mission to life in the Top End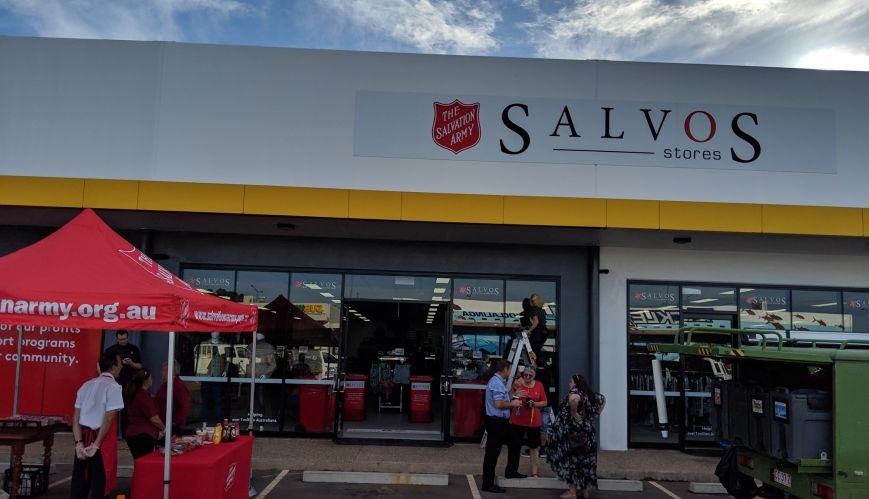 Salvos Stores brings mission to life in the Top End
12 June 2019
The new Salvos Store at Coolalinga is the biggest in the Northern Territory and is focusing on a local mission delivery model that integrates local corps and services.
By Simone Worthing
A growing collaboration between social programs and the corps at the Northern Territory's newest, and biggest, Salvos Store, is helping change the way mission is done in the Top End.
The Coolalinga Salvos Store, 30km south-east of Darwin, opened on 10 May. It focuses on a local mission delivery model to integrate the enterprise itself, corps, volunteers, customers, clients, social programs, the area leadership team and the surrounding community.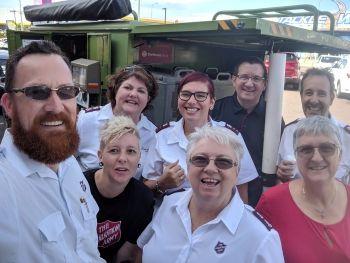 The local area leadership team were part of the new store's opening.
"This model of working together feels like we're part of something bigger," said Major Sue May, Top End Social Network chaplain, who is also a chaplain to Salvos Stores and Employment Plus.
"We're all on the same page to do mission together and support each other and the people we come into contact with in the best way we can. It's not each individual doing their own thing."
Amanda Maansson, Area Manager of Salvos Stores in Darwin and Katherine (300km south of Darwin) explains that to "get more mission and exposure into the store", a couple of steps have been taken.
"To start with, in conjunction with Palmerston Corps, we will trial running Doorways from the store each month, as well as setting up information tables explaining who we are and the help that is available through our services.
"There are seven stores in the Top End and the goal is to bring mission into all of them. Here at Coolalinga, the enterprise space is bigger so there are initially more options for us."
Major May said there was a growing number of referrals from staff to help support other staff, volunteers and customers in the store.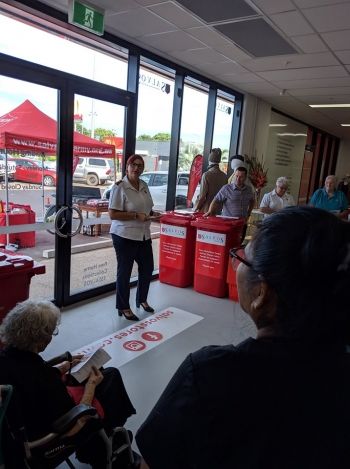 Captain Erica Jones, NT Area Officer, spoke at the opening.
"We link them with our other centres to get them appropriate assistance and help," said Major May. "It could be for accommodation through Catherine Booth House (domestic violence crisis accommodation for women), the Sunrise Centre (addiction or homelessness), TIPTE – Towards Independence Program Top End (families at risk of homelessness), or the Red Shield Hostel, Doorways (food and financial assistance) or just someone for people to talk to.
"This happens naturally, so it's also a natural progression to link all our services together."
The Coolalinga store is located very conveniently in the area's Central Shopping Centre, making it easy for customers to access.
"This will increase our visibility and consequently the potential revenue we are able to generate through the store, and by supporting local programs in-store, we are providing access and information to members of the community who may, in turn, need assistance by being able to connect with the Salvos directly on the days where we have programs present," said Aífe O'Loughlin, Customer Experience Manager, Salvos Stores.
"It's the way in which we engage the community through our enterprises that helps support mission and bring it to life."
The Coolalinga store is also located next to a Red Cross store and close to a Vinnies [St Vincent de Paul] outlet.
"We definitely offer people in this more rural area a great shopping experience," said Amanda.
"We're also talking to Lieutenant Katie Ryan, Palmerston Corps Officer, and the Red Cross, about events such as a combined fashion parade.
"We'd also like to run community events to raise funds for women's ministry and other projects, and organise nights out for people from both the corps and centres.
"These are definitely things we'd like to look at moving forward to help bring people together and, we believe it will happen."