Luke on a roll to save the planet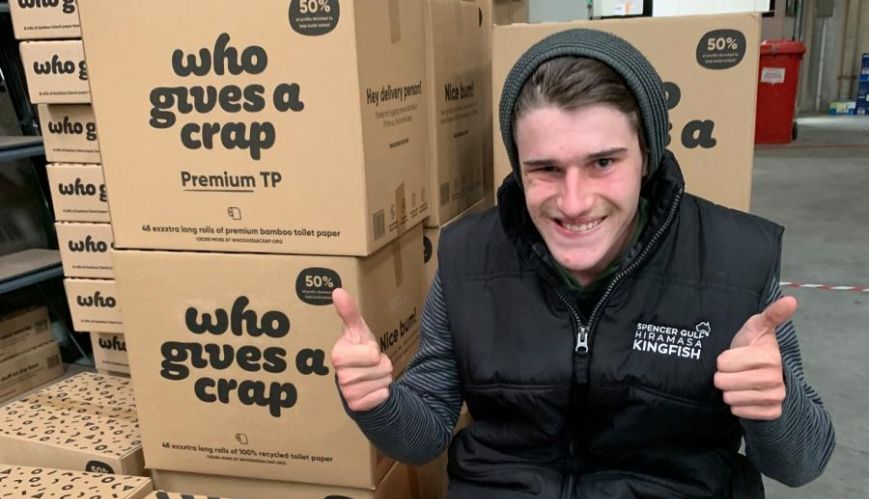 Luke on a roll to save the planet
14 June 2019
Luke Rand has raised more than $13,000 by selling Who Gives a Crap products, donating all profits to The Salvation Army.
By Jessica Morris
Luke Rand is on a mission to save the world, one toilet roll at a time. Last month the Tasmanian student officially launched his business, Ramp Up, in partnership with The Salvation Army, delivering eco-friendly toilet paper statewide.
The 16-year-old flushed out the idea as part of a school project in 2018, and his passion for the environment spurred him to create a philanthropic math project about – what else, the toilet.
Luke opened the lid on the project with the help of teacher's aide Wendy Meek and community worker Bridget van de Kamp, who was working with Bayview Secondary College while on leave from The Salvation Army. 
"Luke couldn't do work experience due to experiencing the rare medical condition 'alternating hemiplegia of childhood' [a neurological condition characterised by recurrent episodes of temporary paralysis, often affecting one side of the body]. The school wanted to do something exciting for him for the maths project. So Wendy thought they'd do a survey about toilets with all the staff and students," Bridget said.
(L-R) Luke's parents Peter Rand and Gillian Rand, Luke Rand, teacher's aide Wendy Meek, Social Enterprise Project Coordinator Bridget Van de Kamp, DC Major Kim Haworth.
Working with sustainable toilet paper company Who Gives A Crap to source and sell their products, Luke developed a project model where all profits raised would go towards charity. It proved a success as soon as it was rolled out – in the first month he earned $200 in sales, and profits helped fund a wheelchair ramp at his school.
"I am doing things that I normally wouldn't get to do. I love helping people," Luke said.
Graduating with a distinction in December, Luke's school project may be over, but his philanthropy isn't. To date, Ramp Up has reached $13,000 in sales, funding Luke's casual employment with the Salvos. Now, he comes in twice a week to clean the warehouse, restock and deliver products to his loyal customers. The program's net profit now assists the Salvos and their work in Tasmania.
"I love to try and help people because people help me! It is fun to be in a real workplace and everyone is really nice and support me," Luke said.
With five 'champions' who pick up the sanitary products and deliver them to more regional areas of Tasmania, Luke's revolutionary school project is spreading farther than he could have ever imagined. And, as Bridget points out, it started with a teenager's tenacity and a little bit of toilet humour.