Board game plays on refugee issues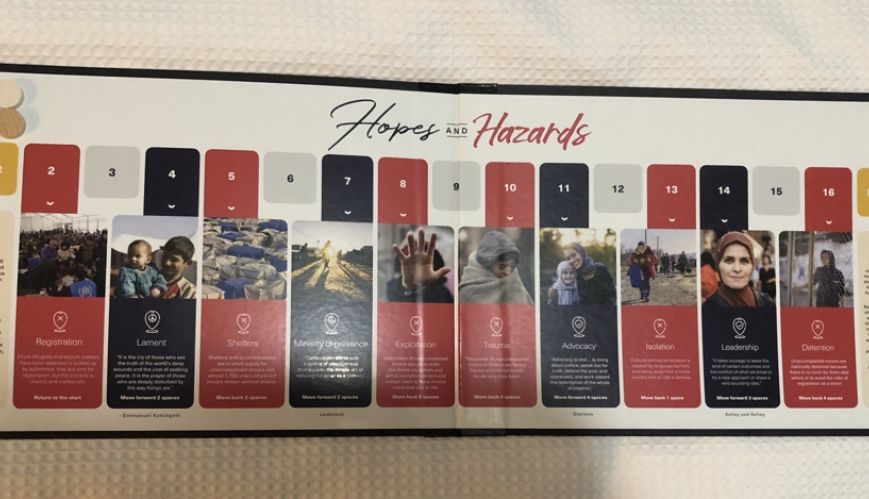 Board game plays on refugee issues
21 June 2019
Captain Sandra Pawar has created the game 'Hopes and Hazards' to inform people about the issues facing refugees and asylum seekers.
By Lauren Martin 
An Australian Salvation Army officer has developed a family board game that highlights the issues around refugees and asylum seekers.
Captain Sandra Pawar, a Salvation Army multicultural plant officer with West Connect Salvos in western Sydney, spent the past two years writing her thesis on the plight of unaccompanied refugee minors in Greece.
The thesis, titled 'More Than Just a Refugee: A Humanitarian and Missional Response to the Needs of Unaccompanied Minors in Greece', was published last month and details not only the issue but also a missional response. She said the concept for a 'snakes-and-ladders' style board game came from her passion to communicate her knowledge to others in a simple, relatable way.
"My thesis, it's like 80 pages long and nobody really wants to read 80 pages," she said with a chuckle. "So, I just wanted to have something that people could use as a takeaway, something that they could sit down with their family and people at church or their friends and play and also understand the situation and understand some of the solutions – without having to read an 80-page thesis!"
In the board game, called 'Hope and Hazards', each player is a refugee making their way 'home'. By rolling the dice and moving their pieces, players learn about the dangers and complexities involved in a refugee's journey, and some of the solutions. Captain Pawar says she would love to share the game with other Salvos and is making an electronic download available for a small cost.
"This topic of refugees and unaccompanied minors has become so important to me and the lives of these young people are so valuable that I wanted to get their story out to as many people as possible," she said. "So, the game is just a small way that I can inform people about this issue and continue to act as an advocate for them."
Captain Pawar and her husband Ashish are multicultural plant officers at West Connect Salvos in western Sydney. She said while her thesis focuses on the refugee crisis in Greece, its suggested missional responses are relevant across many cultures.
"I wanted to make my thesis something that [would be relevant] for any kind of social justice issue and any kind of ministry. It's very tangible. Things like 'lament', the ministry of presence, prophetic advocacy and collaborative and creative leadership. These are transferable to not only social justice issues but any community ministry."
As part of their work in western Sydney, Sandra is mentoring young people who are new arrivals to Australia. She and Ashish also assist at a seniors group for refugees. Their work sees them partner with a number of organisations working alongside refugees and asylum seekers.
To purchase an electronic download of the board game, 'Hope and Hazards' for $5, contact Captain Sandra Pawar at sandra.pawar@aue.salvationarmy.org