New wheels shift Copper Coast into top gear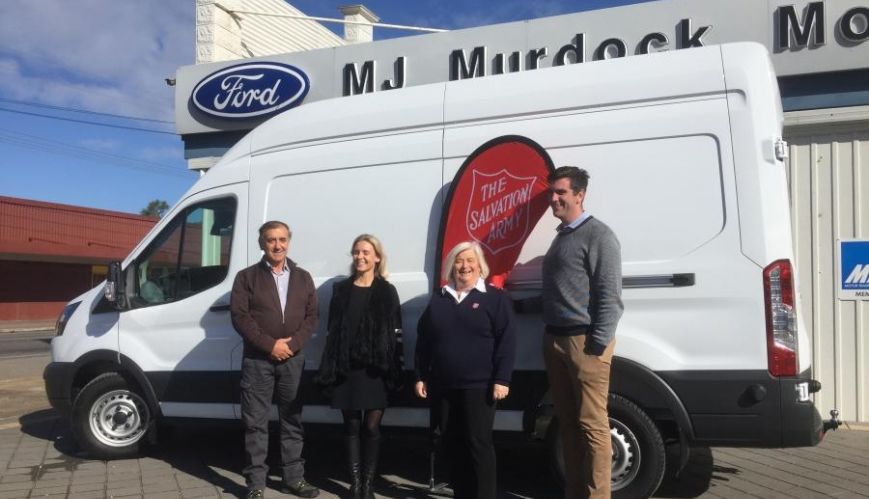 New wheels shift Copper Coast into top gear
24 June 2019
Taking delivery of the new van (from left) Manuel Correll, of Copper Coast Corps, Lexie Murdock, of Murdock Motors Yorketown, Copper Coast Corps Officer Captain Karen Armstrong and Member for Narungga Fraser Ellis.
Copper Coast Corps has taken delivery of a new Ford Transit van that will allow it to expand client services right across the Yorke Peninsula.
A $35,000 grant from the Department of Human Services Community and Support Services through Grants SA (South Australia) assisted with the purchase.
"An upgrade to a larger more reliable vehicle was sorely needed as we work in with other providers to support a growing list of clients from the Copper Coast to the southern Yorke Peninsula," said Corps Officer Captain Karen Armstrong.
"It will now be much easier for our volunteers to collect donated furniture or relocate people. In some cases, we've had to help furnish a whole house, which was difficult using our small van."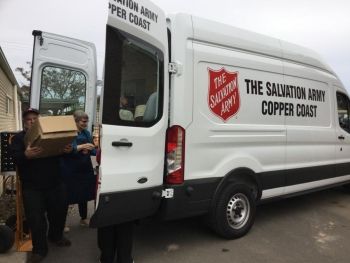 The new van was immediately put to work for the community.
The van has been put to immediate use and is already making a big difference. Captain Armstrong said only one weekly trip to Adelaide [150km away] to pick up goods from Foodbank was now necessary, instead of three.
"Our priority was always to purchase a vehicle locally, with Murdock Motors at Yorketown able to supply the vehicle required, and we thank them for their assistance," Captain Armstrong said.
"Thanks must also go to our grant writer Manuel Correll and Member for Narungga Fraser Ellis for providing a letter of support."
The Salvation Army experiences a high level of community support on the Yorke Peninsula, which was again reflected in support for the recent Red Shield Appeal.
"There's no doubt we are taking on more complex cases and I'm all about giving people a hand-up and providing the tools to enable them to get out of poverty," Captain Armstrong said.
"By regularly spending time with people we can work on budgeting issues, and through education help improve shopping, cooking and parenting skills."
The Salvation Army will celebrate 136 years on the Copper Coast in October.