Packing exercise with a social twist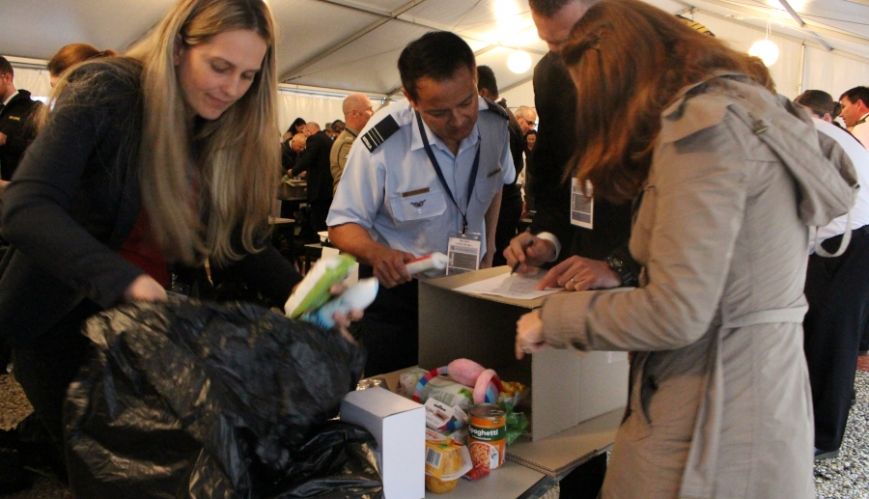 Packing exercise with a social twist
28 June 2019
The 'teamwork training exercise', involved packing 180 boxes of food and other basic items, which were later donated to The Salvation Army.
By Jessica Morris
Receiving a hamper from The Salvation Army can be an emotional experience, but it can also have a positive impact on the person who packed it.
Staff from the Melbourne office of global engineering, construction and consulting firm KBR recently partnered with The Salvation Army for a 'teamwork training exercise', which involved packing 180 boxes of food and other basic items.
Held as part of the Navy, Industry and Academia Training Conference at Deakin University on the Geelong Waterfront, Salvos from across Geelong assisted 'undercover', acting as quality control staff while KBR staff packed the boxes.
It wasn't until after all the boxes were packed that the KBR staff were told that they had participated in providing hampers for The Salvation Army.
"I didn't expect to feel so good after packing all those boxes. It was more than a simple team-building exercise for me," said one participant.
"I'd love to do this again. I didn't realise something simple like packing some goods in a box can make a big difference in someone else's life," said another.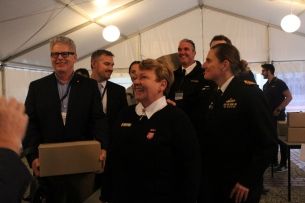 A short presentation by chaplain Anne Cotsell (pictured, centre) drove home the importance of what the KBR staff had achieved, and explained how the hampers would be distributed by Salvation Army welfare services in Geelong to those in need.
KBR approached The Salvation Army last year with the idea, which was picked up by the Policy, Research and Social Justice Department at Territorial Headquarters.
Staff and volunteers from Salvos Stores, local corps and Geelong Doorways came together, showing that leadership is not just about capability, but also compassion.
"We showed that Salvos are can-do people," said Ann Sathasivam, Partnership Coordinator for the Policy, Research and Justice Department.
"There was a whole spirit of cooperation and people just saw the need and they did it. We didn't know each other before we did this. It was a wonderful symphony of people working together seamlessly."
"It was much needed because winter was coming fast. It was lovely to see everyone working together to create a beautiful solution for homeless people in Geelong," Ann said.
"The clear message from this experience is that local mission delivery, with an integrated focus to support the vulnerable in our community, can have a profound impact."