'I have never seen a fire as savage'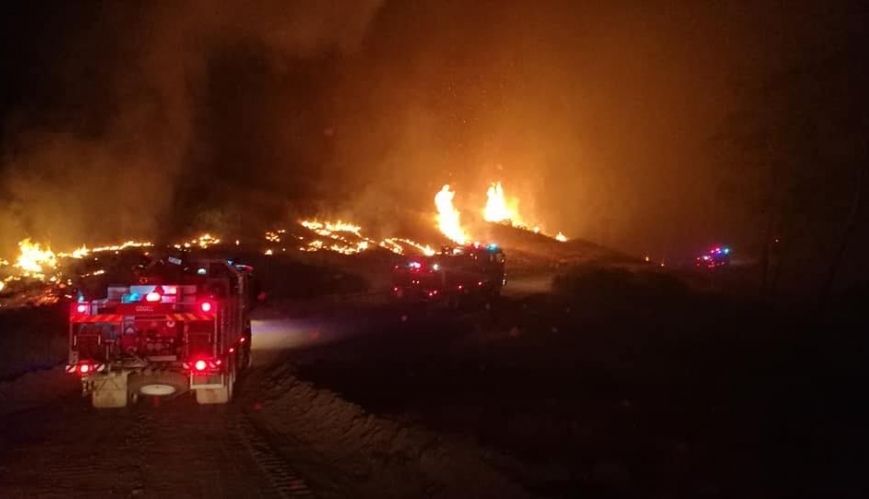 'I have never seen a fire as savage'
14 January 2020
This fire near Tumut in the New South Wales Snowy Mountains was the most savage Captain Jon Belmonte has ever experienced during his time as a Rural Fire Service volunteer and Salvation Army chaplain. Photo: Jon Belmonte
By Lauren Martin
Throughout Australia's unrelenting 2019-20 bushfire season, thousands of Salvos have assisted to feed and provide comfort to firefighters, emergency services workers and people affected. A select few Salvation Army officers are tasked with a different role – as chaplains. 
When bushfires hit, Captain Jon Belmonte wears three 'hats' – he is The Salvation Army Rural Chaplain for South-West NSW, based in Griffith; he is a volunteer rural firefighter in the Murrumbidgee Irrigation Area (with the daunting acronym of MIA); and he is an Associate Chaplain to the Rural Fire Service in the MIA.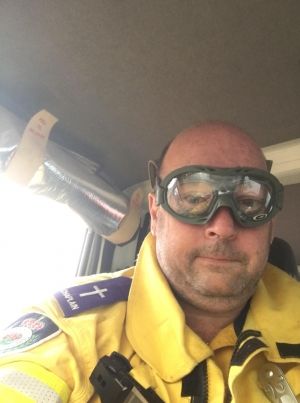 Captain Jon Belmonte is a NSW Rural Fire Service volunteer firefighter, as well as Chaplain. Photo: Supplied.
During his time as a volunteer firefighter, he has battled the 1994 Sydney blazes, the 2003 Canberra firestorm and served at Bees Creek near Grafton when bushfires raged through Northern NSW in September-October 2019. But, he says, he has never experienced anything so frightening as the bushfire that swept through the Green Hills area near Tumut in the NSW Snowy Mountains region last month.
"I was in the Batlow area and the Tumbarumba area around Tumut region," he said from home while on a short break between Rural Fire Service rotations. "I have never, ever seen a fire as savage coming up one of those ridges where we were in Green Hills area. Our strike team was assembled for property protection to look after a farm and its houses.
"The houses and the farm were situated in grassland and two kilometres away we had a huge mountain that was covered in forest ... and we had what they call 'crown fires' where the fire burns across the top of the trees first. Some of the flames that we saw were 200 feet [60 metres] tall."
Yes, he gets fearful, but the key is being in control of the fear, he says. "It's being competent and confident in your team and knowing where you are. If you are in an unsafe area you get out of there." (His favourite quote is: "Courage is fear that has said its prayers.")
Jon says being a volunteer places him alongside the very people he serves in his regular appointment: "As a rural chaplain I'm out meeting farmers, I'm out meeting people in our regions and stations and farms everywhere. And who are our Rural Fire Service firefighters predominantly? They are our farmers, our station owners, our farm contractors."
The natural juxtaposition of his roles allows him to have meaningful engagements and follow up with people he serves with during the fire season. During the long drives to and from the fire-grounds, he says he's been able to talk about The Salvation Army's drought relief, refer people to other Salvation Army services and personnel, and just be a friend and a support.
"They're looking for miracles; they may have not been to church for a long time, they might not even have a faith, but in these circumstances, they're searching for something deeper.
Majors Ian and Kerry Spall are Senior Chaplains to the New South Wales Rural Fire Service. Photo: Supplied.
"I had one member say, 'Are you going to come and pray over our trucks before we go out?' And I said, 'I'm actually going to pray over everything before we go out!'"
one of many
Jon is just one of many Salvation Army officers who serve as chaplains to emergency service workers across the country.
Majors Ian and Kerry Spall serve as full-time Senior Chaplains to the NSW Rural Fire Service. Kerry says the past four months have been "heart-breaking", with three fire-fighters losing their lives while on duty. The couple has been involved in ministering to the families, the brigades impacted and taking part in the funerals.
"We have never experienced anything as intense as these ongoing bushfires," she says. "The need is just huge and it's a very intense space."
In Victoria, Mildura-Red Cliffs Corps Officer Captain David Davis also serves as a chaplain to the Royal Victoria Regiment of the Australian Defence Force. Located in Bairnsdale, he has been providing support to the Army Reserve soldiers called into service for Operation Bushfire Assist.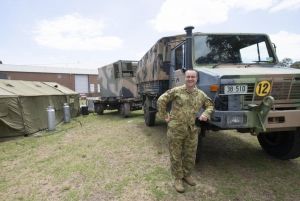 ADF Chaplain, Captain David Davis, in Bairnsdale, Victoria, supporting troops serving with Operation Bushfire Assist. Photo: Bruce Harmer.
"I've been looking after the wellbeing of the soldiers," he says. "Visiting their various worksites in East Gippsland, liaising with other agencies and visiting a few families directly affected by the fires.
"Morale is really high amongst the soldiers. It's the first or second week that most of them have been out. We're all very privileged to be able to assist the community in this crisis. We've all been watching the news as the fires have evolved so it's great that we can use our skills to assist the community. The public has been very appreciative of the ADF's involvement, which has inspired our soldiers to work even harder."