Delacombe now streaming the way dinner is served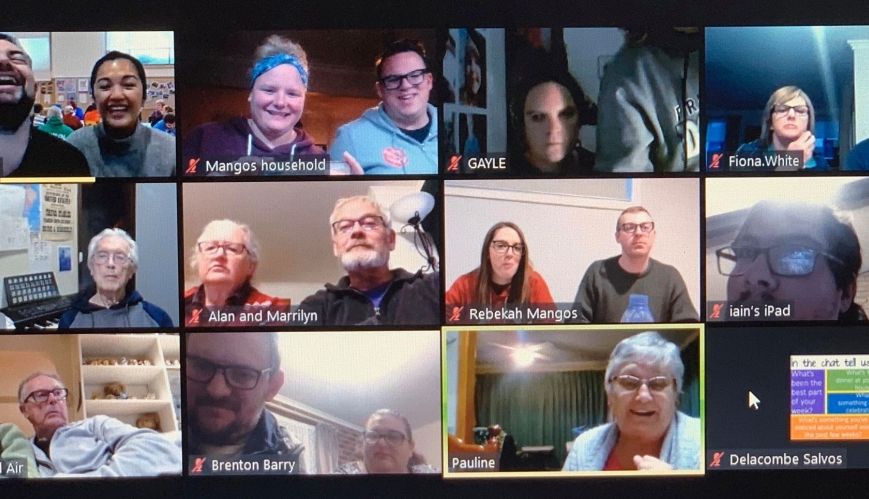 Delacombe now streaming the way dinner is served
20 April 2020
Sitting around a table 'together' in a new way at the Delacombe Salvation Army 'Dinner is Streamed' community dinner.
By Lauren Martin 
'Dinner is Served', the monthly community meal at Delacombe Salvation Army in Victoria, used to attract more than 100 people from both the corps and the community. Now, unable to meet and share a meal together, the corps has launched a new way to sit around the table together – virtually.
Using the online video meeting tool Zoom, the corps began 'Dinner is Streamed' – a community meal where people sit around their dining tables at home and eat dinner 'together', but separately.
Corps Officer Major Craig Farrell said using Zoom to connect during the current COVID-19 social-distancing restrictions was nothing new, however, he believed adding a meal to the mix was a great way to allow conversation to flow more naturally.
"Food is a great leveller, a universal one, and even though it was 'virtual', it still actually was a common sort of thing that we could talk about and it felt less daunting because we were just having our normal dinner."
Anyone who has participated in an online video meeting or chat with lots of people involved will know that it can lead to disjointed conversation, with people inadvertently talking over the top of others, internet glitches and the like. To make the Delacombe Corps' virtual Community Dinner run smoothly, Craig enlisted the help of a corps volunteer, who was able to 'mute' and 'unmute' people's microphones where appropriate.
Craig also had a list of questions that he asked throughout the meal, making sure everybody who wanted to had the chance to have their say.
"We had four questions that we put to people," he said. "As a starter we had, 'What's for dinner at your house?' which was quite a nice, fun thing to do. It was really, really, good just to see people's faces and for people to see each other."
Other topics of discussion were, 'What's been the best part of your week?', and 'What have you noticed about yourselves in the past few weeks?'
Prior to COVID-19 restrictions, the Delacombe Salvation Army 'Dinner is Served' community meal was held monthly, but there has been a consensus that during this time of isolation, more regular check-ins were needed, so the corps will be holding the 'Dinner is Streamed' virtual meal every two weeks.
"It was a good way of checking in and sharing common stories and just being able to listen as well," said Craig. He and corps volunteers were also looking at ways to connect with community meal participants who don't have access to online programs like Zoom.