You are here:
Home › News › 2020 › 05 › 04 › Support From Salvos Helps Kaye Carry On After Bushfire Scare
Support from Salvos helps Kaye carry on after bushfire scare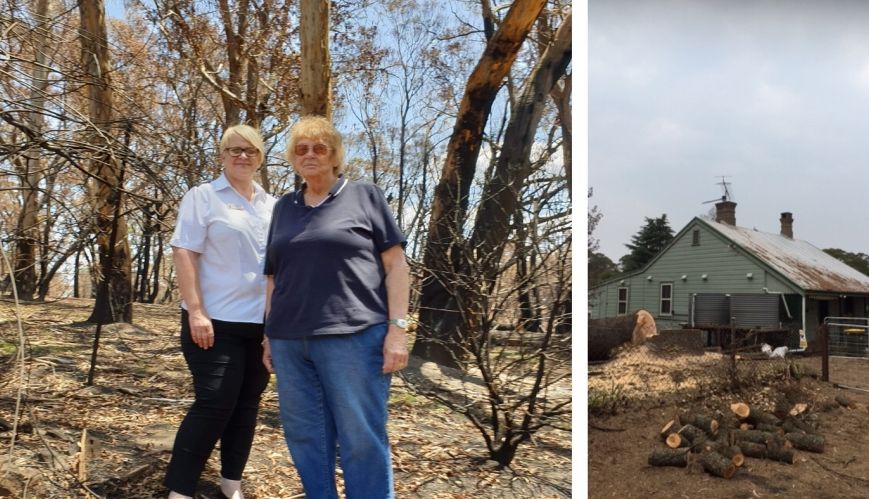 Support from Salvos helps Kaye carry on after bushfire scare
4 May 2020
Auxiliary-Lieutenant Debbie Bartlett with Kaye Whitbread on her property after the 2019-20 bushfires swept through. (Right) Kaye's heritage-listed house that survived the blaze.
By Lauren Martin
Two years ago, Kaye Whitbread lost her husband. Last summer, she almost lost everything else in life.
The 70-year-old has lived in the Blue Mountains, west of Sydney, for 45 years. Her heritage-listed home – a former railmasters house that sits among bushland – is more than 110 years old.
Kaye has lived through many bushfire threats but says the 2019-20 fires were the worst she had ever experienced, due to the drought making the bushland so dry. She and her neighbours prepared for months, from the time the Gospers Mountain fire broke out in October, with her car packed for a quick evacuation. In December, the fire finally hit. "We were virtually trapped here – all roads were closed," she said. "We had fire on just about all sides of us."
After suffering from two heart attacks, cancer and a stroke in her life, Kaye was determined to beat the fire. She took the sensible option and got in her car to drive to her nearest evacuation centre 20 kilometres away at Lithgow, only to find the road blocked by fire. Returning home, she called her younger brother to say goodbye: "I thought I would probably die because I knew the intensity of the fire, having been in the Rural Fire Service myself for 20 years."
Kaye's brother encouraged her to ring the Lithgow police, which she did, and 20 minutes later they sent a car to her home to escort her to the evacuation centre through the fire-ground. "I got to Lithgow. I was there for three nights; the fire came on the Saturday," she said. "I knew the intensity of it; I knew how bad it really was. Ultimately, one of my neighbours rang and said, 'Your house is okay. Everything else is burnt around it, but it's okay.' The roof sprinklers saved it."
When she eventually made it home again, Kaye saw just how close the fire came. The bush was black and burned on all sides, even the ivy on her veranda post was singed and the paint on her home was bubbled. But her home had survived. The clean-up was the next challenge for Kaye and it was at this point she said she hit rock-bottom.
"I needed to cut the trees back," she said. "It was like an early autumn up here, with burnt leaves falling everywhere onto our rooves, which is our water collection. So, the water [our drinking water] was actually contaminated." Unfortunately, Kaye's insurance didn't cover the cutting back of branches or the removing of trees from around her home.
Timely support
Around a week later, when attending a bushfire recovery information hub, Kaye found herself sitting at the local Salvation Army stand where she met Blue Mountains Corps Officer Auxiliary-Lieutenant Debbie Bartlett and told her about her experiences and her situation.
"Debbie said to me, 'Could we have your bank account details?' And I said, 'What for?' and she said, 'We're going to give you some money to help you.' That was just so lovely, I just broke down [in tears.] ... it's been tough, and it will still be tough for a while."
Kaye says meeting Debbie at the Salvos has left her thinking about connecting with The Salvation Army for church. "Since [my husband] Rick died, I've wanted to go to church when I feel the need ... [I think] maybe I should go to The Salvation Army. My husband's family was Salvation Army, his uncle and his grandfather."
She says she's never had to ask for help before, always having worked hard all her life, and when she sat down and started chatting with Debbie at the bushfire recovery meeting, she assumed The Salvation Army only provided chaplaincy support.
"I never dreamed of [getting] financial assistance," she said. "I don't ask for charity, I just struggle through by myself, I always have ... so, it's absolutely wonderful [to have the assistance.]"
This article was featured in The Salvation Army Six-month Bushfire Recovery Report. For more information, click here.