Carnival Online connecting youth across the nation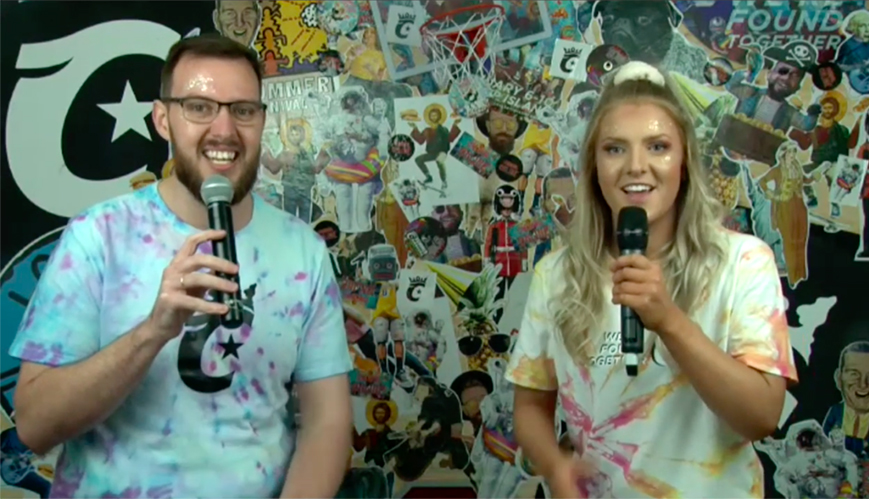 Carnival Online connecting youth across the nation
15 July 2020
Isaac Mead and Cate Grace host the June live stream of Carnival Online.
By Jessica Morris
"Shout out to your mates from other states!"
The coronavirus pandemic may be keeping many of us from meeting together, but that hasn't stopped the Territorial Youth and Young Adults Department from keeping people connected through technology.
The catchcry "mates from other states" has become a rallying call on the team's monthly one-hour variety show – Carnival Online. Through it, more than 4000 viewers have engaged in the mission and ministry of the Salvos.
"Everything we do should be about what an individual youth ministry can't achieve on their own," said Auxiliary-Lieutenant Adam Purcell, Territorial Youth and Young Adults Secretary. "We should fill those gaps for them, and that became the foundation for Carnival Online. It wasn't actually a response to COVID – this is was what do we do now to strengthen local youth ministries and it has become part of the function of our team permanently."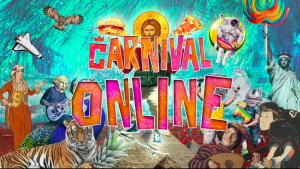 The new one-hour variety show from the National Youth and Young Adults team is all about connecting youth with something bigger than themselves.
Streamed on YouTube, the show embraces all the fun and connection of the annual Summer Carnival event (formerly Youth Councils). Online challenges are set, devotions and studies are available, and there's even a pre-show item from a local youth ministry – which has already been led by Carindale Corps, and the Hobart youth team.
"Connecting young people across the country was a really important part," said Aux-Lieut Melissa Purcell, who shares the youth and young adults secretary role with Adam.
"A young person in Perth can connect with a young person in Cairns. They are seeing the same thing; they are experiencing the same thing. They feel part of something bigger than their local context, but also connecting in their local context."

The beauty of Carnival Online is that it can be viewed in large groups or small groups, or individually. But what about people who can't access the internet? Thankfully, the youth and young adults team have been able to fill the gap.
In partnership with the territory's Innovation Team, they sourced a grant through the Salvos IDEAS Platform. Each youth ministry across the nation was encouraged to submit an idea that would help them better connect with their youth during the COVID-19 lockdown.
"We wanted to help youth ministries stay connected during this time. Whether that's buying headphones or paying for a premium account on Zoom so they can do youth group online," said Adam. "The Innovation Team jumped at the idea to help youth ministries stay connected without the restriction of what they can afford.
It resulted in 52 pitches in total – all which successfully received funding for initiatives including Zoom subscriptions, USB drives, an allowance to send our physical care packages, internet data and more.
"I loved to see such an array of new ideas – a new way of thinking!" said Melissa. "We had a great mix of people asking for help to continue what they are already doing," said Adam.
How's that for innovation across the nation!
You can connect with your 'mates from other states' at the next Carnival Online on Sunday 26 July at 7pm (AEST). Stream the fun at youtube.com/carnivalonline and connect at the official Carnival Online Facebook page.