'I lost everything'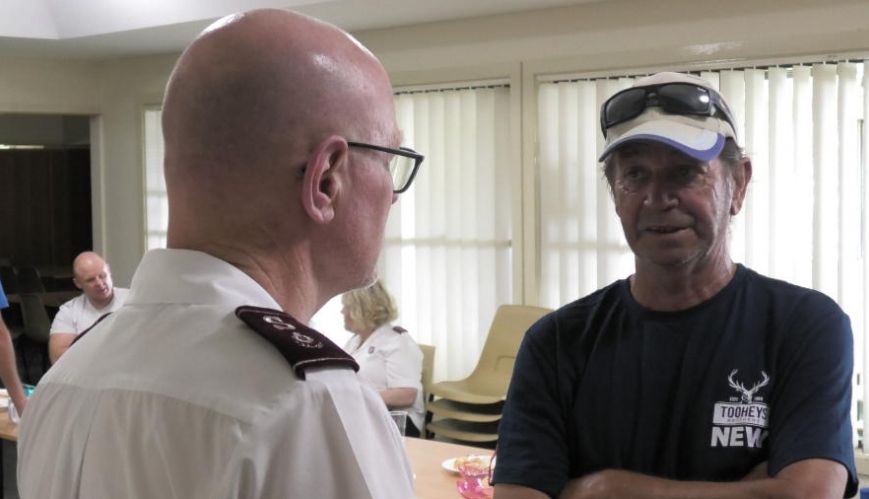 'I lost everything'
10 August 2020
Australia Territory Leader Commissioner Robert Donaldson speaks with Stephen, who lost his home in the 2019 NSW Mid North Coast bushfires. 
By Lauren Martin
The last memory Stephen MacGillivray has of his Nana Glen home on the New South Wales Mid North Coast is of it engulfed in flames. It's an image he saw from his car's rear-view mirror as he was escaping down his long driveway.
"I was driving down the driveway and was looking back and watching my house burn down," he says. "The fire was just chasing me down the driveway. It scared the life out of me, the noise and the heat from the fire. It was just unbelievable. I've never seen or heard anything like it before in my life."
Stephen had lived in the Nana Glen area [25km inland north-west of Coffs Harbour] for more than 20 years. He escaped his home with his car, precious family photos and important documents, and a few items of clothing. He didn't expect the fire to come so quickly.
"I lost everything," he says. 
Stephen, 60, is no stranger to The Salvation Army. Before the Black Summer bushfires hit the area in November 2019, he was a regular volunteer at the Coffs Harbour Family Store.
After the bushfires destroyed his home, Stephen continued to visit the store but says he wasn't up to volunteering. The Salvation Army, however, was able to assist him with essential items while he lived in a motel for a few weeks, and then was able to secure a caravan, generously donated by local residents at nearby Glenreagh.
"They've offered me everything," Stephen says of the Salvos. "I couldn't meet a bunch of nicer people." Despite going through dark times since the fires, Stephen says he has always felt welcome at the Salvos.
"Usually I bottle things up and I won't talk to people. You know, if I've got problems, I just keep them to myself and sort them out myself. But this one broke me because I lost everything. It's always good to talk to nice people [like the Salvos] that will sit down and listen to you."
Stephen was able to receive The Salvation Army's stage 3 assistance bushfire grant, and members of Coffs Harbour Corps continue to check in with him and support his recovery.
After a few months living in the donated caravan, Stephen had to leave the Mid North Coast and visit some family to "take a break". On his return, he is looking forward to securing a new house and returning to volunteering with The Salvation Army.