Emergency crews give selflessly as disasters hit US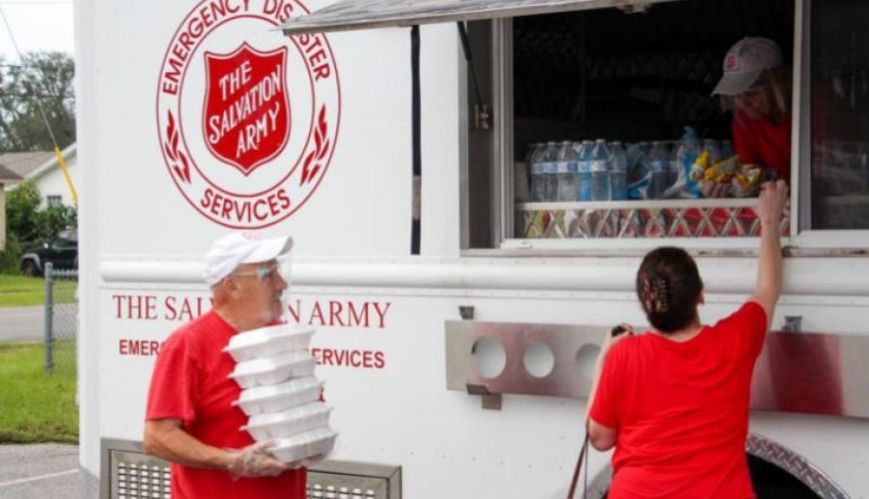 Emergency crews give selflessly as disasters hit US
2 October 2020
Husband-and-wife volunteer canteen crew Mike and Jeanne Flynn hard at work handing out meals to the victims of Hurricane Sally.
Before Hurricane Sally dumped about four months worth of rain on the Florida panhandle in four days, The Salvation Army Emergency Disaster Services was preparing to respond.
Ten mobile feeding units (canteens), each carrying 500 meals, were deployed to Pensacola to provide food, hydration and spiritual care for those left in the wake of the storm.

One canteen was crewed by Mike and Jeanne Flynn, a married couple who volunteer with the Army in the Clearwater area. They load 1000 meals to serve from their canteen every day during their deployment for Hurricane Sally – always with a smile on their face and bright energy.
"I've been volunteering and doing service since I was 13," Jeanne said. "It's about the people and neighbours helping neighbours." Mike added: "We talk to them and understand their struggle. We all need help sometimes."

When asked how many disasters they had been deployed to, they both looked at each other and gave a chuckle: "Hurricanes Michael, Florence and Irma just to name a few."
Jeanne stops to interact with a young lady and her child as they exchange pleasantries, making sure that the mother has some extra snacks for her children.
In January, this year, Mike was diagnosed with grade 9 prostate cancer and shortly thereafter lymphoma in his lower back. "It was a double cancer," he said. "I had 44 treatments."
The Salvation Army corps in Brunswick, Georgia, was damaged in the wake of Hurricane Sally.
Jeanne interjects: "He never missed anything!" Mike chuckles and finishes his thought: "I never let it slow me down." 
When asked what kept him motivated during such a difficult time, Mike smiles with gratitude in his eyes: "I'm blessed. I refused to let it stop me." Watching he and Jeanne move fluidly within the tight space of the mobile kitchen, it is obvious it has not.
Most of the destruction wrought by Hurricane Sally happened in Alabama and the Florida Panhandle on the Gulf Coast.
Emergency Disaster Services staff and volunteers such as Jeanne and Mike have helped serve more than 25,000 meals, about 17,000 drinks and 20,000 snacks. Additionally, 170 clean-up kits have been given out so far and 236 people have been provided with emotional and spiritual care. Seven of those who received spiritual care gave their lives to Christ while with the pastoral team.
 
The Army is delivering 10,000 meals a day within the Pensacola area and will continue to serve as long as necessary.
 
As well as responding to Hurricane Sally and readying for other responses during the second most active Atlantic hurricane season on record, the Army in the US has also been providing emergency food, water and other essential support to communities in the west of the country affected by wildfires.
 
Evacuees are being served breakfast, lunch and dinner and snacks in Jackson County, Oregon, with more than 10,000 meals given out. Emotional, social and spiritual care is also being provided. Across the remainder of Oregon, the Army has served more than 22,000 meals for evacuees, firefighters and other first responders.
 
* From reports by Eric Anderson and Jason Koenig
USA Southern and USA Western Territories