Getting into shape with God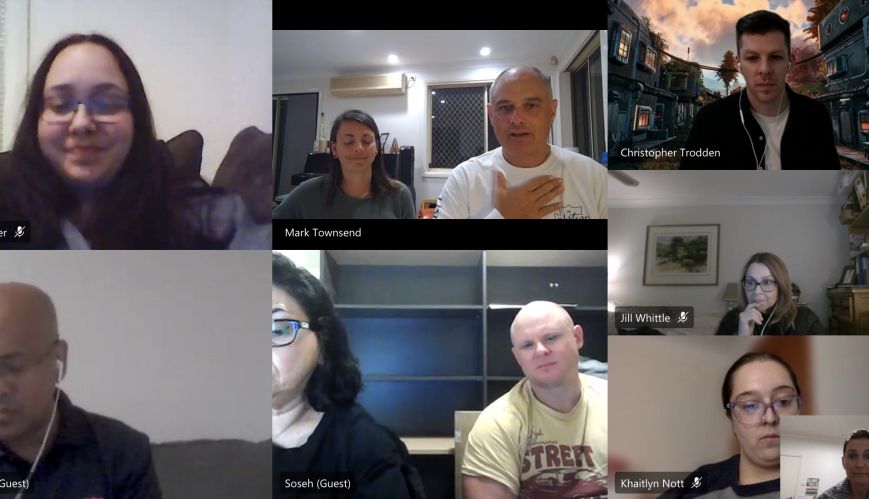 Getting into shape with God
3 November 2020
Captains Tamaryn and Mark Townsend (top middle) facilitate an online conversation about 'The Shape of Calling' with participants from the NSW/ACT Division and Christopher Trodden (top right) from Eva Burrows College.
By Lauren Martin
The Salvation Army 'Come Alive' leadership development team has launched a series of online conversations called The Shape of Calling, designed to assist Salvos to discern the voice of God and the call he has on their lives.
During the eight conversation sessions, participants work through a new ebook, produced by The Salvation Army Officer Recruitment team at Eva Burrows College, as a tool to help people within the Army who are exploring officership or other ministry roles. The 36-page book covers seven topics, provides reflection questions and guided Bible studies.
During a recent Shape of Calling Zoom session, NSW/ACT Officer Recruitment Secretaries Captains Mark and Tamaryn Townsend led five Salvationists through a discussion on different ways that God speaks his calling in our lives.
"How we view God affects the way that we relate to him, and it affects the way that we see our calling," Mark said before asking: "Is a narrow view of God restricting our calling?"
Participants shared how God speaks to them, acknowledging that not everyone has a dramatic 'Damascus Road' calling, like the experience of Saul on the Damascus Road where God struck him with blindness and revealed to him the truth about Jesus.
Jose Porcia from Coffs Harbour Corps (NSW) told how God spoke to him while he was driving. "God said, 'You've been driving for 13 years now; it's time for me to drive your life.'"
Khaitlyn Nott, from Wollongong Corps (NSW), said she often hears God speak to her through music. "I get a sense that God is telling me to put on a certain song and that is exactly what I need to hear, through that song."
Jill Whittle, a Salvation Army relief chaplain said, "Often I find that God gives me a word, just one word, when I am talking to someone and it's just right for that time. Sometimes it's a picture. And other times it's just a 'knowing'."
Christopher Trodden, a communications manager at Eva Burrows College, who wrote The Shape of Calling e-book, has also been attending the Zoom discussions. He said he wrote the ebook to "help clarify some the more nuanced aspects of calling, decision-making and responding to God's leading".
He said its inspiration came from studying the life of the apostle Paul and noticing how unpredictably his calling unfolded. "Paul's calling unfolded over his lifetime. He was a missionary, church planter, teacher, author, pastor, apologist, theologian and evangelist." 
Christopher said the word 'calling' was "getting lost" to a narrowly defined, once-off event but "God continues to call us daily, first to himself, then to ministry". 
Anyone interested in finding out more about The Shape of Calling eBook, or being involved in discussions with the Come Alive team, can head to: salvationarmy.org.au/comealive