You are here:
Home › News › 2020 › 12 › 16 › A Dream Born At Christmas Sparks Lifelong Love For The Salvos
A dream born at Christmas sparks lifelong love for the Salvos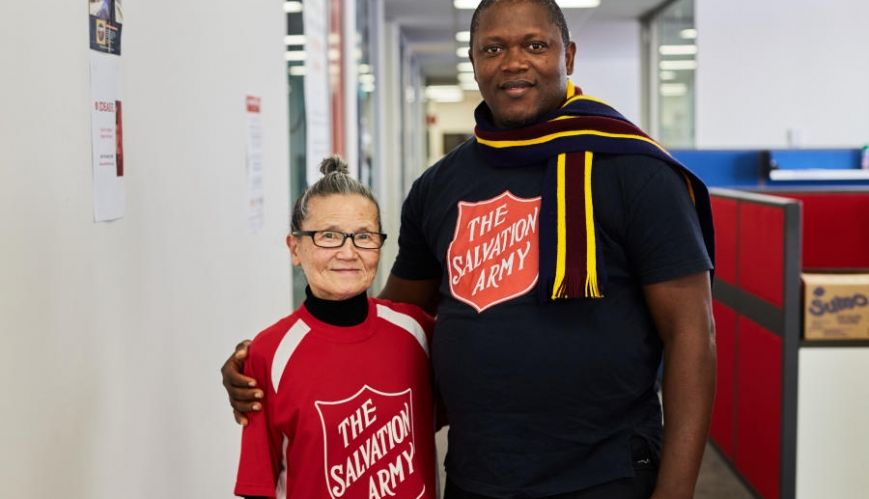 A dream born at Christmas sparks lifelong love for the Salvos
16 December 2020
Kim Au Sun (left) with Auxiliary-Lieutenant Edward Conteh, Auburn Corps Assistant Corps Officer.
By Ruth Carr
As a little girl growing up in Korea, Kim Au Sun, now 75, will never forget the first time she encountered The Salvation Army at Christmas.
"We lived in the middle of Seoul and on the way to church we would pass the big department stores with Salvation Army officers outside, collecting donations. I can still remember their beautiful hats and uniforms. I thought, 'How wonderful.'
"My daddy gave me a coin and told me they help poor people. I was so small and looking up at them, I put the coin in their bucket, and they gave me a big hug. I thought, oh my, when I grow up, I want to be just like them."
Decades later, after losing her parents, Kim emigrated to Australia and worked professionally for many years, until retirement.
"As soon as I finished working, I asked my nephew to help me find volunteer work with The Salvation Army. He looked on the computer and found that Auburn Corps needed help packing Christmas hampers. I started straight away. That was 10 years ago, and I have been coming here, almost every day, ever since."
Though humble about her contribution, Kim has proven to be one of Auburn's most dedicated and passionate team members.
"Kim is one of our greatest volunteers and she does tremendous work. She is also one of our highest fundraisers," says Auxiliary-Lieutenant Edward Conteh, Assistant Corps Officer at Auburn Corps. "She collects at shopping centres, events, races, anywhere you can think. She also looks after the many donations that come into our store, from clothes to dry goods. She really is a gift to this church."
However, it's at Christmas time that Kim really shines, says Edward.
"Christmas is an amazing time and Kim contributes so much. She collects, she packs hampers and supports in any way she can. She does everything with passion and so much heart. She's always smiling and interacting with people. She's got real charisma! People love her."
For Kim, the reward is not only seeing lives transformed and the difference she makes – "When I am volunteering, I always remember my daddy," says Kim.
Ruth Carr worked as Manager, Campaigns Fundraising in The Salvation Army's Brand and Marketing Department in 2020