You are here:
Home › News › 2021 › 02 › 01 › Report Details Long Term Disaster Assistance In Townsville
Report details long-term disaster assistance in Townsville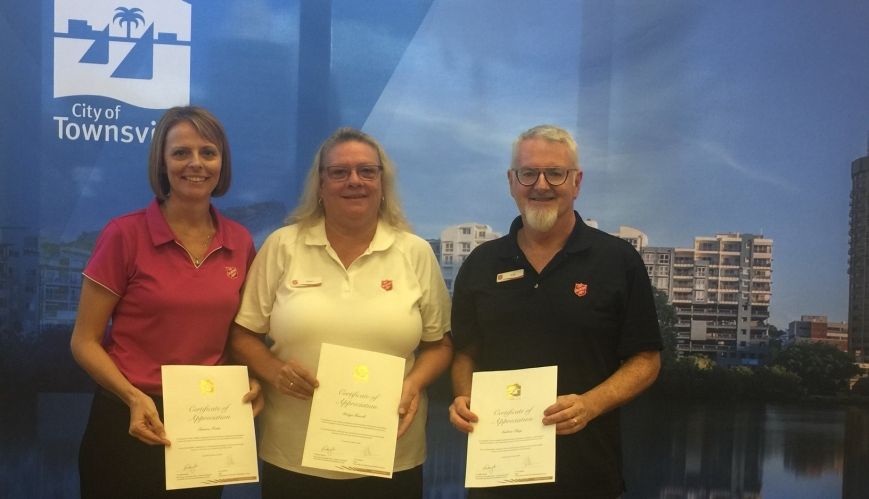 Report details long-term disaster assistance in Townsville
1 February 2021
Townsville Salvation Army workers Tamara Forde (left), Robyn Howell and Andy King each received a Certificate of Appreciation from Townsville City Council for their ongoing recovery work after the 2019 Townsville monsoonal flooding event.
By Lauren Martin
The Salvation Army has released a progress report on its recovery work in Townsville, two years on from the monsoonal flooding that devastated parts of the city.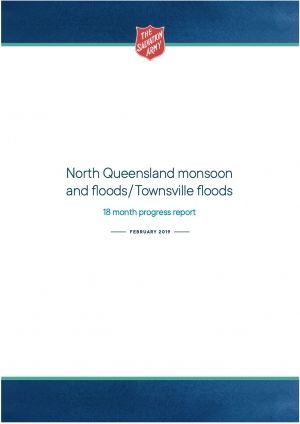 The report details The Salvation Army's initial emergency services response, followed by disaster recovery at community recovery hubs. The monsoon event resulted in 3000 homes being damaged, with nearly 1000 labelled uninhabitable.
The Salvation Army's long-term recovery work began in May 2019 with the appointment of a recovery support worker, Tamara Forde, whose contract has been extended until mid-2021 to continue case-work support in conjunction with the State Government and the community rebuild project, 'Making a House a Home Again' (formerly 'Operation Townsville Assist').
The initial grant funding for the 'Making a House a Home Again' project ended on 30 September 2020, with all the grant funding committed and expended for the project. However, The Salvation Army received additional generous support from corporate and philanthropic donations, which allowed it to extend the project until 30 June 2021.
Tamara said long-term support is crucial to assist those who have 'slipped between the cracks': "[These are people that] are over the initial shock and they've tried to get through on their own, and they've tried to use their own resources as much as possible but now those resources are exhausted, and they're exhausted.
"They're exhausted from dealing with insurance companies, they're exhausted with justifying and arguing and bickering over every little thing. That's where I can step in and help them in some small way."
She says there are still people needing assistance that haven't yet reached out for help. Just this month, an elderly woman called after Tamara had letterbox-dropped a flyer about the 'Making a House a Home Again' project in some of the hardest-hit suburbs.
"A 78-year-old, on her own, a pensioner and ... she still hasn't been paid out for her contents insurance," Tamara said. The woman has a leak in her roof and remains very anxious about rain. "She said, 'I just can't cope with anything, anything I used to be able to cope with.' She just doesn't have the resilience."
Tamara works closely with the Queensland Government's disaster recovery team in referring people for counselling and trauma support. "There's another lady who I'm working with, she ... just got back into her unit in the last month and I know she still doesn't sleep at night."
A passionate Salvo from Riverway Recovery Corps, Tamara said it's her role to be the hands and feet of Jesus to her 'flock' of flood-affected Townsville residents. She continues to call and check in on them, even after the intensive case-support is finalised. "It's an absolute blessing," she said.
To read the full 18-month progress report on the Townsville floods, click HERE