Fertile soil at Port Stephens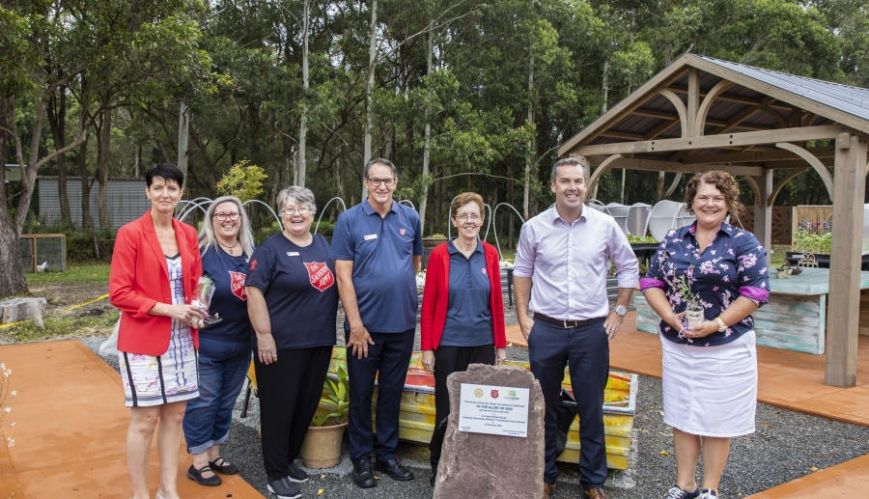 Fertile soil at Port Stephens
4 March 2021
The opening of the Port Stephens Salvation Army Sensory Garden and Inclusive Play Space. From Left to Right: State member for Port Stephens Kate Washington, Salvation Army worker Gail Leadbeatter, Envoy Sandra Koutnik, Envoy Howard Koutnik, Lieut-Colonel Miriam Gluyas, Port Stephens Mayor Ryan Palmer and Federal Member for Patterson Meryl Swanson. Photo: Henk Tobbe
By Lauren Martin
The Salvation Army has opened a sensory garden and inclusive play-space on the site of its Hope Centre and corps in Port Stephens, New South Wales.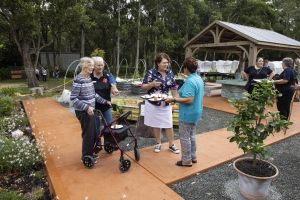 The Port Stephens Salvation Army Sensory Garden is fully wheelchair accessible. Photo: Henk Tobbe
Corps Officers, Envoys Howard and Sandra Koutnik said the vision for the project came about after they found themselves assisting several families with members who had special needs. "At Christmas [around four years ago] we were doing hampers and in one session we had eight families and … they had older kids with sensory, or with special needs who were isolated.
Initially, the corps began a support group to journey with these families, and quickly discovered that there weren't many places that they could take their family members with special needs that were safe or inclusive. "We always had it in our heart that the Lord was saying, 'You need to push into that space more'," said Sandra.
In 2019, the Koutnik's became aware of The Salvation Army offering grant funding for innovative mission and ministry ideas, and suddenly the dream of creating a safe and inclusive space for people of all abilities seemed more achievable. "Our goal for the garden and playground was to provide a peaceful and inclusive space for our whole community, accessible for children and adults with additional needs, and for those dealing with issues such as anxiety and depression," said Sandra.
Envoy Sandra Koutnik speaks at the opening of the Port Stephens Salvation Army Sensory Garden and Inclusive Play Space. Photo: Henk Tobbe
With the grant funding, the corps was able to clear space in a paddock at the back of its bush property, install water tanks, purchase vegetable garden beds and establish the ground works for the garden. But there was still so much more to be done and the grant funding had run out. It was early 2020, COVID-19 had hit Australia, and everything to do with the project seemed to be "on hold".
But God was still working.
Suddenly a group of local Rotarians wanted to help. Their usual fundraising activities with Bunnings BBQs had stopped due to the pandemic, and they were looking for a local project to support. They met Howard and Sandra at the Hope Centre site and fell in love with the concept of the sensory garden and inclusive play space. What had seemed like a stagnant project quickly gathered pace, with Rotarian Darcy Geale successful in a grant application to Port Stephens Council, and several members and supporters pitching in to complete the space.
Other Salvation Army expressions within the local area also got on board with the project, including Raymond Terrace Corps Officer, Captain Joel Soper, a qualified builder, who helped to construct the gazebo on site and brought with him a team of volunteers to assist with the BBQ at the official opening.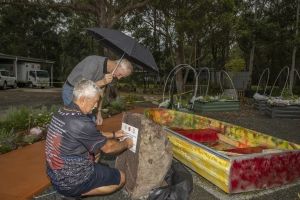 Volunteers put the finishing touches on the Port Stephens Salvation Army Sensory Garden and Inclusive Play Space before the opening ceremony on 27 February, 2021. Photo: Henk Tobbe
The launch event on 27 February was attended by more than a hundred community members, many members of the Rotary Club, as well as local dignitaries, including Port Stephens Mayor, Councillor Ryan Palmer, the State Member for Port Stephens, Kate Washington and the Federal member for Patterson Meryl Swanson. The Salvation Army's Divisional Commander of NSW and ACT, Lt Colonel Miriam Gluyas, was also in attendance.
Speaking at the launch, President of the Salamander Bay Rotary Club, Peter North said the partnership had been hugely fulfilling. "We are delighted to have been able to assist in the creation of this magnificent garden to be enjoyed by one and all. Thank you very much to the incredibly dedicated and hardworking Salvation Army team. Our club has thoroughly enjoyed our partnership in this fabulous project."
The result of the partnerships is a beautiful, tranquil garden, fully wheelchair accessible, with places to sit and contemplate, vegetable and plant beds to tend, and artworks to interact with. Visitors may even be blessed by spotting a koala, known to frequent the area.
The upper area of the space is dedicated to play and mobility equipment that people of all ages and abilities can enjoy, as well as a covered area with tables and chairs for get-togethers, meals and other group activities.
At the conclusion of the launch Sandra shared a prayer for the space. She said, "May this garden be a hive of productivity and creativity. May this garden be a haven for relaxation and rest. May this garden be a home where all find welcome and acceptance. I pray the blessing of God's peace and hope over this garden, and on all who enter."