Red Shield fundraising mix a winner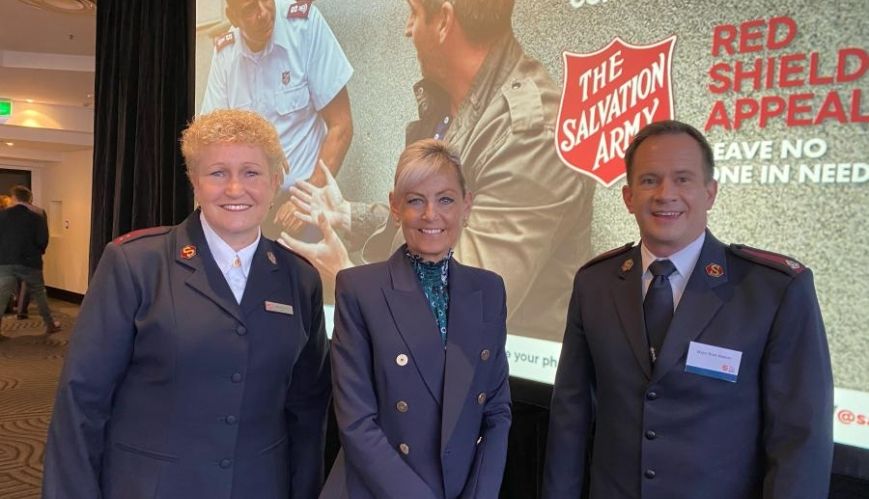 Red Shield fundraising mix a winner
10 May 2021
Tasmania Divisional Commander Captain Kim Haworth, Attorney-General Elise Archer MP and Major Brad Watson enjoy the Red Shield Appeal launch in Hobart.
By Jessica Morris and Lauren Martin
The 2021 Red Shield Appeal is picking up speed with a mixture of public events, community activations and online peer-to-peer fundraising.
Launch Events
Sydney
Sydney Red Shield Appeal launch event organisers distribute sponsored food from the event to The Salvation Army city services after the event was cancelled due to new COVID-19 restrictions.
Due to the latest developments regarding the COVID-19 restrictions in NSW, The Salvation Army was forced to postpone its largest Red Shield Appeal fundraising event in Sydney – a launch luncheon.
Instead, the event team sprang into action and spent their day packing and delivering 400 meals from the sponsored event to The Salvation Army Homelessness Services in the city. The meals fed people in need and ensured that nothing went to waste.
"Our primary objective is to keep everyone safe. We don't want to risk the spread of this nasty virus and although it will be extremely tough to miss out on a much-needed fundraiser, we agree with Premier Gladys Berejiklian's decision," said Major David Collinson, Public Relations Secretary for NSW.
"We hope that we can reschedule the event in the coming weeks when it's safe. We are so proud of our teams and appreciate them jumping into action to make sure that no food is wasted, and it can go to those less fortunate and feed them for the day."
Victoria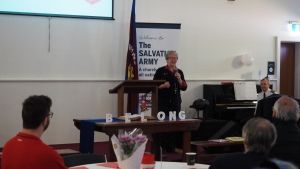 Brunswick Corps Officer Lieutenant Alison Templar speaks at the corps Red Shield Appeal launch.
Communities across Victoria continue to launch the Red Shield Appeal, including Salvos in Melbourne's northern suburbs. On Thursday, the Brunswick community received a first-hand glimpse into how The Salvation Army has served people through COVID at their local launch.
The Victoria Police and representatives from Coles attended the event at Brunswick Salvos, which is also home to a growing Farsi congregation. Lieutenant Alison Templar and Major Colin Elkington hosted the event, while Lieutenant Paul Trotter and Major Karen Elkington, who manage the Brunswick Doorways Asylum Seeker and Refugee Service, were present to share how they continue to practically assist the most vulnerable in the region after last year's lockdowns.
Tasmania
Salvos from across the state gathered at the Hotel Grand Chancellor in Hobart last Thursday to officially launch the Red Shield Appeal in Tasmania. A spirit of generosity brought everyone together, as Professor Rufus Black, Vice-Chancellor of the University of Tasmania, launched the event on behalf of the Premier.
Professor Black opened up about the role of invisible poverty in Tasmania and geographic disadvantage. A video story of Paul, a former client of SASH (Salvation Army Supported Housing), highlighted how vital the Salvos work is as they partner with people to find permanent housing.
Salvos Stores lend a hand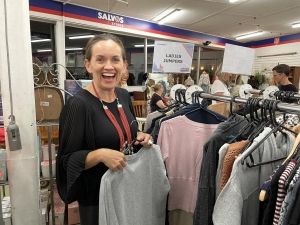 Michelle Zammit enjoys the Helensburgh Salvos Store 'Op Shop for a Cause' evening to raise money for the Red Shield Appeal.
Salvos Stores – a major contributor to Red Shield Appeal fundraising every year – has hosted several events already in support of the 2021 campaign.
In the Illawarra, an 'Op Shop Night for a Cause' at Helensburgh Salvos Store saw more than 40 people gather to gain wardrobe tips from a local stylist and enjoy late-night shopping with dessert (shopping and dessert, what a great combination!)
One of the event organisers, 2508 Salvos Mission Leader Lauren Martin, said it was a privilege to partner with the store for the event every year, which not only raises much-needed funds for the local mission but also allows people to connect and hear about the important work of The Salvation Army both locally and nationally.
"These events allow us to speak about our community's role in 'transforming Australia one life at a time with the love of Jesus'," Lauren said. "We get to speak about how shopping at Salvos Stores is good for the environment, and assists The Salvation Army to give hope where it's needed most. We also chat to people about our local mission right here in Helensburgh, which is small but growing, and receiving more and more referrals to assist people now that our community is aware of how we can support."
Further south, Salvos Stores across Wollongong and Shellharbour took part in a Salvos Stores op-shopping bus tour, which involved a day of shopping at different stores, morning tea, lunch and special discounts. Money from ticket sales was donated to the Red Shield Appeal.
Bunnings barbeque
Tarrawanna Salvos held a Bunnings barbeque as part of its Red Shield Appeal fundraising campaign. 
Bunnings barbeques are back on in 2021 and are always a solid fundraiser. Recently, Tarrawanna Corps in Wollongong spent Saturday sizzling sausages in support of its local Red Shield Appeal.
It was an inter-generational event, with youth leaders taking the morning shift, allowing the more 'senior' members of the corps a chance to sleep in before hitting the barbeque later in the day.
Hitting the socials
With the 2021 Red Shield Appeal a mix of in-person and online fundraising, the digital doorknock is well underway, with corps and other mission expressions encouraging Salvos, volunteers and staff to set up individual fundraising pages.
Some local schools are also getting involved with peer-to-peer fundraising, instead of doorknocking this year. Carey Baptist Grammar School is supporting Camberwell Salvos in Victoria, with students and teachers raising $1520 so far.
As of 9am on 10 May, $201,351 had been raised online across Australia for the Red Shield Appeal.
To set up your peer-to-peer fundraising page, head to: digitaldoorknock.salvationarmy.org.au