You are here:
Home › News › 2021 › 05 › 28 › Thousands Of Clothes And Shoes Given Out At Homeless Event
Thousands of clothes and shoes given out at homeless event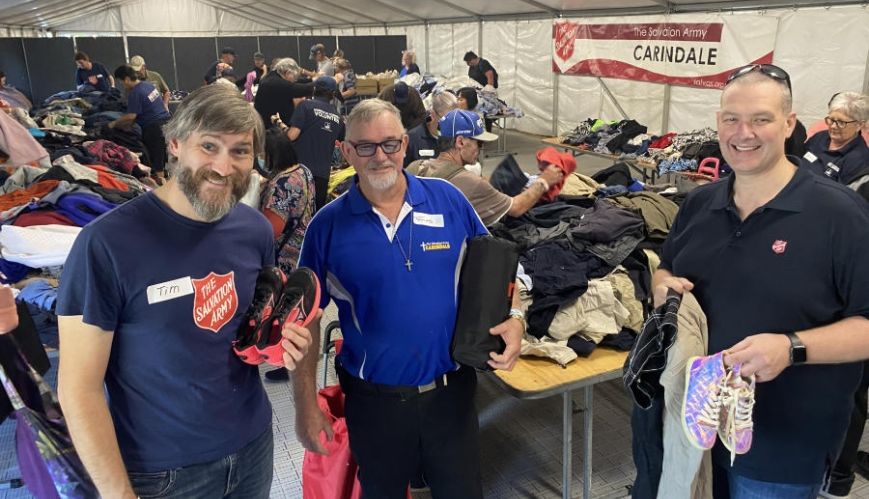 Thousands of clothes and shoes given out at homeless event
28 May 2021
Carindale Corps Officer Major Tim Andrews, Carindale Family Store manager Tomos Evans, and Queensland Divisional Commander Major Gavin Watts roll up their sleeves to support Brisbane's vulnerable as part of the Brisbane City Council Homeless Connect initiative.
By Darryl Whitecross
About 20,000 pieces of clothing and 2000 pairs of shoes were on tables to be given away by The Salvation Army Carindale Family Store as part of Brisbane City Council's annual Homeless Connect event this year.
Store manager Tomos Evans said The Salvation Army had the biggest presence [other than the catering component] at the event held at the Royal National Association Showgrounds.
He said the store had been collecting the clothes and shoes since Christmas to be ready for Homeless Connect. About 30 volunteers looked after the family store area throughout the day.
The Army's Streetlevel mission coffee van was also in action, with the queue more than 10 deep all day, with a dash to the shops early on to restock milk supplies.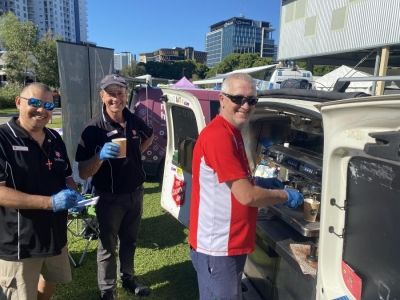 The Streetlevel coffee van 'dream team': (from left) Andrew (Baz) McMahon taking the orders, milk-frother Envoy Paul Maunder, and barista Steve Kelly.
Other Army mission streams at the event included Moneycare, Youth Outreach Service, Doorways, Moonyah and Pindari Salvos Homeless Support Services.
Homeless Connect brings together businesses, medical and allied health care professionals and community groups to provide free services to people experiencing homelessness or at risk of homelessness.
Tomos said the first Homeless Connect event was held in November 2006, and the Carindale Family Store had been part of it for the past 15 years. Homeless Connect is one of several Brisbane City Council initiative to support homeless people in the city.
The council held a donation drive through ward offices and libraries across the city between 5 April and 14 May to accept non-perishable food and toiletries for its tent.
Other services included a stall where guests could get a haircut and another where immunisations were being administered.
The event returned to the RNA showgrounds this year after having been held at Doomben Racecourse last year.