You are here:
Home › News › 2021 › 09 › 06 › Port Augusta Studio Helps Youth Move To A Different Beat
Port Augusta studio helps youth move to a different beat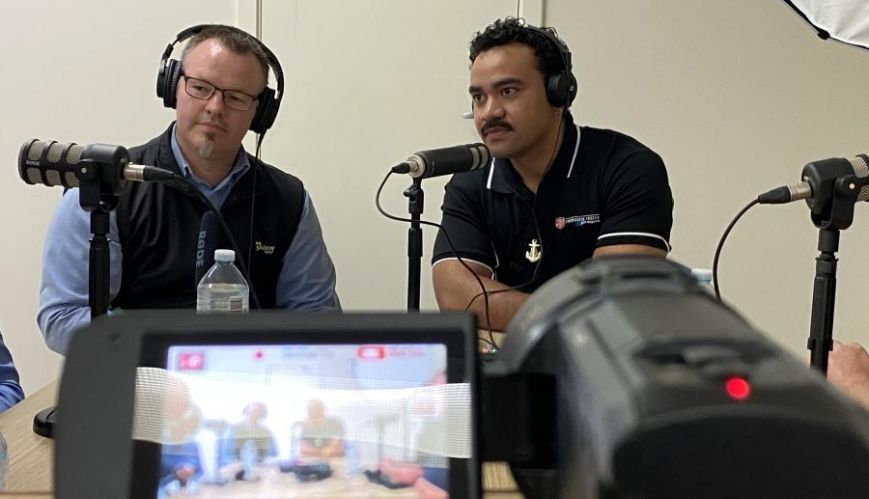 Port Augusta studio helps youth move to a different beat
6 September 2021
Resident techie teammates at Port Augusta Corps, Scott Cugley (left) and Apaiata Kaitu'u, enjoy nothing more than getting behind the microphone and recording a podcast that keeps young people connected with each other and the corps.
By Darryl Whitecross
The Salvation Army in Port Augusta is turning up the volume on its ministry to young people in the South Australian city.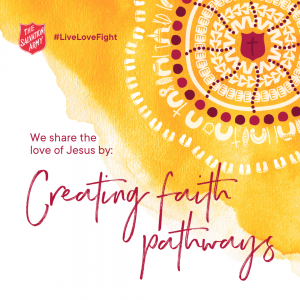 What began as a conversation in a supermarket aisle has turned into an opportunity for youth to turn their musical ideas into reality.
Scott Cugley, who heads the homelessness stream in the Port Augusta Corps hub, said young people were being offered a relaxed program where they are given basic skills in audio recording.
Scott said he and fellow program coordinator Apaiata Kaitu'u were working to establish connections in the music community to help improve the delivery of the program, which runs over 8-10 weeks.
Although Apaiata had more of an appreciation for reggae and jazz, the hip-hop genre was more popular among young people. So, the two have needed to focus on beat-making and rhyming lyrics as part of what they work on with their students.
Some music students worked independently on projects, while some are working collaboratively to produce the music. 
Engaging young people
Apaiata, who also works as a youth outreach worker for the corps, said the ministry was more about engaging with the city's young people rather than having specific objectives.
Scott said the initiative began after meeting a friend in a supermarket whose hobby was as a songwriter/producer in his home studio. "He said to me one day, 'I've got access to all this equipment; I've got all this experience, and I'd just love to share that with somebody'," Scott said.
He said the corps welcomed the idea and decided to introduce a music program for youth with "an interest or some emerging skills in songwriting or lyric writing or composing".
With the go-ahead from Port Augusta Corps Officers Majors Richard and Gaye Day, Scott said they promoted the plan in the community, and two young people volunteered to be part of the pilot program, which was initially run in regular sessions over nine weeks.
The corps then allocated its own resources to the program and set up a more permanent space with its own equipment rather than relying on borrowed equipment.
Scott said that what had developed was a dedicated creative environment in the corps' Carlton Street facility where young people could "get a little bit of coaching" or, if they were confident in their skills, could spend time on their own on their work.
"The goal is [for the young people] to work towards being able to finish some projects where [they] might be able to publish those or have them released or shared independently with the broader community," Scott said.
Connection point
The media room doubles as a podcast and video production hub where young people are also given skills in using the equipment associated with that technology.
Gaye said using the space for podcasts came out of lockdowns brought on by the COVID-19 pandemic last year. She said podcasts helped the corps continue to engage with the young people during the COVID pandemic.
"We had to find a new way [to keep connected with the youth], so we bought some equipment and connected with them through ," Gaye said.
Apaiata said he enjoyed "having a yarn behind the mic" and used that interest to create the podcasts: "[COVID-19] gave us the opportunity to actually go down that road ... it's pretty cool."
As well as having introduced the music-recording sessions, the podcasts have continued, and Apaiata is sharing his knowledge in that area with young people.
The media room is also used as a drop-in centre where young people relax at the console and play video games. Gaye said the media room was "a connection point" to reach youth in our community.
She said being trained in music production and the other equipment in the recording studio helped with their self-worth but also "just so that we can connect with them and build into their lives so that we can take them on the discipleship journey".